In 2 from last articles we have informed about estimates, that Spring 2021 will end in parts of Europe such as the coldest since 1987 /https://mkweather.com/the-coldest-spring-2021-in-europe-since-1987//.
The coldest spring since 1987 has already confirmed Austrian ZAMG /https://mkweather.com/the-last-day-of-the-coldest-spring-since-1987-is-bringing-frosts-in-austria-too-poland-germany//, but there is a possibility, that similar statistics will be soon available for many regions from northeastern France to Carpathian Ukraine.
Such we should notice on updated ESRL composites below, region not only Austria, but all region of continental Europe was during Spring 2021 very (or extremely) cold (T2m anomaly composite), what means, that these areas should end with the coldest spring since 1987, too.
It´s a possibility for NE France, Luxembourg, Belgium, southern Netherlands, northern Switzerland, Austria, southern and central Germany, Czechia, Slovakia, southern Poland, Slovenia, Croatia, Bosnia and Herzegovina, Serbia, western Romania and western Ukraine for the coldest spring in 34 years, if not, so minimally since 2013 – such as in the UK /https://netherlandsnewslive.com/the-coldest-spring-has-been-going-on-since-2013-but-summer-is-just-around-the-corner/163649/, note: 2013 = too La nina year/. This region reached seasonal anomalies from long-term average around -1,5 to -2,5°C.
May 2021 has contributed into the coldest spring in years or decades with significant contribution, too – region between central France and Poland (central France, Switzerland, Austria, Luxembourg, Belgium, the Netherlands, Germany, Czechia, Slovakia, Poland, Hungary, Slovenia, northern Croatia and northern Italy) is showing monthly anomaly -1,5 to -3°C from long-term average.
When we look at geopotential in 500 hPa anomaly for May and Spring 2021, Spring is showing deep pressure deviation above NE/N Europe and high pressure is situated above NW Europe, while in May 2021, action center of low pressure has shifted above British Islands and northern continental Europe – still enough for cold and stormy character for summer season.
It is possible, that during the next days, the next statements about extremely cold Spring 2021 will be published by European meteorological services – if we notice it, we will inform you in the next articles on Mkweather.
May 2021: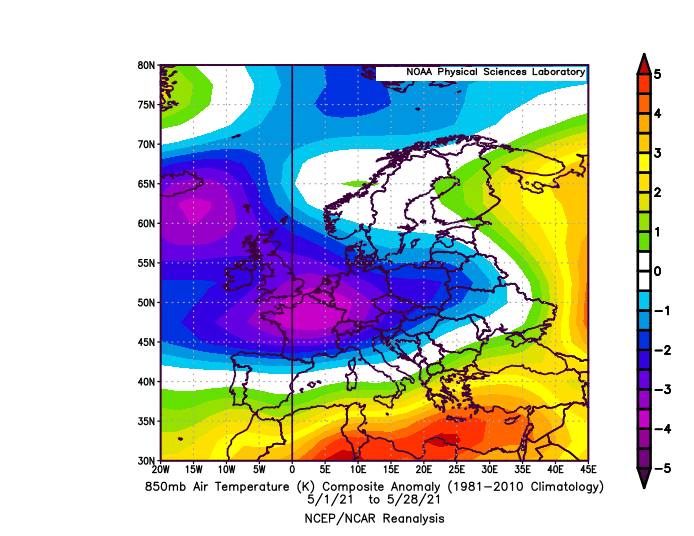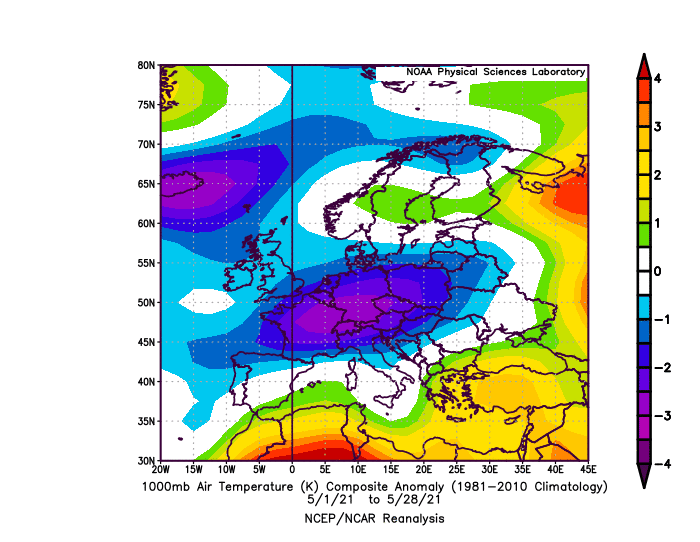 Spring 2021: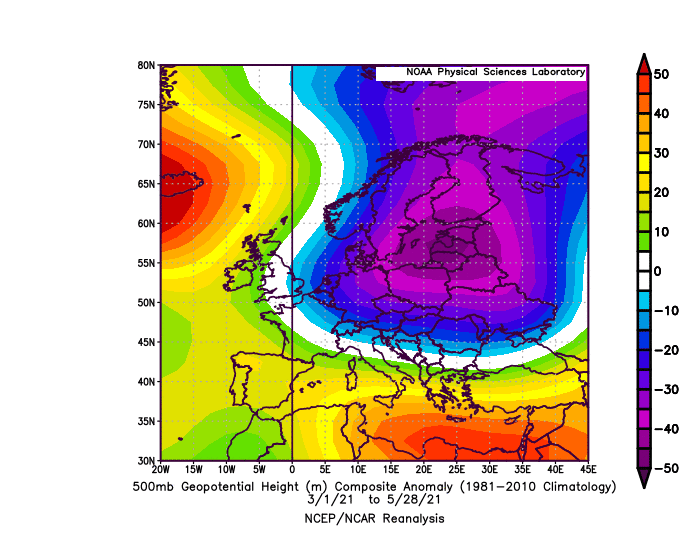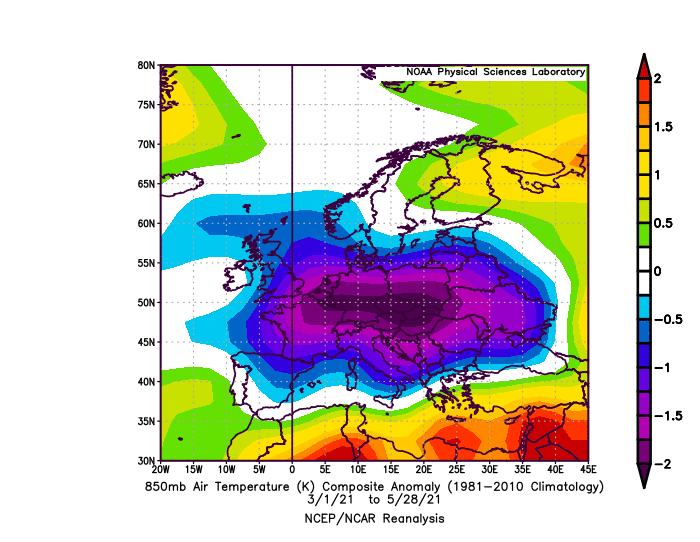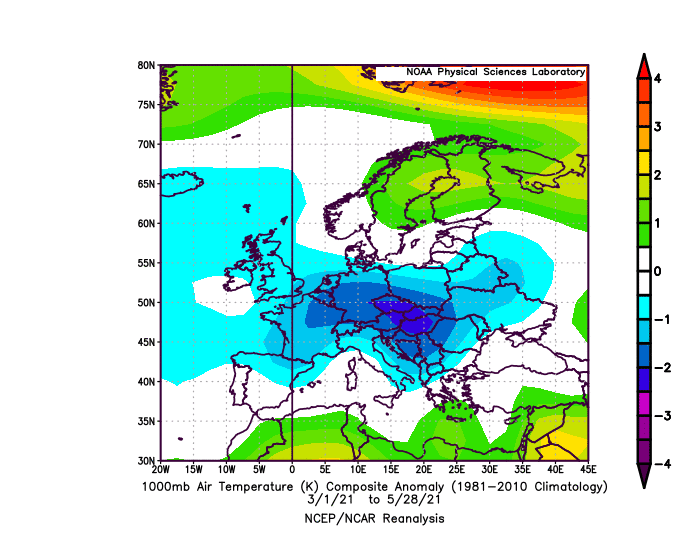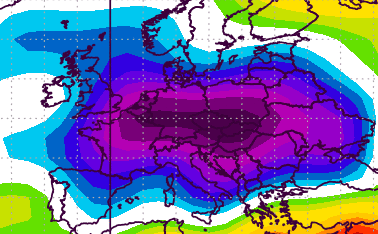 (Visited 31 times, 3 visits today)