The driest city in the world hit severe hailstorms, escaping poisonous scorpions caused 3 dead and 500 hospitalized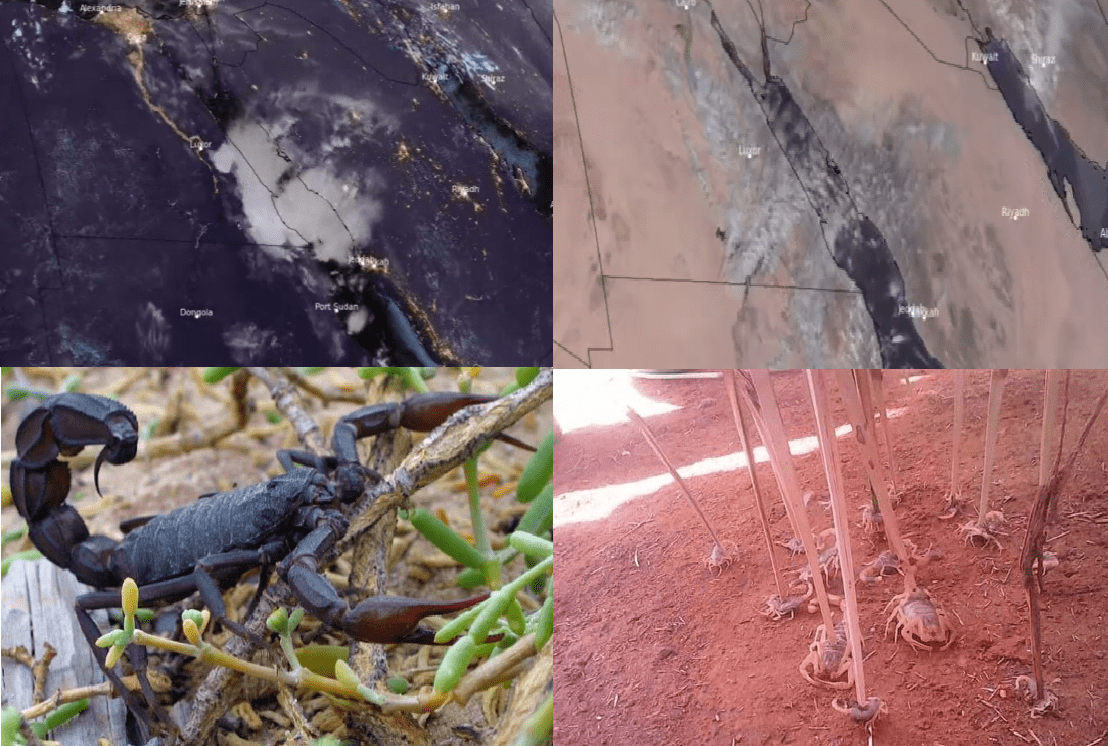 During the first November decade, Aswan reported heatwaves, with maximum temperatures +34/+38°C, but in the last days, thanks to lower pressure above the region and a surprising frontal boundary, maximum temperatures have dropped below tropical +30°C.
For a reason of this decline in temperatures, we should contribute a cold front, which was moving above the region around 13.-14. November 2021, which brought a surprising heavy rainfall and severe storms into the driest region in the world – Aswan in Egypt.
According to weather reports, daily averages of relative humidity during these days increased from values between 15 – 30% to 60 – 65% and after a transition of a cold front, it dropped only to 45 – 50%.
Although a precipitation amount isn´t known, there was reported floodwater after the storm looking like a multicell storm.
This floodwater immediately caused, that poisonous scorpions from Egyptian deserts started to escape before the water, in many cases, they were moving into inhabitant areas and houses, with a result of unexpected hospitalizations.
500 stang people ended in hospitals and 3, unfortunately, died after a very rare meteorological event.
The cold front is coming after strong Mediterranean lows activity /https://mkweather.com/mediterranean-storms-brought-tornadoes-hail-and-floods-to-italy-sicily-sardinia-malta-libya-france-greece-and-spain// and the first snowing of the year in lower situated parts of Morocco, Algeria and Tunisia in Atlas, below 1000 MASL /https://mkweather.com/the-first-snow-in-algeria-morocco-and-tunisia//.
In the next period, the next negative NAO and AO phases are forecasted, maybe until New Year 2022, therefore storm activity in all Mediterranean will be increased /https://mkweather.com/winter-should-be-strengthening-until-new-year-2022-wider-european-region-estimates//.
During strong AO- and NAO- phases, very rare snow or frosts in Egypt should appear during peaks of winter, therefore it will be interesting to watch the situation in the region, yet.