Winter should be strengthening until New Year 2022 (wider European region estimates)!
MK
November 12, 2021
2 min read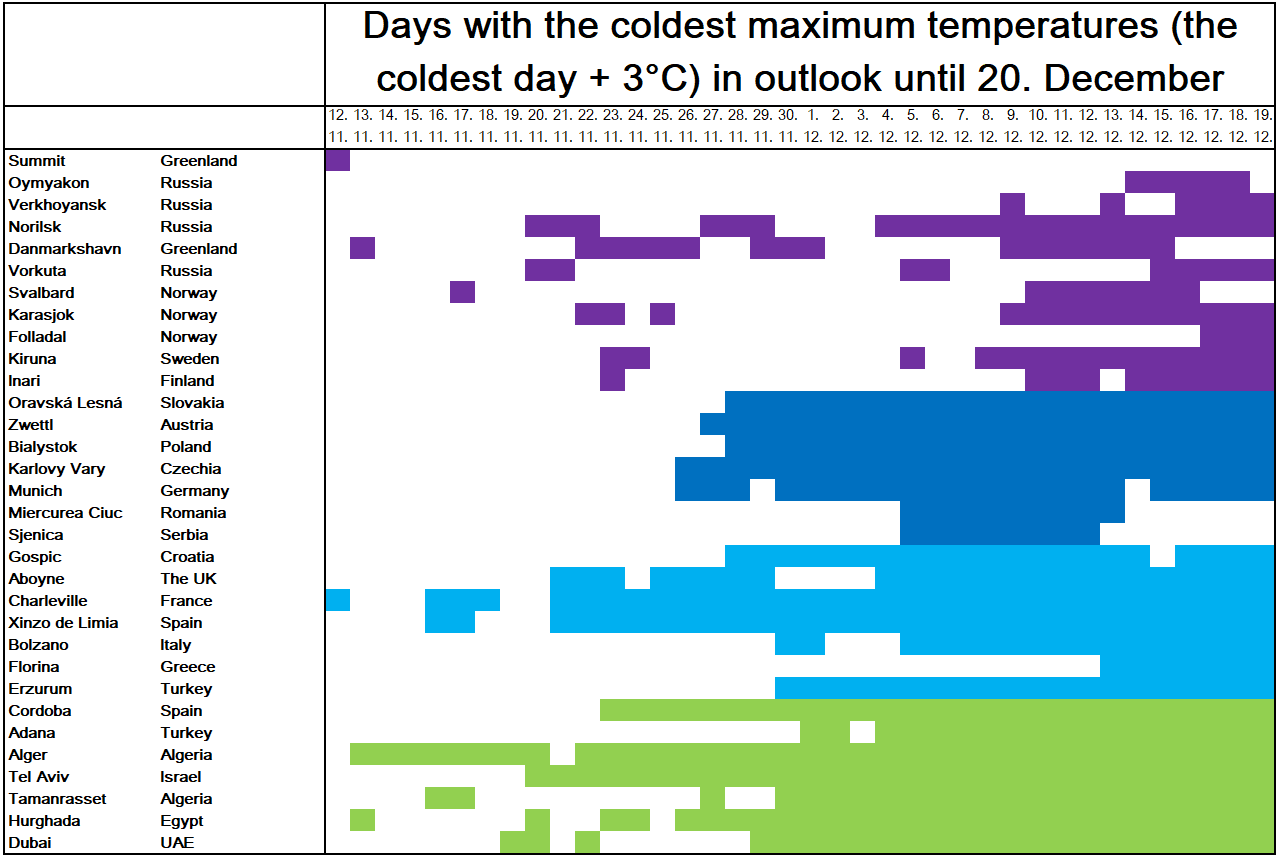 Already in the last articles, we were informed about the first significant winter cold blast in the European region around 22.-28. November 2021 and very low NAO index during this period /https://mkweather.com/arctic-winter-in-europe-already-betwen-22-27-november-central-europe-france-spain-and-the-uk-20c-scandinavia-30c/; https://mkweather.com/the-end-of-november-should-bring-a-very-low-nao-index-greenlandic-arctic-and-siberian-winter-should-come-very-early-peaks-between-20-11-20-12-2021//.
Now we should look at the 42-day forecast from Gismeteo, until 19. December 2021, with an estimate, that winter conditions in the wider European region should be peaking during winter holidays – it means Christmas 2021 and New Year 2022!
Such is evident from forecasts for 32 European, Asian, African, North American, and Arctic cities in the region, everywhere is forecasted strengthening of winter conditions until Christmas 2021, with really cold weather mainly in the 3rd November decade and during the 1st and 2nd December 2021 decades.
Decreasing temperatures before a Christmas should signalize, that a peak of extremely cold weather will come later than was forecasted and that Mkweather Winter 2021/2022 forecasts about extremely cold December 2021 should be successful /https://mkweather.com/winter-2021-2022-forecast-for-europe-early-extreme-arctic-and-siberian-blasts-and-blizzards-late-dry-and-very-warm-conditions/; https://mkweather.com/russian-meteorologists-expect-extreme-winter-around-december-january-2021-22/ + links to the last winter forecasts here https://mkweather.com/winter-2021-2022-forecast-for-northern-hemisphere-an-awakening-solar-activity-la-nina-neutral-nao-ao-wet-mjo-and-iod-to-drier-mjo-and-iod-qbo-ne-pacific-warm-blob-aao//.
2 main coldwaves in northern latitudes were detected during the period: approximately around 21.-26. November and then between 9.-19. December (purple color in the table below). These Greenlandic, Arctic, and Siberian air masses should immediately flood southern latitudes – in mid-latitudes is forecasted very long cold period with a peak with the coldest temperatures between 25. November – 19. December 2021 (dark blue color).
Into the Mediterranean and tropical climate zone, main cooldowns will come around 28. November 2021, but these parts of the region will experience shorter coldwaves already during November 2021 (light blue and green colors).
These predictions demonstrate that extremely cold Arctic air masses will be shifting from northern into southern latitudes during a longer period lasting 5-10 days, depending on the region.
Detailed forecasts for selected cities you should find on outputs below the table (source: https://www.gismeteo.com/weather-dubai-5529/month/)
Already in the next Mkweather article, we will verify these findings with extended ensemble forecasts from Wetterzentrale (GFS model).
Already on Friday, 12. November 2021 are expected to be available new ECMWF outputs, therefore our preliminary Christmas forecasts for Europe and the USA (and Canada, Mexico) will be updated, soon, too.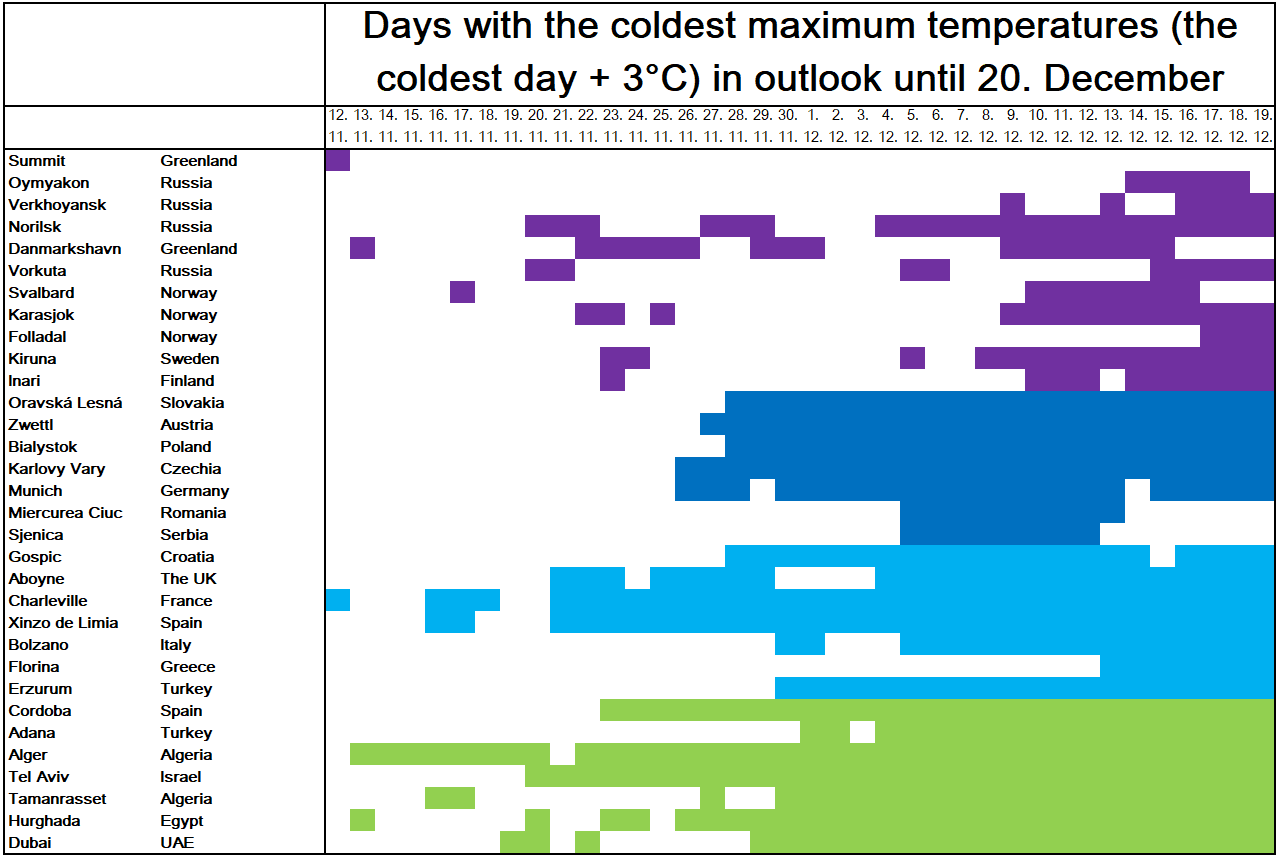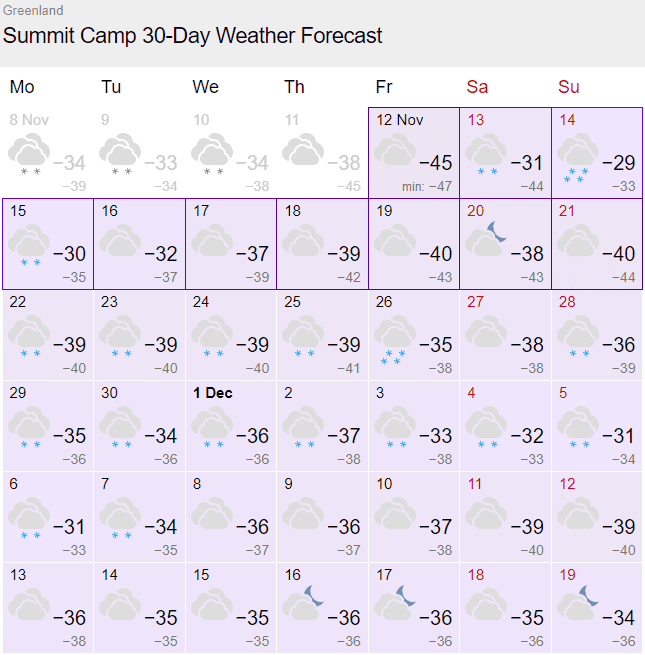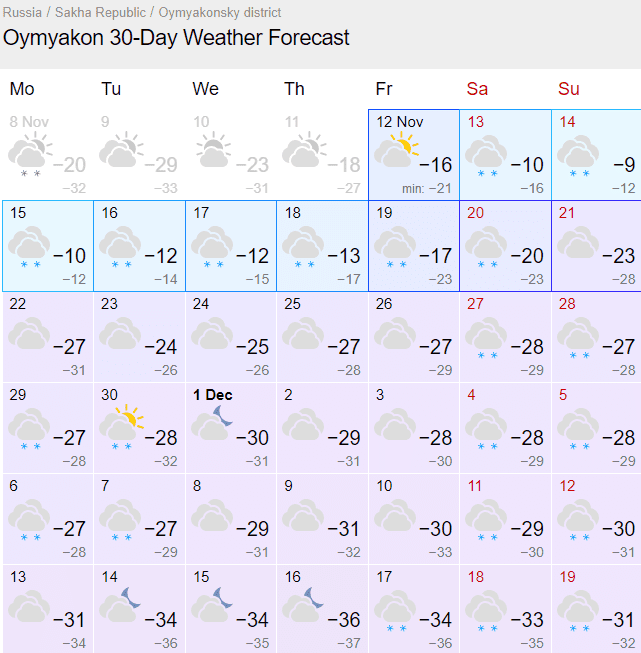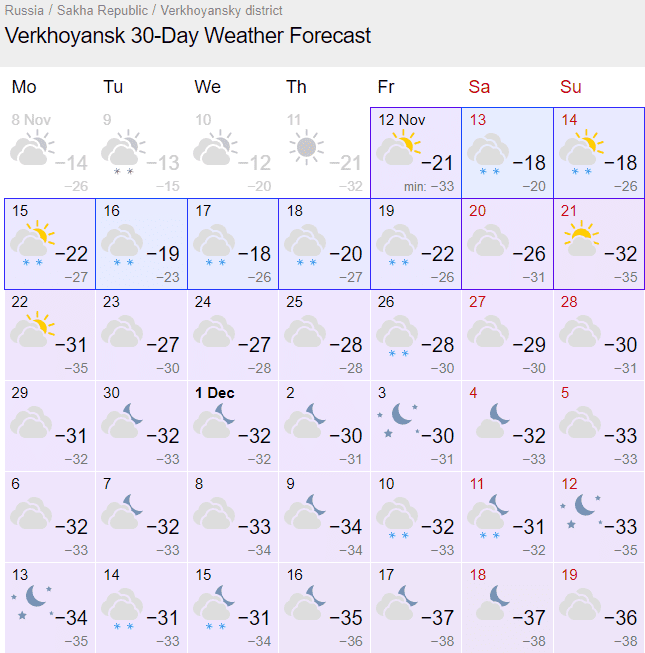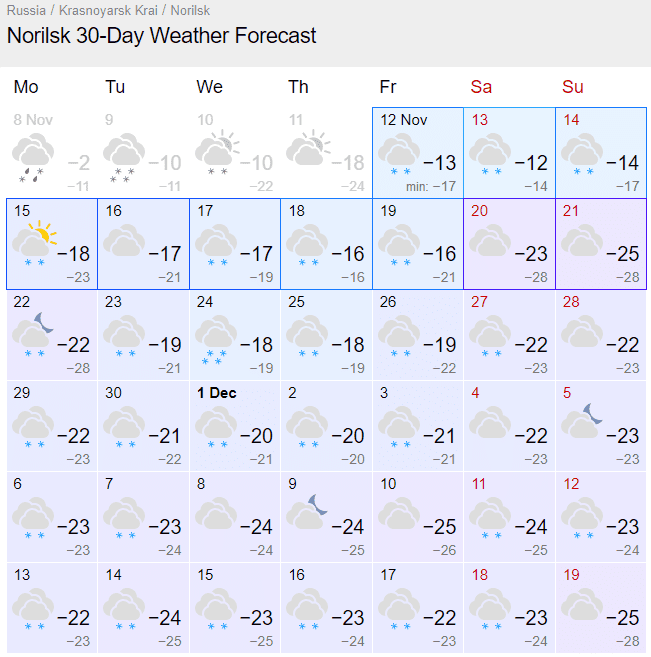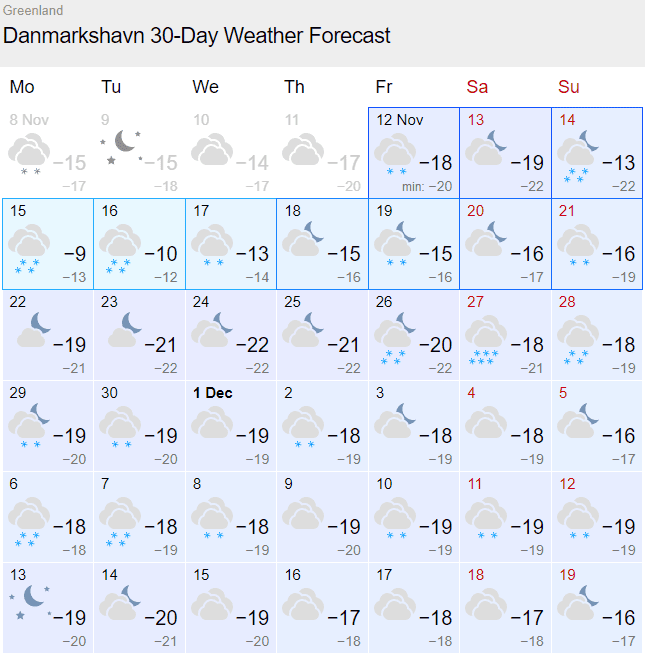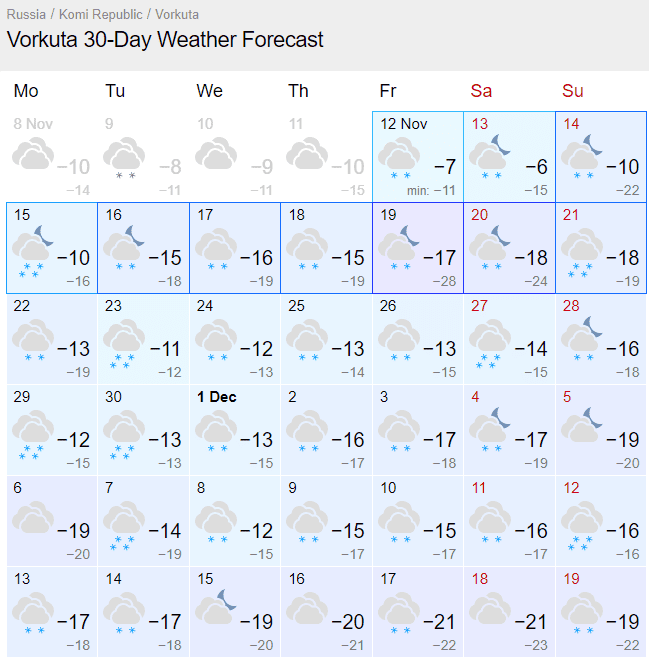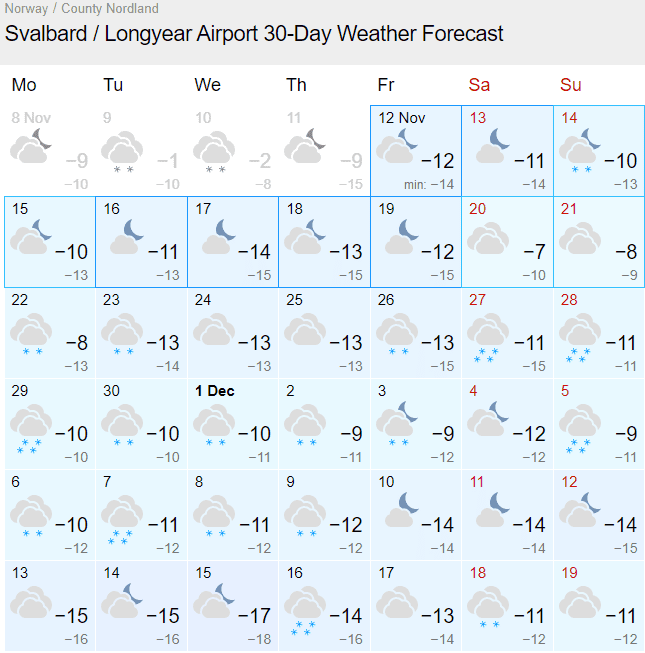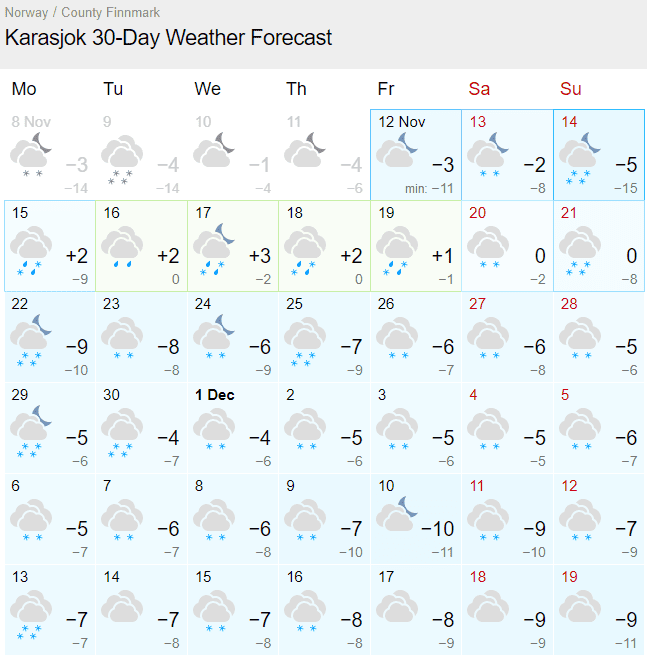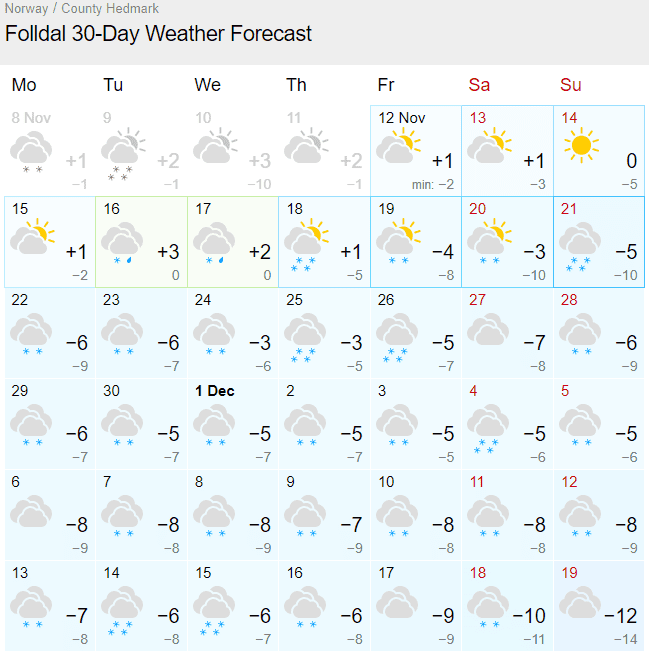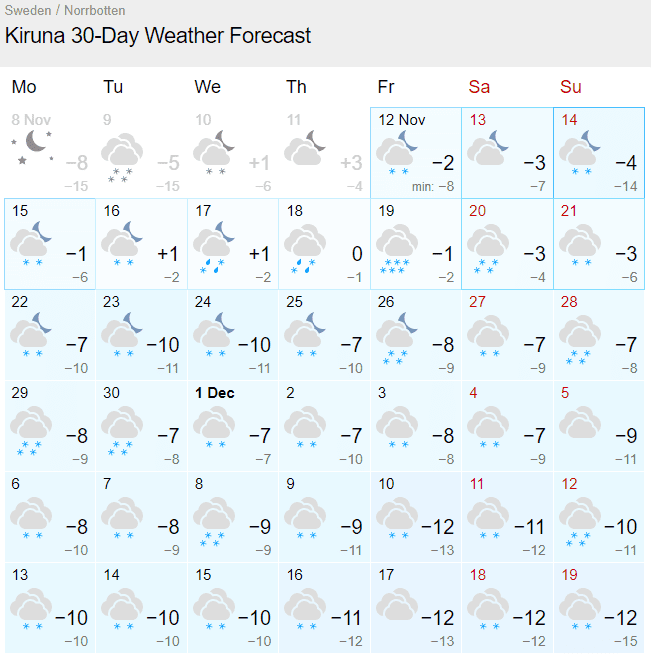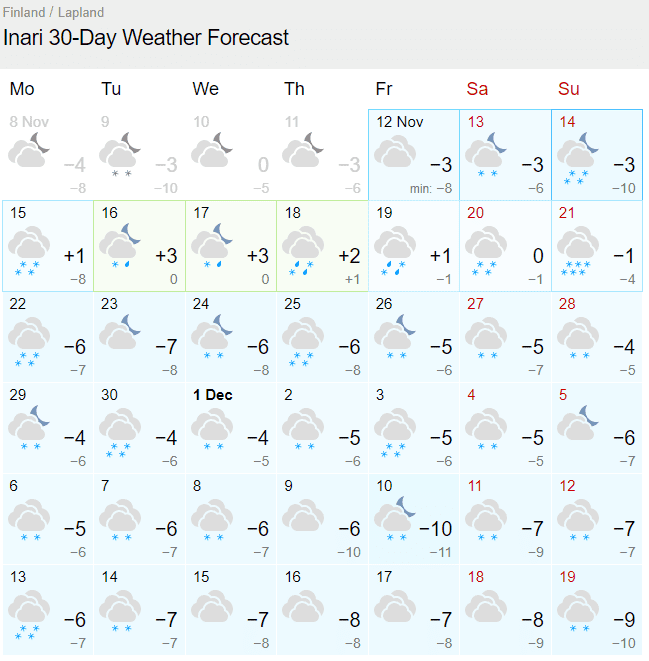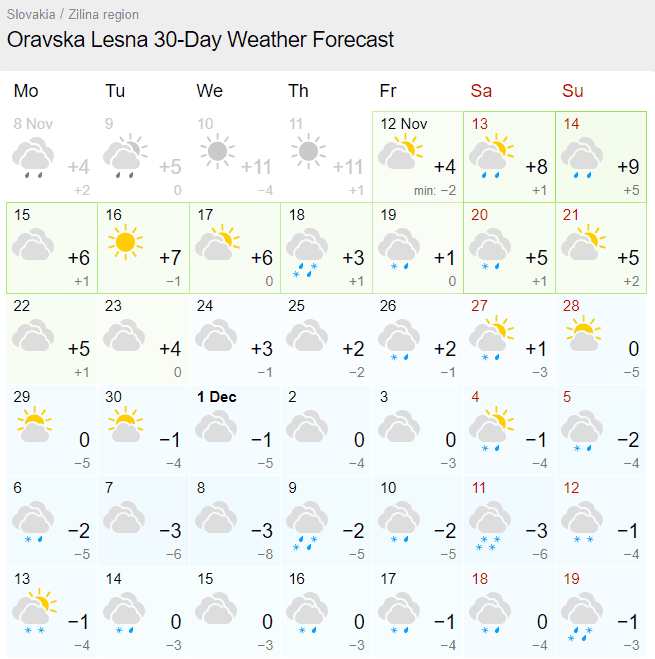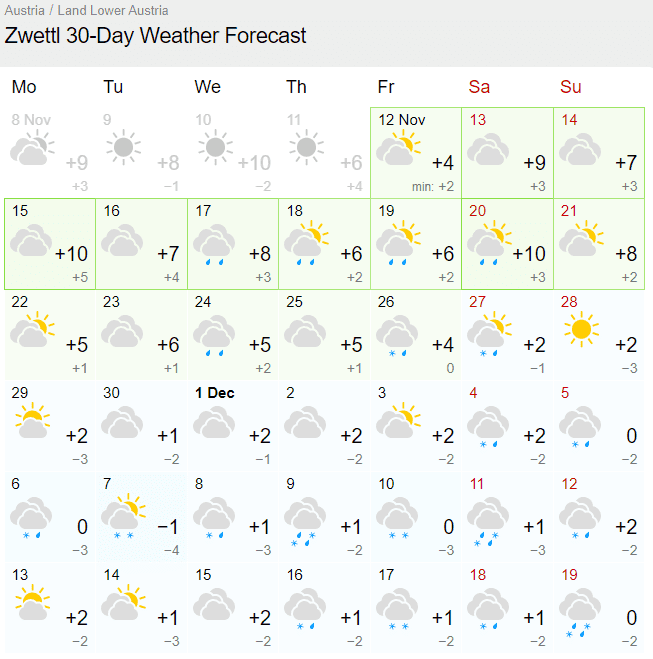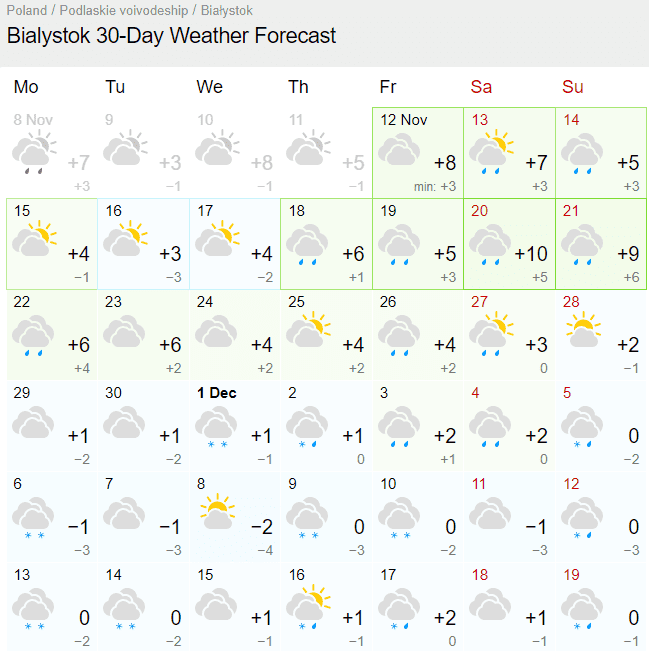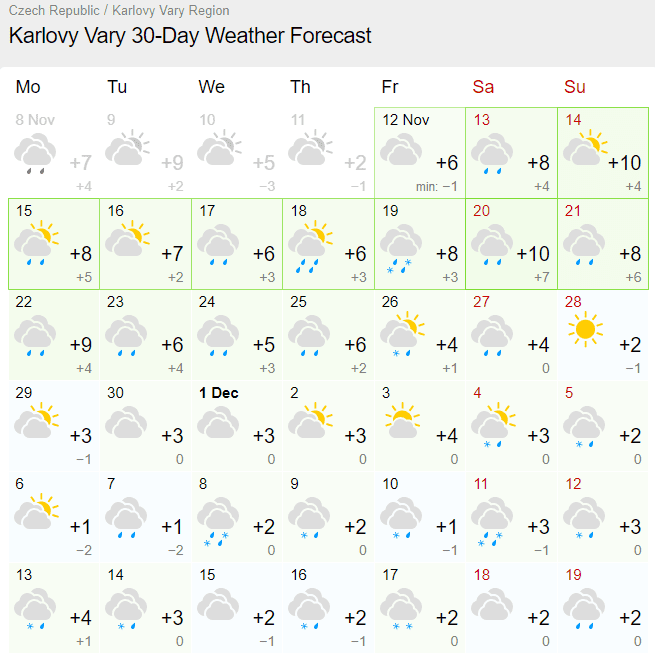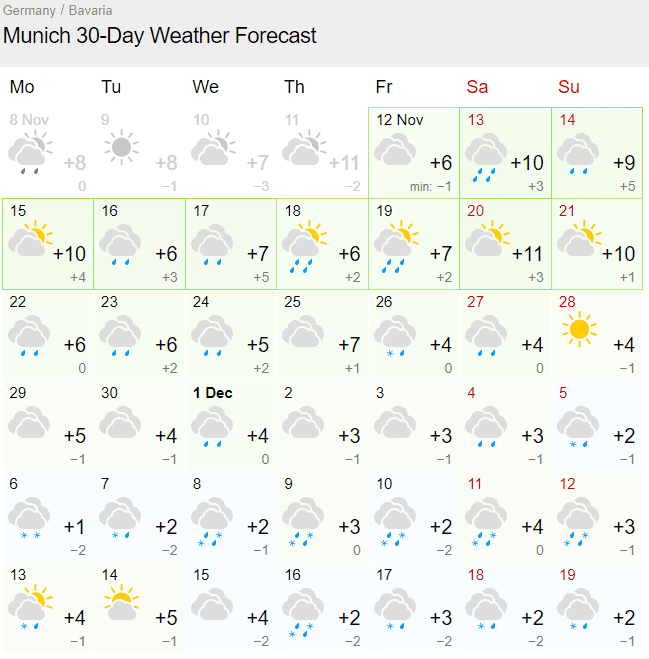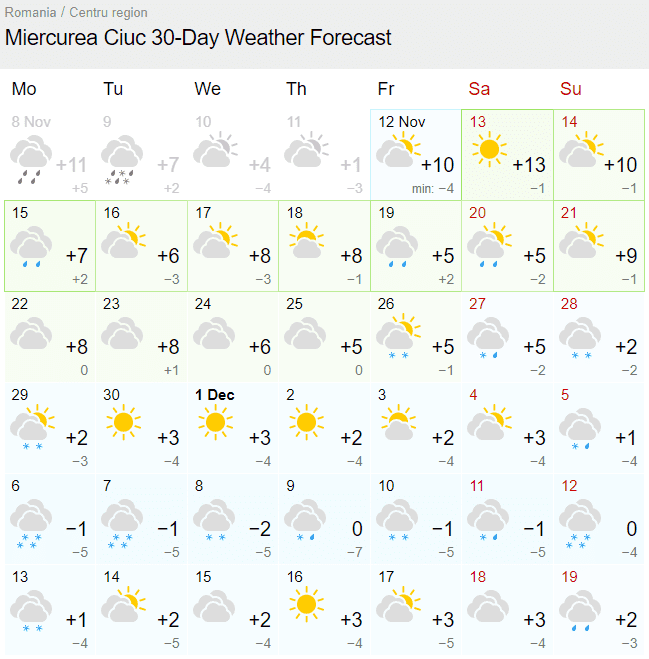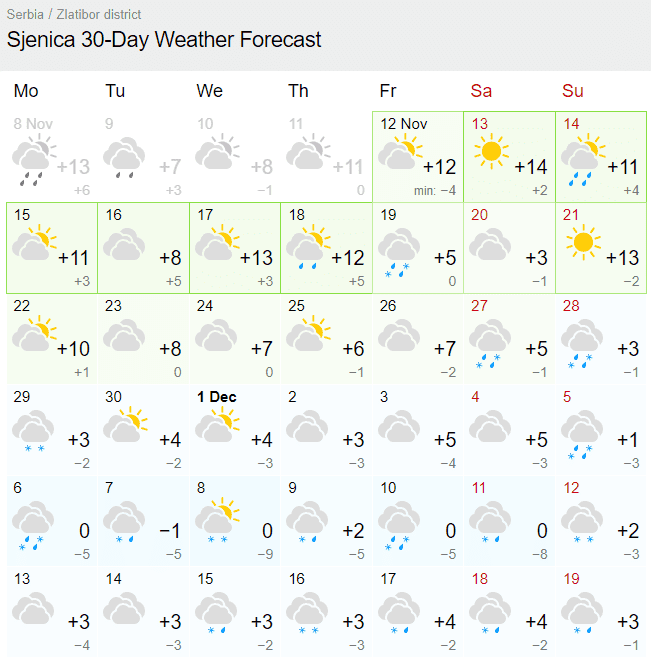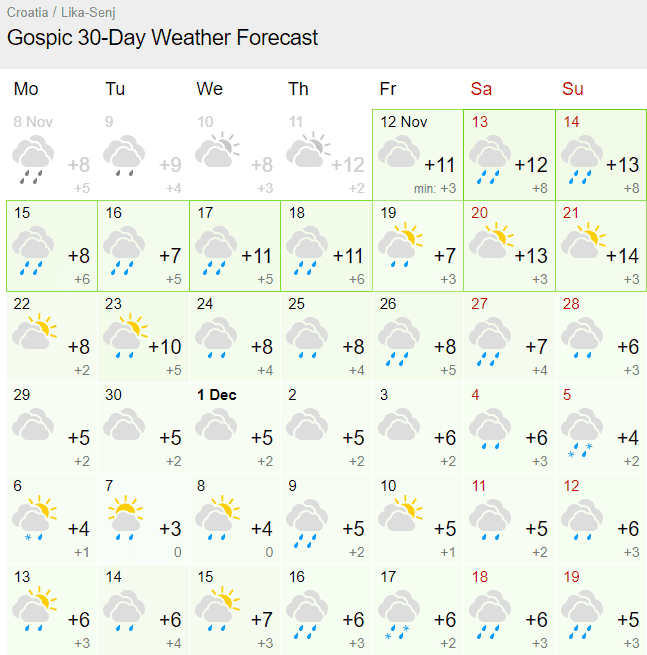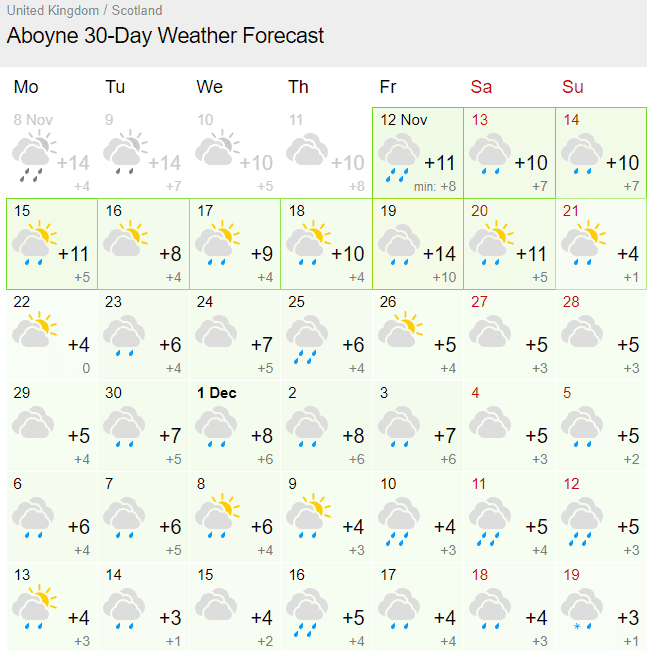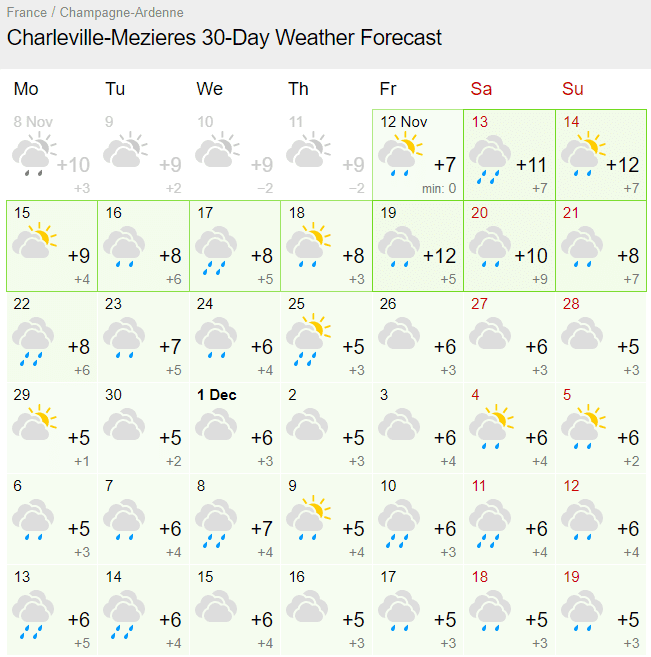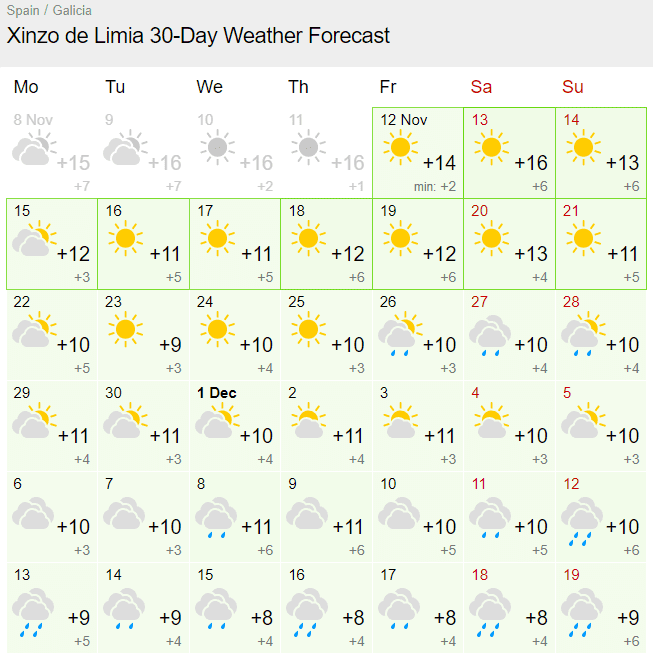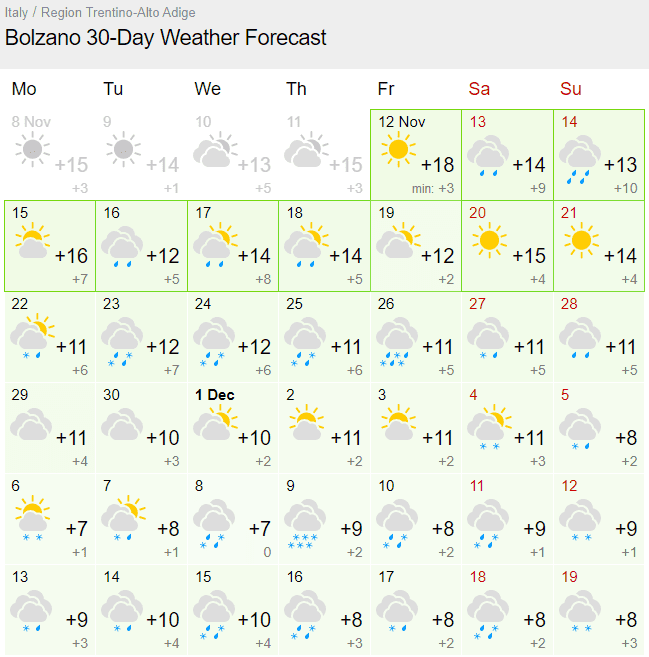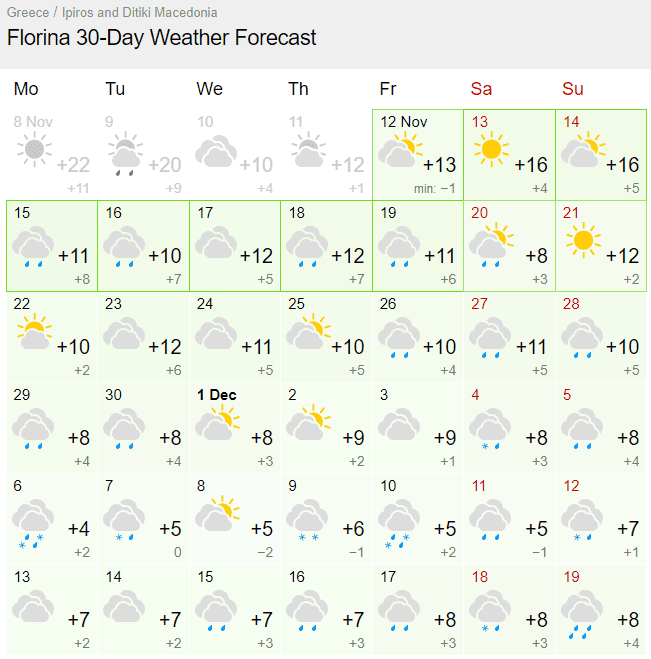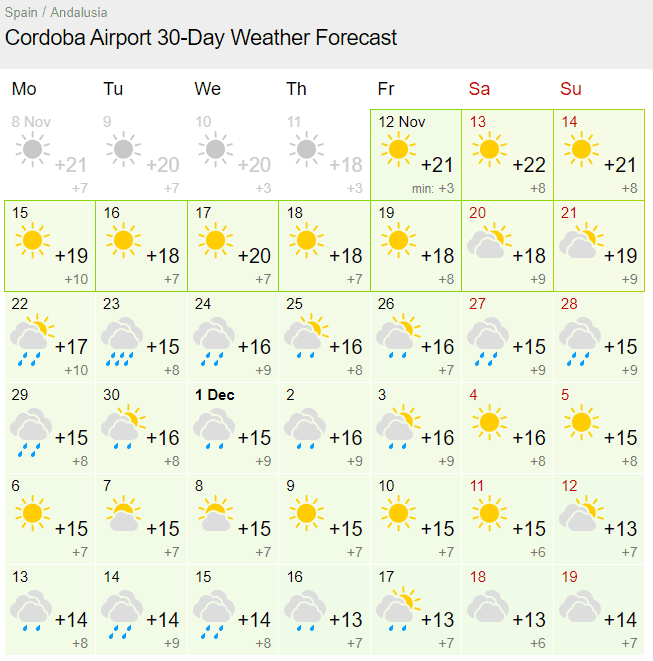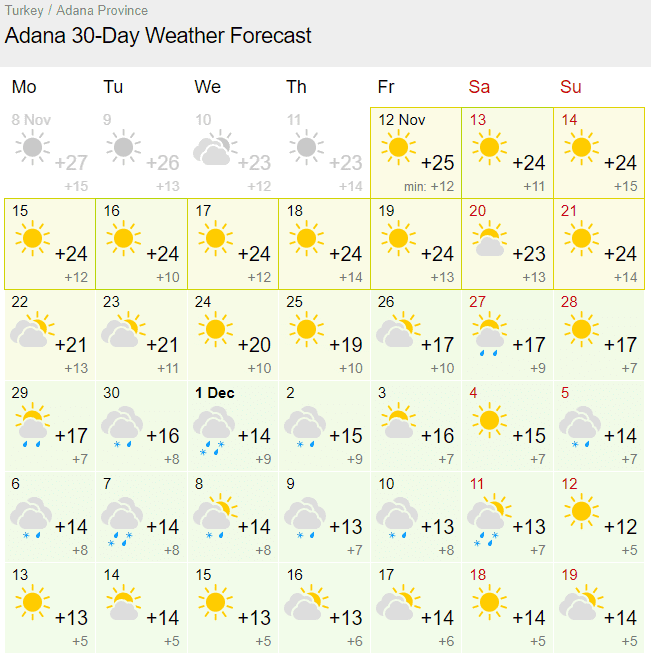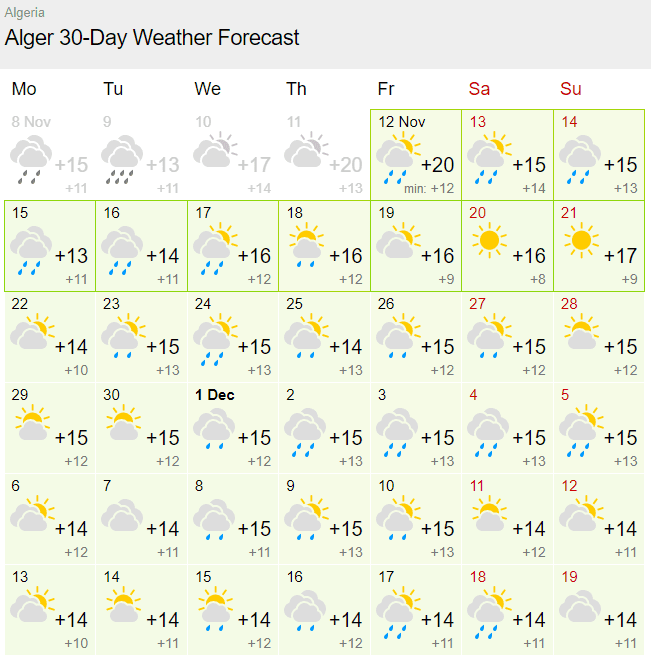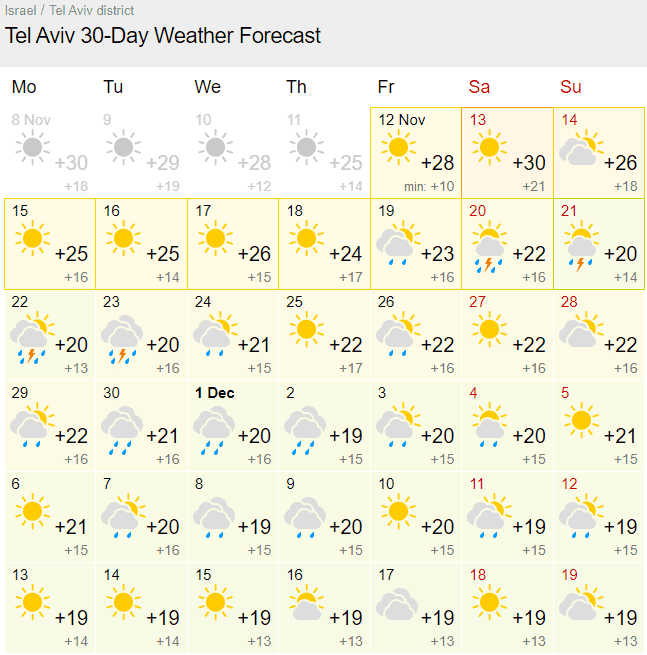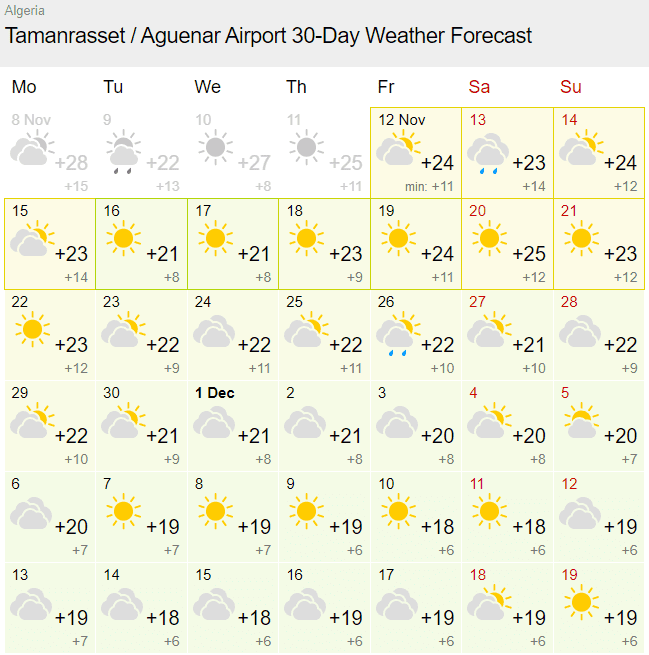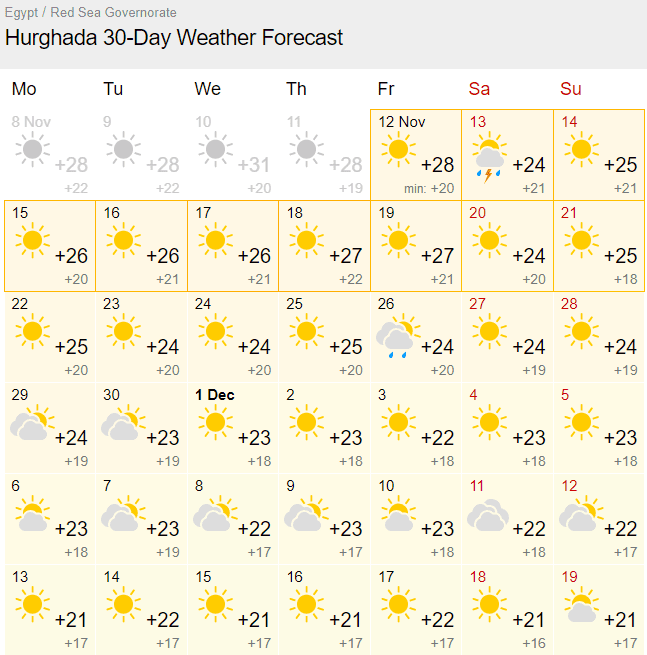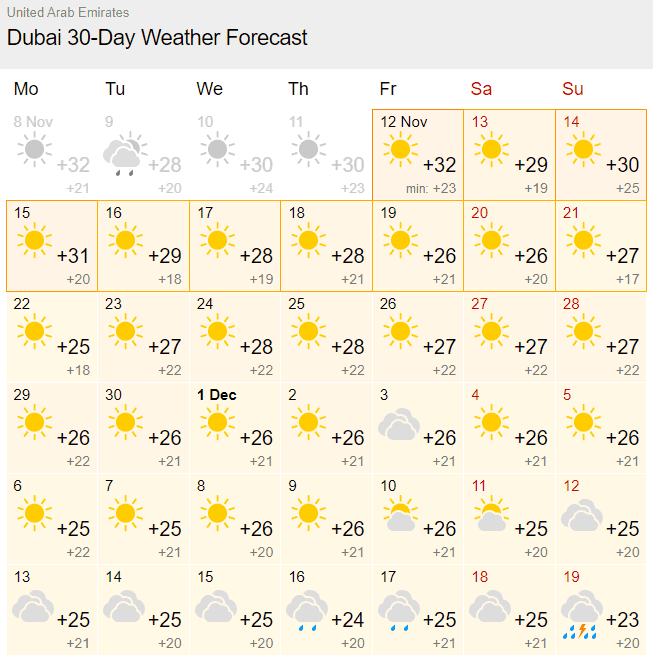 Source: https://www.gismeteo.com/weather-dubai-5529/month/