Tropical storm Odette hits Mid-Atlantic, Northeast, Nova Scotia, and Newfoundland!
If not heavy rains, storms, and floods, so strong winds and rough seas hit already in the next days coastal areas in Mid-Atlantic, Northeast, Nova Scotia and Newfoundland, the USA, and Canada, with worsening of weather after a late-season heatwave.
This tropical system (96L Invest) should be soon named such as Odette, if it will strengthen into a tropical storm sooner than a disturbance near West Africa, which will be shifting towards the Caribbean and the USA later in the month, with a possibility of strengthening to the next hurricane.
Last time, similar problems mainly in Newfoundland brought a Hurricane Larry /https://mkweather.com/snowicane-in-greenland-ex-hurricane-larry-brings-15-meters-5-feet-of-snow-in-southeastern-greenland//, with 181 km/h wind gusts in Newfoundland such as a Hurricane Category 1.
In the last days, the heatwave in Midwest and Northeast was peaking and severe storms replaced it later.
Now, the next heatwave is shifting above Midwest, while the Rocky Mountains will be hit by frosts and snow after a cold front /the next Mkweather article/.
It´s possible, that wind gusts will be again the strongest in easternmost Canada (Nova Scotia and Newfoundland) from the event, with an estimated 100-140 km/h wind gusts as a peak.
North Carolina, Virginia, Maine, or Newfoundland should hit local downpours according to current forecasts.
After possible tropical storms/hurricanes Odette and Peter, only 5 names are remaining in 2021´s alphabet collection and it´s only mid-September 2021, therefore, despite a forecast of calmer, dry MJO period /https://mkweather.com/weaker-hurricane-season-between-10-september-20-october-dry-mjo-phases-456-and-7/; https://www.nhc.noaa.gov/aboutnames.shtml/, we should use Supplementary hurricane names list /https://www.almanac.com/content/hurricane-names-hurricane-season/, because usage of the Greek alphabet was banned.
The next 10 systems will have the names Rose, Sam, Teresa, Victor, Wanda, Adria, Braylen, Caridad, Deshawn, and Emery.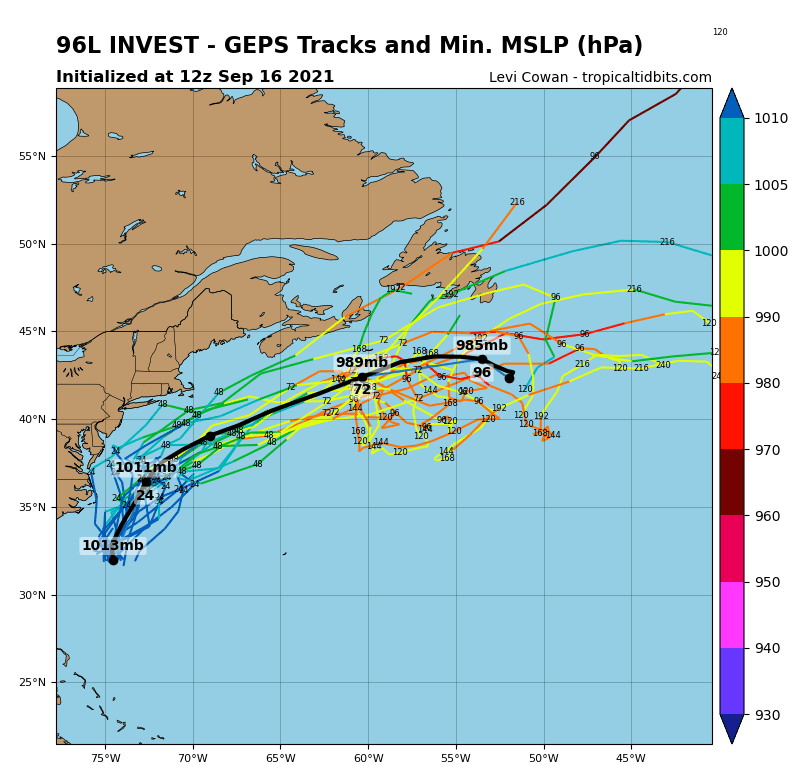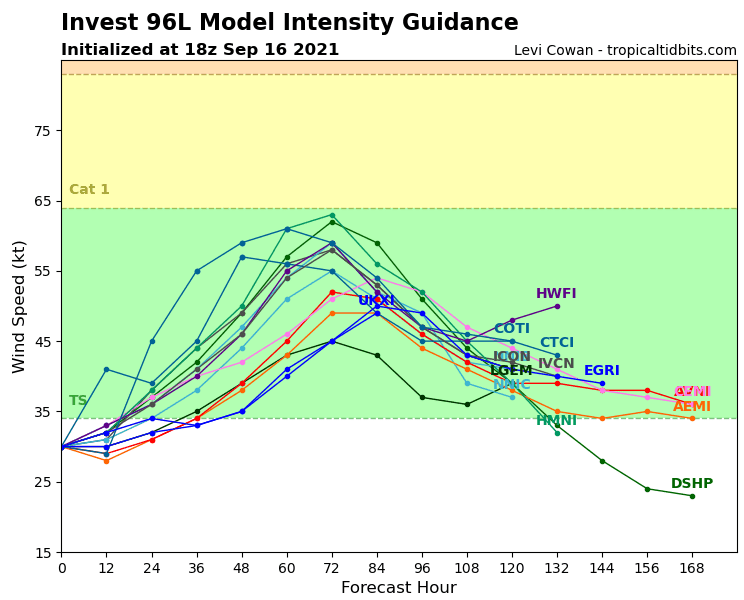 Source: tropicaltidbits.com
Source: wxcharts.com