The past month has been a relatively busy one at the NWSSPC, wrote office on its Twitter page.
The numbers match of tornadoes in October 2021 reached 119 reports, which means, that October 2021 brought the 2nd most tornadoes on record!
Above 100 tornadoes in October in the USA were confirmed only in the years 2018 (123), 2001 (117), 2010 (108), and 1997 (100).
Under untraditional strong storm activity, we should find an unusually strong Indian summer in the eastern half of the USA, with a combination of powerful hurricanes or their remnants, shifting in October 2021 across the continental parts of the country.
Dozens of tornadoes e.g. appeared near remnants of October hurricanes in Texas and the Midwest.
In autumn, the second peak of tornado season is observed almost every year, thanks to a colliding of Arctic air masses from the north with tropical air masses from the south.
In early November, however, Arctic air brought severe coldwaves and blizzards /https://mkweather.com/washington-d-c-with-the-coldest-start-of-november-since-2012/; https://mkweather.com/great-lakes-the-usa-with-36-cm-14-inches-of-snow// and the number of tornadoes has declined.
During the winter season, tornadoes are relatively rare and concentrated mainly in southern states, while the absolute peak of tornado season is reaching in the spring months, with hundreds of reports, many deadly and EF3, EF4 or EF5.
The last and the next tornado seasons, 2021 and 2022 were / will be very probably intensified by the La Nina pattern.
Drier El Nino, with fewer tornadoes and hurricanes in the USA, is forecasted only from Autumn 2022 /https://mkweather.com/2022-2023-forecast-chances-for-el-nino//.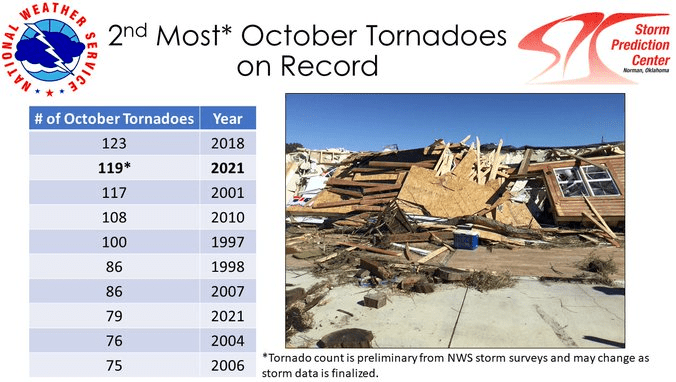 (Visited 46 times, 1 visits today)