Between extremely cold air above Scandinavia /https://mkweather.com/winter-came-to-scandinavia-very-early-48-cm-snowfall-in-finland-and-27c-forecasted-for-sweden// and extremely warm air masses above continental Europe /https://mkweather.com/summer-on-20-october-czechia-250c-austria-248c-poland-230c//, a powerful frontal system brought in the last 48 hours (from Wednesday to Friday, 20.-22. October 2021) surprisingly severe windstorm.
Cyclone Ignatz brought firstly extreme winds in France, where 175 km/h was measured in Fecamp on the northern coast, then severe winds shifted above Germany, Denmark, Benelux and the Alps, with maximum wind gusts in Hausbergturm (510m), 163 km/h.
A windstorm was unfortunately for 4 people in Poland deadly and caused widespread damages. In Polish/Czech mountains in Snezka, 159 km/h winds, above the Baltic sea (Petrobaltic Beta), near the Polish coast, 137 km/h was according to meteologix.com measured.
Around 500 000 people in continental Europe found themselves with power outages.
Thousands of damaging events on property, uprooted trees, problems in travel, or injuries were reported.
In Cairnwell, the UK, 135 km/h, Kittila in Finland 122 km/h, Estaca de Bares, Spain 112 km/h or Pakri, Estonia 104 km/h wind gusts were measured.
From bigger cities, Paris and Orleans, France reported 108 km/h, Lyon 101 km/h, Helsinki 101 km/h, winds were extremely strong mainly in Germany (119km/h in Dresden, 117km/h in Wuppertal, 111km/h in Leipzig, 105km/h in Frankfurt, or 95km/h in Berlin).
This dramatic interruption of Indian summer will bring a few colder days after a cold front into a region, but soon, Indian summer is forecasted to return /http://mkweather.com/november-brings-summer-weather-20-25c-in-continental-europe-and-25-30c-in-the-mediterranean//.
The second phase of Indian summer in Europe and extreme frosts in Scandinavia at the weekend will be in Mkweather watch – we will bring fresh news, soon.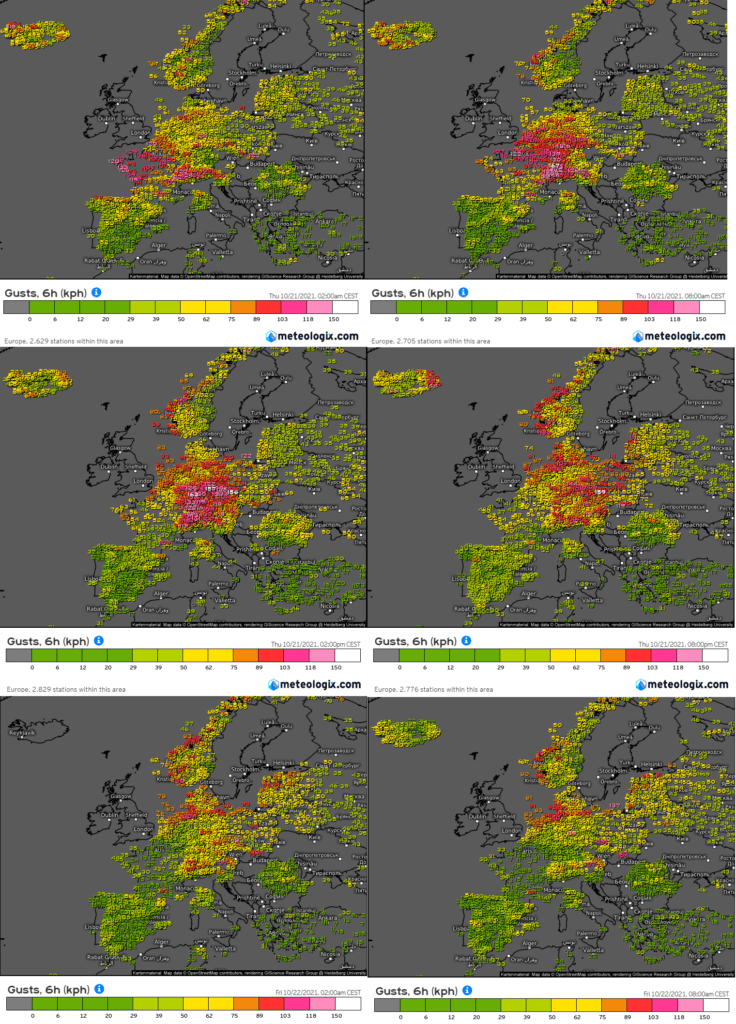 (Visited 249 times, 1 visits today)