Extremely cold forecasted conditions are slowly starting their manifestations in Scandinavia.
On Tuesday, 19. October 2021, -18,0°C was already measured in Latnivaara, Sweden although GFS modes saw a potential only up to -12°C for northern Sweden for Tuesday morning. Enontekio in Finland reported -16,0°C.
GFS for the next days sees a possibility of temperatures up to -21/-22°C what should mean after calculations extremely cold -27/-28°C in the coldest valleys in Sweden, Norway, or Finland in the upcoming days.
The coldest morning is still forecasted for Sunday, 24. October 2021, with extreme frosts in northern and central Scandinavia, with a possibility of temperature records in Kiruna, Gallivare, Lulea regions in Sweden or a possibility of temperature to be very close to the temperature records in Karasjok or Kaukoteino region, Norway or Enontekio, Kittila or Inari region, Finland.
Moreover, extreme snowfall after a blizzard is already reported in northern Sweden and northern Finland – in Sweden regionally around 30 cm and in Kittilä Kenttärova, Finland, anomalous 48 cm!
Snow cover deep like this is in October in the region very rare and it will very probably support a decline of minimum temperatures in the region during upcoming nights.
Cold air from Scandinavia even temporarily interrupts an Indian summer period in Europe, with a fall of maximum temperatures below +15°C and morning frosts around -5°C in valleys in Central Europe between 22.-26. October. /https://mkweather.com/spain-328c-france-306c-hot-air-is-shifting-above-continental-europe//
Severe frosts should into Scandinavia at the end of October and in early November 2021 quickly return (between 27. October and 3. November 2021), with similar temperatures up to -27/-28°C after a blizzard.
Watchers in Twitter noticed untraditional temperatures at level 10 hPa -they reached above Greenland -44°C above the Baltic region, southern Scandinavia, and northern Russia almost -70°C. These anomalous conditions should be associated with anomalous cold blasts in Scandinavia, together with a persisting October 2021 NAO- phase, with often Mediterranean lows and Arctic blasts in lower latitudes (and very cold Scandinavia).
If you live in Scandinavia, we recommend you to watch current forecasts and warnings before snow and extreme cold, such as weather news and long-term forecasts about forecasted conditions.
Winter forecasts for Europe and Northern Hemisphere were updated here: https://mkweather.com/winter-2021-2022-forecast-for-europe-early-extreme-arctic-and-siberian-blasts-and-blizzards-late-dry-and-very-warm-conditions/; https://mkweather.com/winter-2021-2022-forecast-extreme-frosts-in-eurasia-in-december-in-north-america-in-february-early-canadian-stratospheric-warming-ne-pacific-blob-la-nina-qbo-and-shift-from-nao-to-nao-such-le/.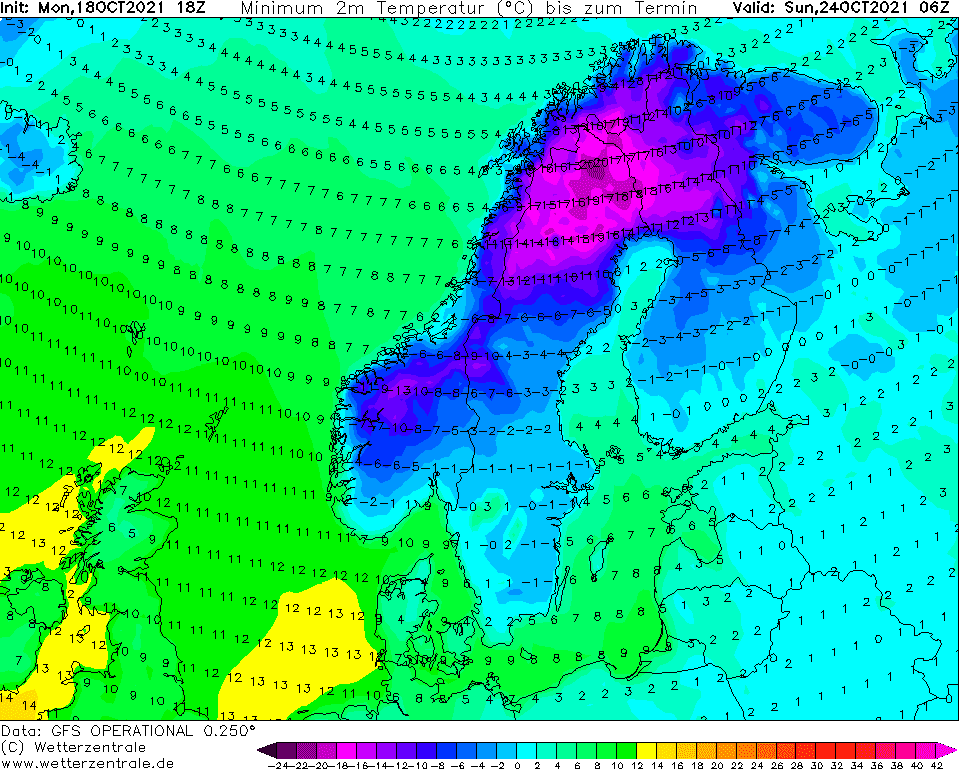 (Visited 198 times, 2 visits today)