Delyankir, Siberia: -34,8°C! Very close to seasonal records!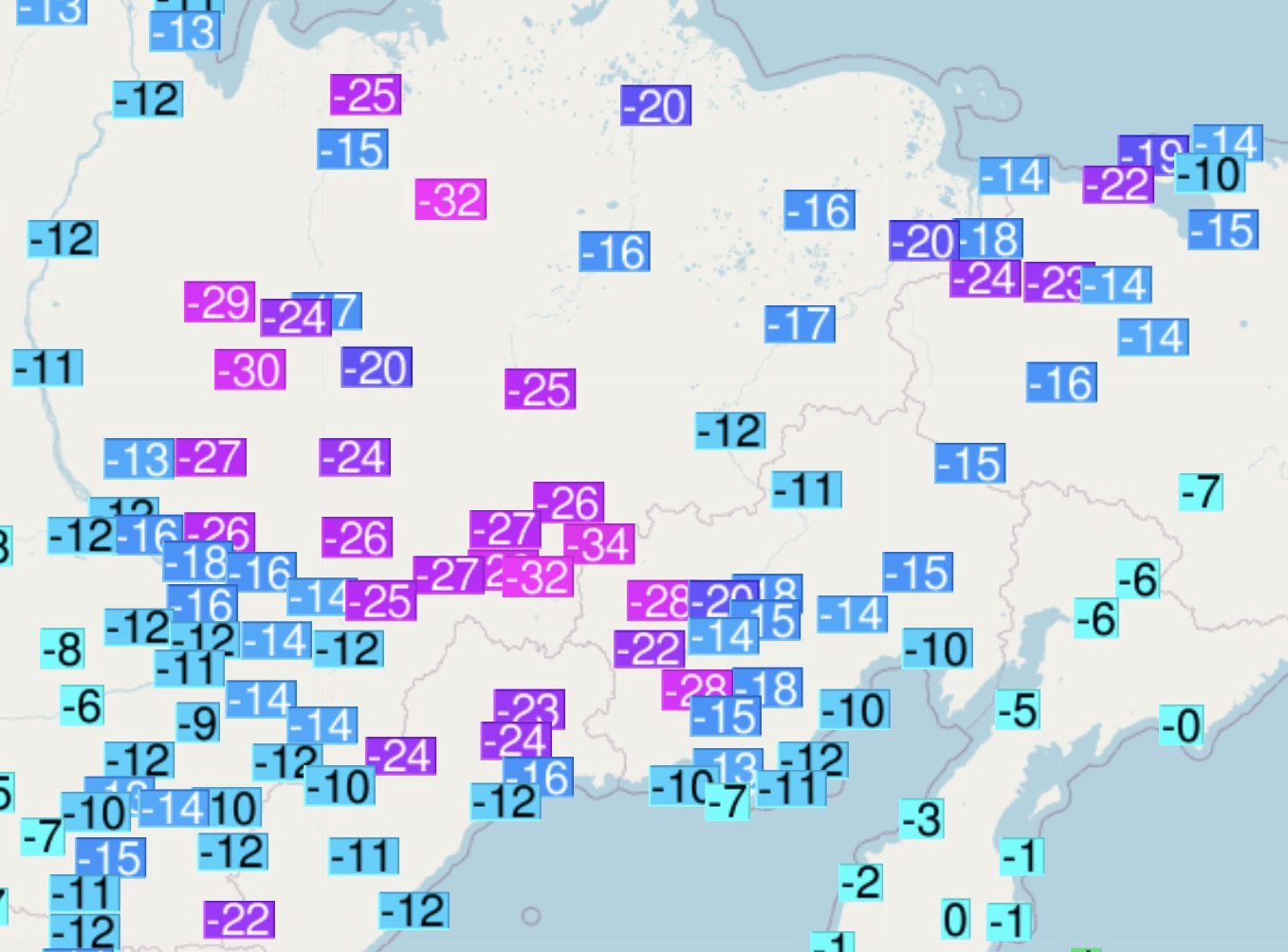 Siberia is colder and colder!
About a decreasing of temperatures in Siberia linked with near-record or record temperatures in Autumn 2021 we were informed here /https://mkweather.com/labaznaya-siberia-249c-at-the-level-of-seasonal-temperature-records/; /https://mkweather.com/siberia-with-the-coldest-september-temperatures-in-history-delyankir-220c//; https://mkweather.com/in-oymyakon-winter-has-come-very-early-on-10-september-was-measured-a-new-daily-record-148c//.
Arctic region is in 2021 colder /https://mkweather.com/arctic-sea-ice-extent-26-greater-than-last-year-12th-lowest-on-record-and-the-largest-since-2014// (and very cold is Antarctica, too /https://mkweather.com/vostok-794c-only-06c-from-the-all-time-october-record/; https://mkweather.com/the-south-pole-with-the-coldest-winter-in-history-average-temperature-april-september-half-year-only-610c// what should mean more stocks of cold Arctic air for Siberia.
After some time, extreme frosts hit Siberia again in full power, and temperatures were on 19. October 2021 regionally very close to all-time seasonal records!
The coldest was in Delyankir, Eastern Siberia, with only -34,8°C. This temperature is 10,8°C lower than the all-time September record and 5°C higher than the all-time October record from the last September / October days with an estimate, that this temperature is very close to a daily record for 19. October (with a meaning "never has been so cold here in this season"), which should be moving tightly below -35°C.
Deputatskij reported -34,2°C, Susuman -32,6°C, and Oymyakon -32,0°C, but these temperatures are a little farther from all-time seasonal records such as in Delyankir.
Severe frosts hit already Mongolia and northern China, too, with temperatures up to -17,3°C in Tulihe, -16,5°C in Mohe, and -16,0°C in Mongolia. North Korea reported -8,6°C already around 800 MASL.
The temperature in Fujisan, Japan, dropped to -13,3°C after an extremely hot period /https://mkweather.com/autumn-in-japan-and-taiwan-has-never-been-so-hot-340c-and-387c-almost-in-half-of-the-season-china-early-snow-and-floods-already/; https://mkweather.com/extreme-indian-summer-in-east-asia-china-390c-japan-357c-south-korea-323c//.
For comparison, in Canada thanks to extremely warm conditions, only -24,4°C in Alert Climate was measured until a current date, but Scandinavia expects extreme frosts up to -27/-28°C already at the weekend /https://mkweather.com/winter-came-to-scandinavia-very-early-48-cm-snowfall-in-finland-and-27c-forecasted-for-sweden//.
According to Russian forecasts, winter in Eastern Siberia should peak around early January 2021, with extreme frosts below -60°C, maybe rarely up to -65°C /https://mkweather.com/russian-meteorologists-expect-extreme-winter-around-december-january-2021-22//.
In the next period, frosts across Siberia will be furthermore strengthening and the next regional and seasonal temperature records should appear.
In Winter 2021/2022 2x or even 4x more snow is expected in parts of Siberia, mainly in the eastern regions, which should have an effect on warming the region, but extreme frosts are in the case of Major SSW and strong AO- / NAO- phases very possible during a few weeks, too.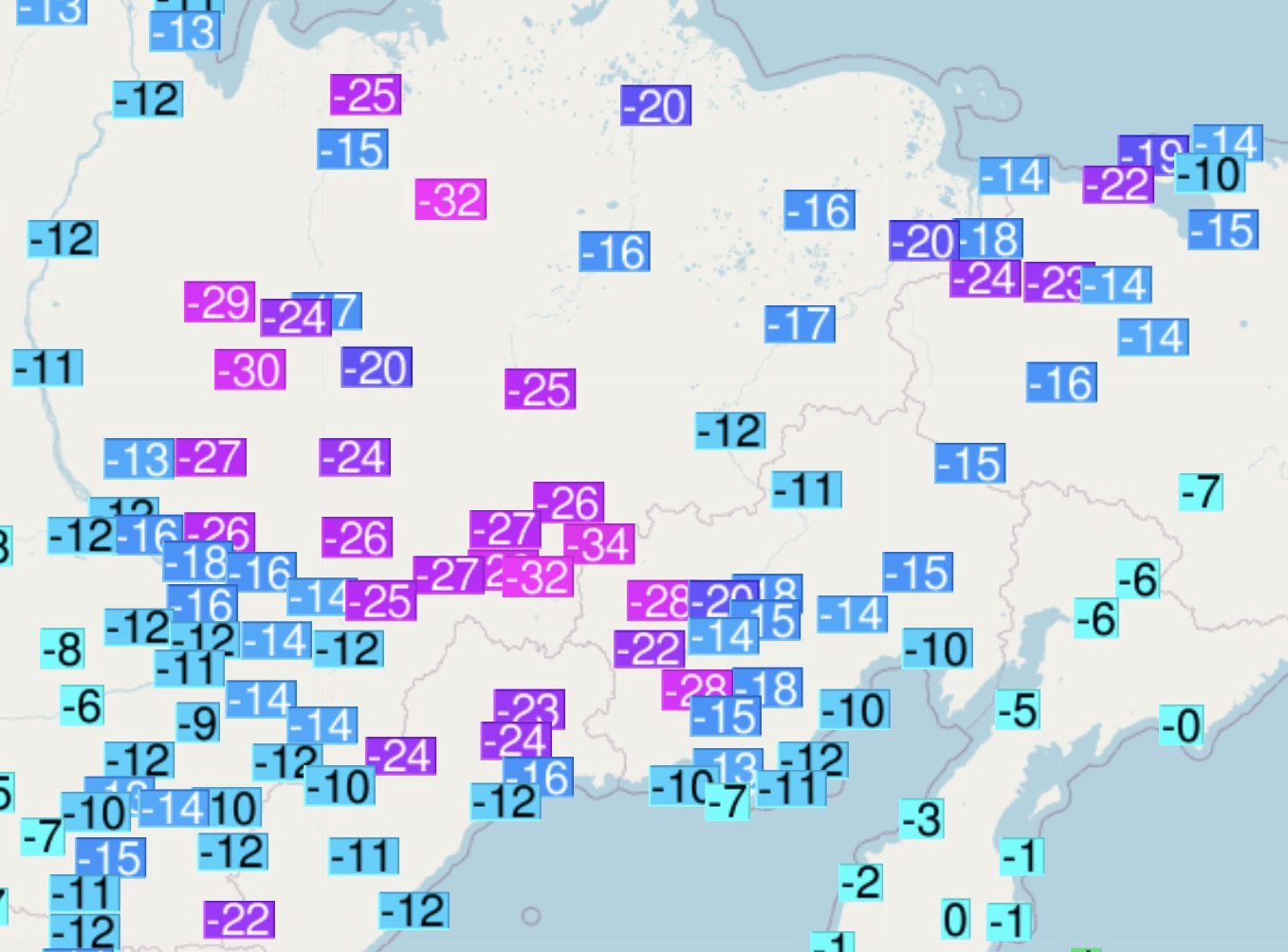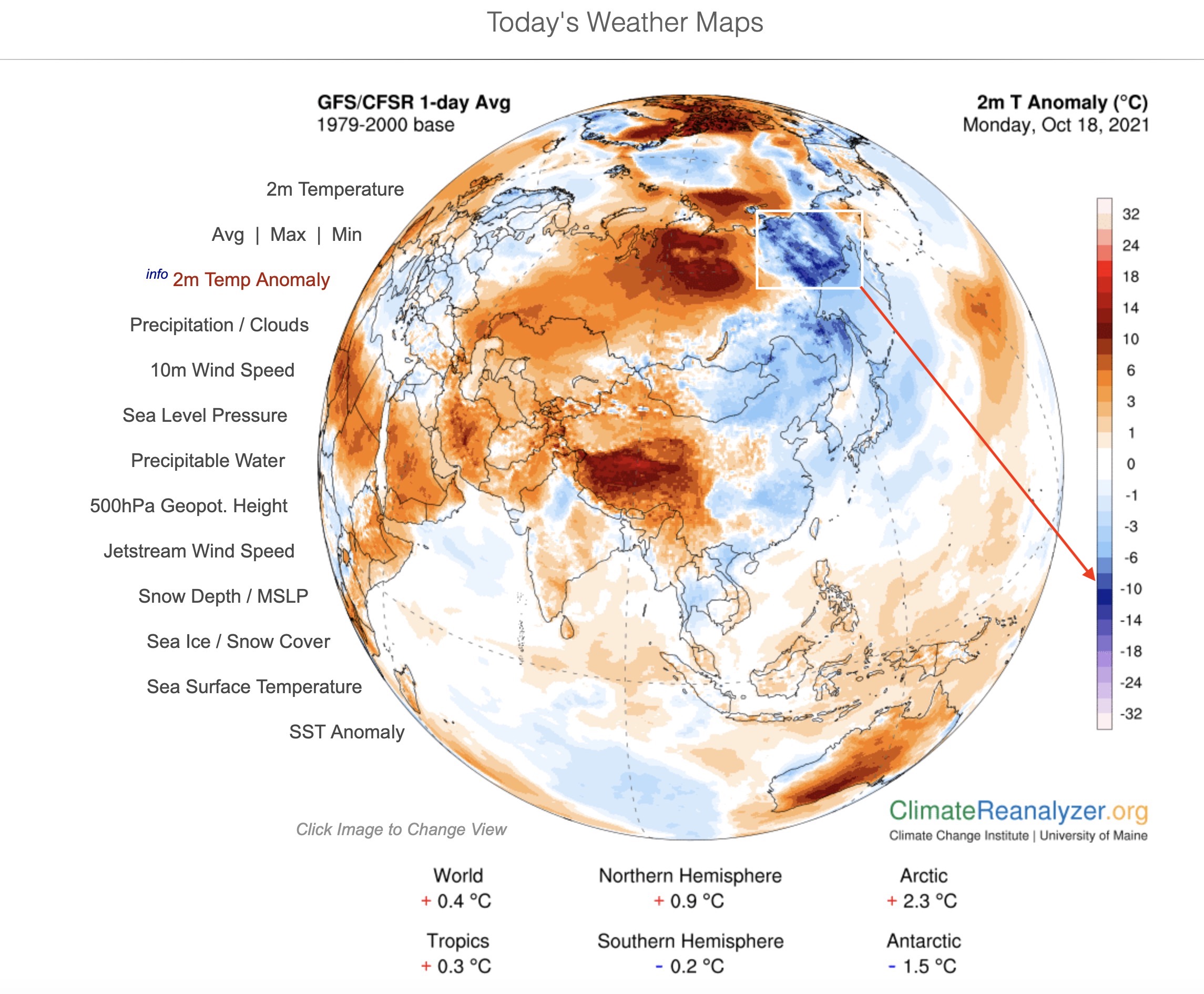 Source: https://twitter.com/ThierryGooseBC/status/1450271264476598273/photo/2