If not all-time Greek national record, +48,0°C from Athens, 10. July 1977, then all-time monthly record for June and daily temperature records for all territory are expected in Greece during the first days of the next week.
GFS sees a peak of extreme heatwave around Wednesday, 30. June 2021 (but according to some runs it should arrive earlier), with +46°C value on GFS maps and possibility of temperatures, similarly such as in Italy /Hell is coming! Catenanuova, Italy: +45,1°C, Palermo +43,5°C – only 0,5°C below 2007 heatwave, the hottest will be on Wednesday and Thursday, close to +50°C! – mkweather; +52,4°C in Algeria! The first official European +50°C is possible! – mkweather/, around +48°C near sirocco.
On Monday, 21. June +45,1°C in Sicily /link above/ was already measured and in Palermo, maximum temperature +43,5°C was only 0,5°C below all-time record for the city for June from 2007.
Sirocco is gradually shifting above Balkan and Central Europe /Sirocco for Central Europe? Hungary should attack +40°C on Thursday! – mkweather/ and record-breaking temperatures are forecasted for Baltic region and Finland, too /Finland is expecting +36°C, Estonia +37°C on Tuesday, all-time national records have values +37,2°C and +35,6°C – mkweather/.
Saharan air therefore will be shifting from Italy to Greece around a week-lasting period between peaks of heatwave in both countries.
Extreme temperatures up to +43°C are also projected for North Macedonia, +42°C for Serbia, +41°C for Bosnia and Herzegovina and Croatia (note: all-time national Croatia record has value +42,8°C), +41°C for Bulgaria and +40°C for Romania early next week.
Cooldown should arrive maybe only in early July 2021, but runs of forecast models are still not in strong agreement, if heatwaves will be persisting in S/SE Europe during the first July decade, or not.
Meanwhile, many parts of continent expect after heatwaves extreme storms – storms with 10 cm hails, 140 km/h winds and tornadoes are already occurred in western parts of continental Europe /Belgium hit EF2 tornado with a twin: 17 injured, 92 buildings damaged – mkweather; 10 cm hailstorms are shifting to Germany, CZ, CH, AU, DK, SE and N IT from France, PT, ES, BE, NL, LU! – mkweather; 10 cm hails, 140 km/h winds, 10 tornadoes and 7 day forecast: Balance of weekend storms in Europe – mkweather/.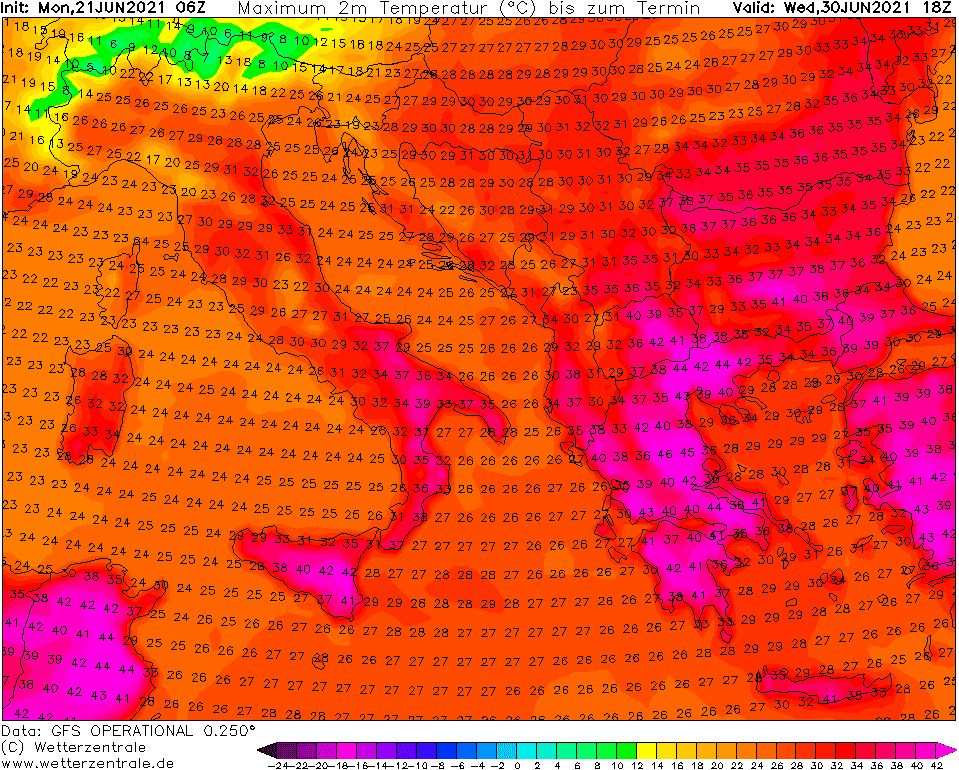 Source: wetterzentrale.de
(Visited 33 times, 1 visits today)