EF2 tornado and the next floods in Germany!
On Monday, 16. August 2021 evening (around 18:12) hit Berumerfehn, Niedersachsen in northern Germany powerful tornado, which hit populated areas.
According to ESWD estimates, it was an EF2 tornado /https://eswd.eu//, without fatalities, however, with strong damages on the property.
The tornado ripped off roofs, overturned trucks, damaged cars, and uprooted trees.: " Impacts: Road(s) impassable or closed, Damage to roof or chimney, Roof(s) destroyed, Damage to window(s) or insulation layer(s), Wall(s) (partly) collapsed, Car(s) dented, Car window(s) or windshield(s) broken, Car(s) lifted, Truck(s) and/or trailer(s) overturned, Large tree branch(es) broken, Tree(s) uprooted or snapped " – is a description of impacts of tornado according to ESWD.
It was the first EF2 tornado in Europe since a similar event in Slovakia on 5. August 2021 /https://mkweather.com/tornado-in-slovakia-4-villages-report-damages//, but still not so devastating such as EF4 tornado in Czechia on 24. June 2021  /https://mkweather.com/czechia-hit-ef3-tornado-150-people-injured-7-villages-destroyed-if-is-something-apocalyptic-so-scenes-captured-from-hit-areas-june-2021/; https://mkweather.com/deadliest-tornado-ef3-4-in-europe-in-20-years-czechia-after-natural-disaster-footages-day-after/; https://mkweather.com/tornado-in-czechia-has-the-6th-victim-only-2-year-baby-2021/; https://mkweather.com/swamps-in-dyje-morava-confluence-such-as-a-factor-of-deadly-ef3-4-tornado-in-czechia//.
When we look at the situation in Europe in the last few days more detailed, we will find, that several tornadoes or waterspout reports (together 7) was observed within the ESWD database along the coast of Germany, Denmark, Poland and Baltic states.
Meanwhile, in Central Europe and Scandinavia, severe storms brought damaging winds, heavy rains and floods /the next Mkweather articles/.
Floods after a long time appeared in parts of Germany, Austria and Italy early this week /Tweets below/ – from Germany, 1 dead and 1 missing are reported.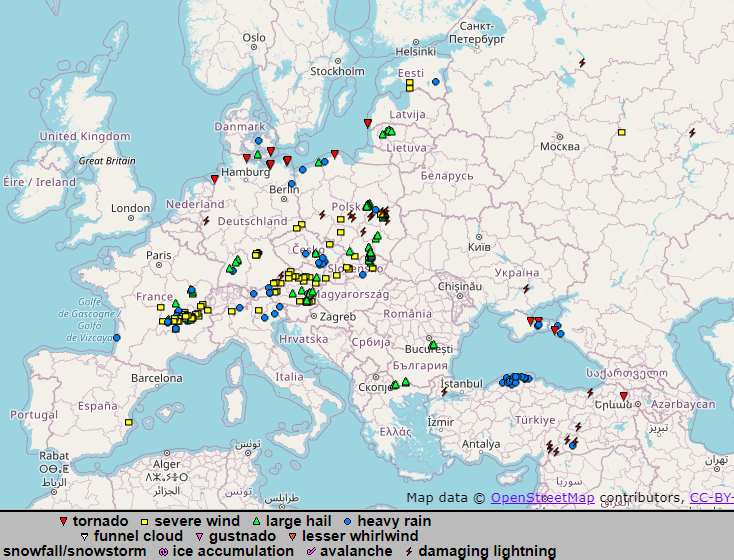 Source: ESWD /https://eswd.eu//