Europe: Coldwave is bringing extremely cold maximum temperatures – Norway +1,6°C, Germany +9,9°C, Croatia +14,2°C, daily temperatures below +10°C until 2. September are possible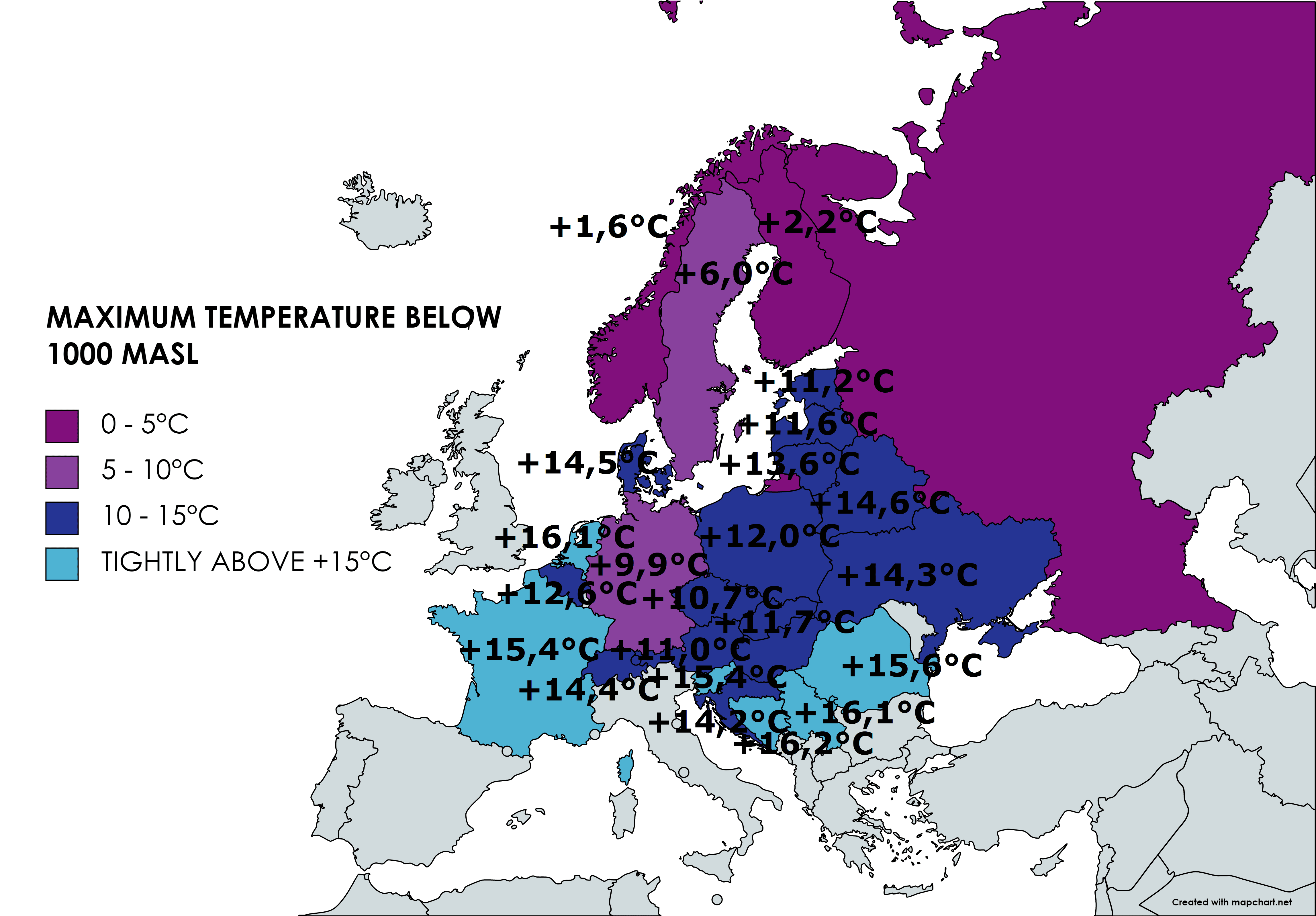 Extremely cold weather has arrived at the end of Summer 2021 and will be continuing in parts of continental Europe until minimally 2. September 2021.
Until this date, maximum temperatures below +10°C in the region are possible near cyclonic weather with rains, winds, cloudiness, and low real-feel temperatures. Minimum temperatures are even lower /https://mkweather.com/first-frosts-and-ground-frosts-are-here-extremely-cold-weather-in-continental-europe-will-continue-until-1-september-weather-maps/; https://mkweather.com/winter-is-coming-southern-norway-43c-filefjell-drevsjo-30c-only-13c-above-all-time-august-record// – a list of extreme maximum temperatures below.
It´s possible, that in the next 5 days, these national TOPs will be even lower – central parts of the continent will be situated on the backside of the slowly shifting cyclonic system from Central to Eastern Europe.
Relatively colder weather should stay in Central Europe until 5. September, around 5.-9. September shorter heatwave with summer temperatures above +25°C is possible.
Iceland and the UK, and soon Scandinavia too, however, are enjoying hot summer weather /https://mkweather.com/iceland-the-hottest-august-day-in-history-284c-while-europe-is-shivering-from-winter-scotland-272c-the-warmest-august-day-in-the-uk-extremely-hot-should-be-in-iceland-until-10// thanks to anticyclonic weather.
Storms and floods have already shifted above parts of the Mediterranean and in southern Europe, the next severe storms are in the next period possible /https://mkweather.com/flood-risk-in-the-southern-half-of-europe-in-the-next-period-cooldown-already-brought-floods-in-marseille-and-barcelona-regions-france-spain//.
If you live in the region from France to Ukraine and from Lapland to Italy and Greece, do not underrate the coldwave and dress warm, because the virological situation is worsening during cold weather. In the winter, during coldwaves is the situation with the effect of cold on diseases even worse /some information in our older article https://mkweather.com/heart-attack-influenza-cancer-frostbites-hypothermia-covid-what-you-should-to-know-about-arctic-and-siberian-coldwaves//.
Between the period 22.-27. August, the following maximum temperatures in European countries were observed:
0 – 5°C
Kistefjell, Norway, +1,6°C on 22. August 2021
Kilpisjarvi Saana, Finland, +2,2°C on 22. August 2021
5 – 10°C
Klovsjohojden, Sweden, +6,0°C on 26. August 2021
Wasserkuppe, Germany, +9,9°C on 27. August 2021
10- 15°C
Pec Pod Sněžkou, Czechia, +10,7°C on 27. August 2021
Baernkopf, Austria, +11,0°C on 27. August 2021
Turi, Estonia, +11,2°C on Wednesday, 25. August 2021
Ruijena, Latvia, +11,6°C on Wednesday, 25. August 2021
Telgárt, Slovakia, +11,7°C on Friday, 27. August 2021
Zakopane, Poland, +12,0°C on Friday, 27. August 2021
Mt. Rigi, Belgium, +12,6°C on Friday, 27. August 2021
Telsiai, Lithuania, +13,5°C on Thursday, 26. August 2021
Kekesteto, Hungary, +14,1°C on Friday, 27. August 2021
Puntijarka, Croatia, +14,2°C on Wednesday, 25. August 2021
Lviv, Ukraine, +14,3°C on Wednesday, 25. August 2021
Laegern, Switzerland, +14,4°C on Friday, 27. August 2021
Roenne, Denmark, +14,5°C on Thursday, 26. August 2021
SLIGHTLY ABOVE +15°C
Le Brévienne, France, +15,4°C on Friday, 27. August 2021
Lisca, Slovenia, +15,4°C on Wednesday, 25. August 2021
Ocna Sugatag, Romania, +15,6°C on Friday, 27. August 2021
Buoy near NEtherlands, +16,1°C on Wednesday, 25. August 2021
Vrsac, Srbia, +16,1°C on Friday, 27. August 2021
Banja Luka, Bosnia and Herzegovina, +16,2°C on Friday / Wednesday 27./25. August 2021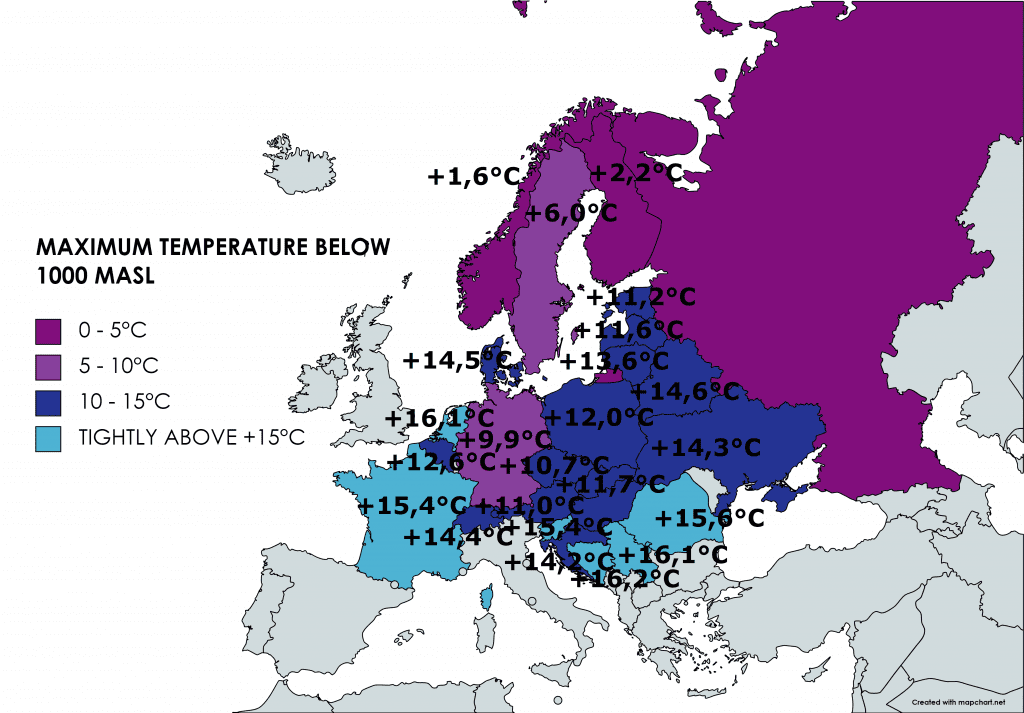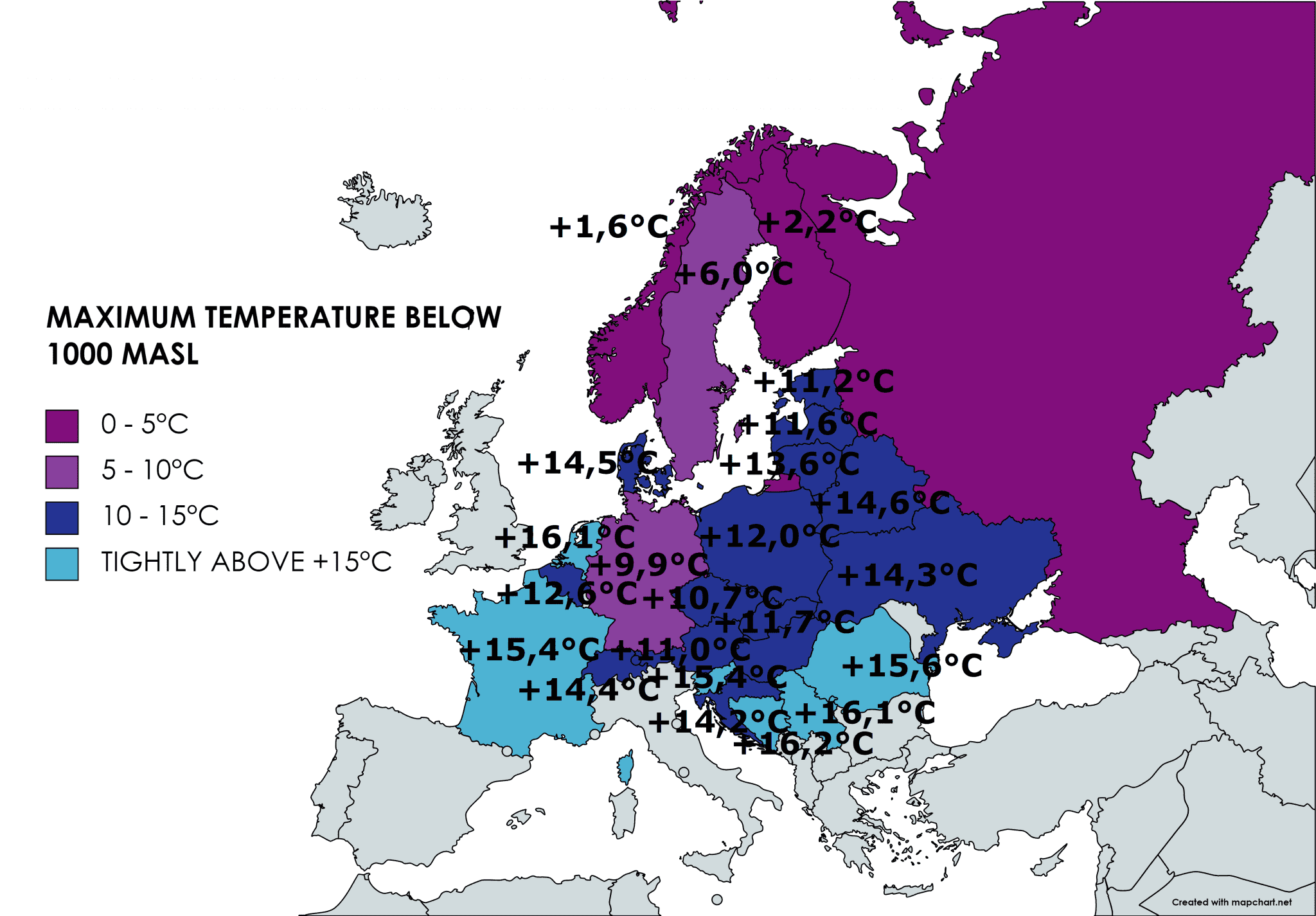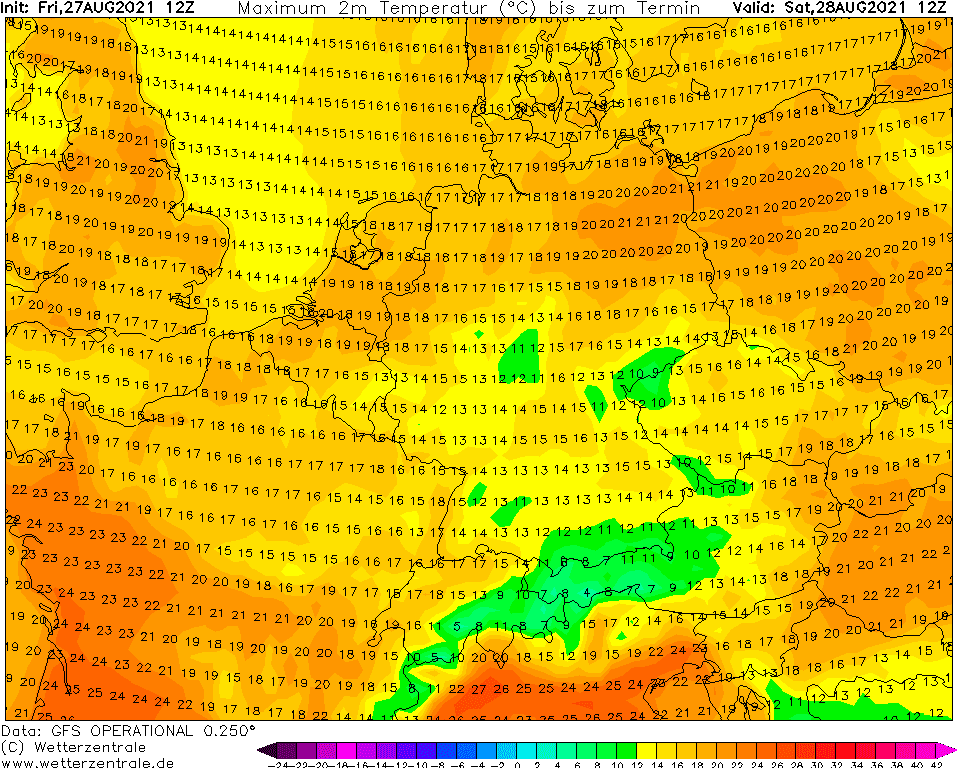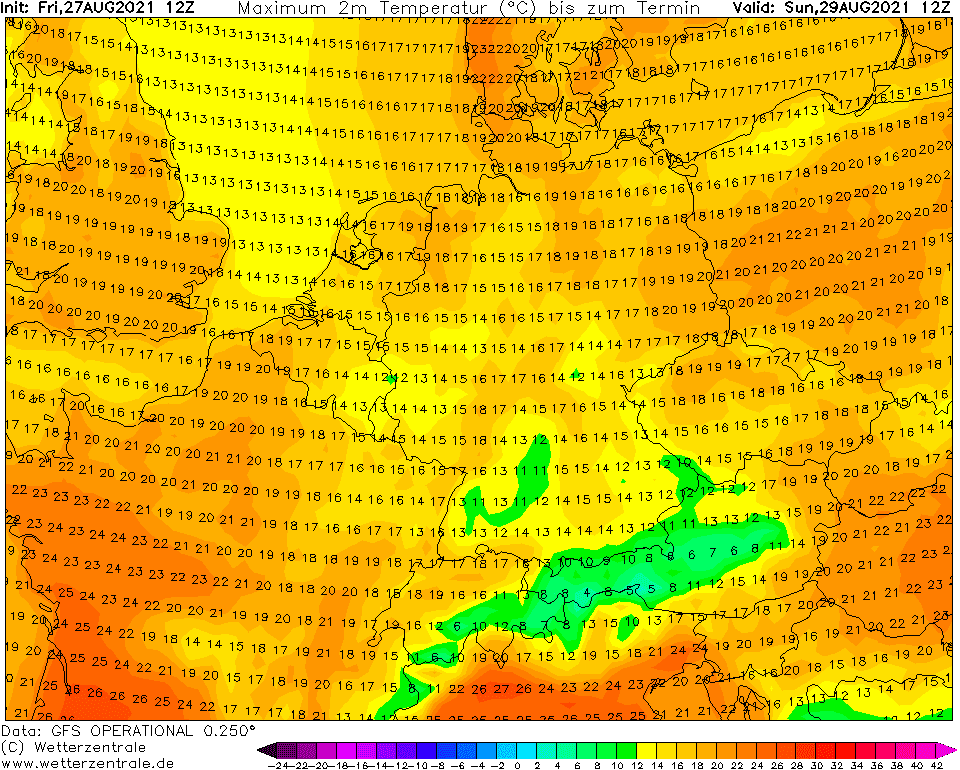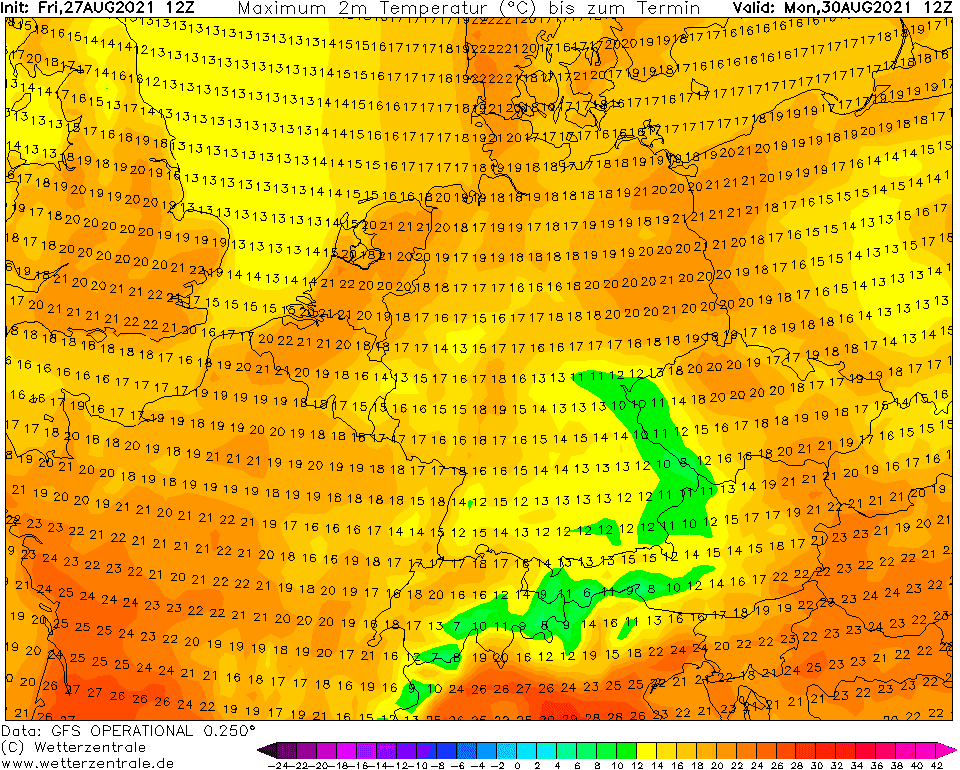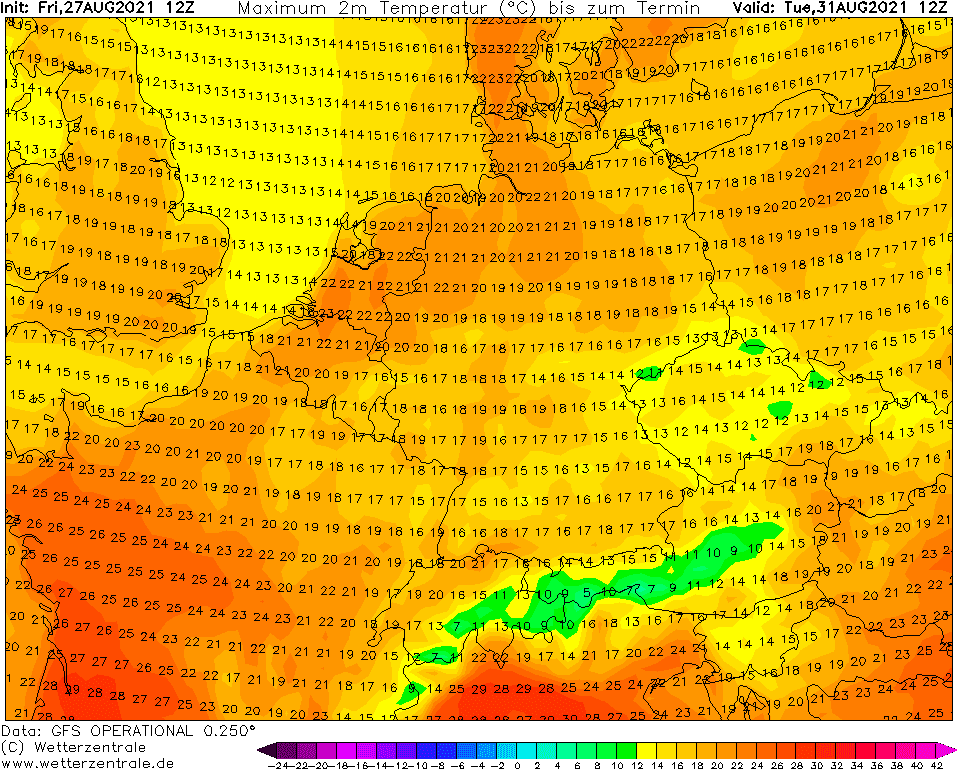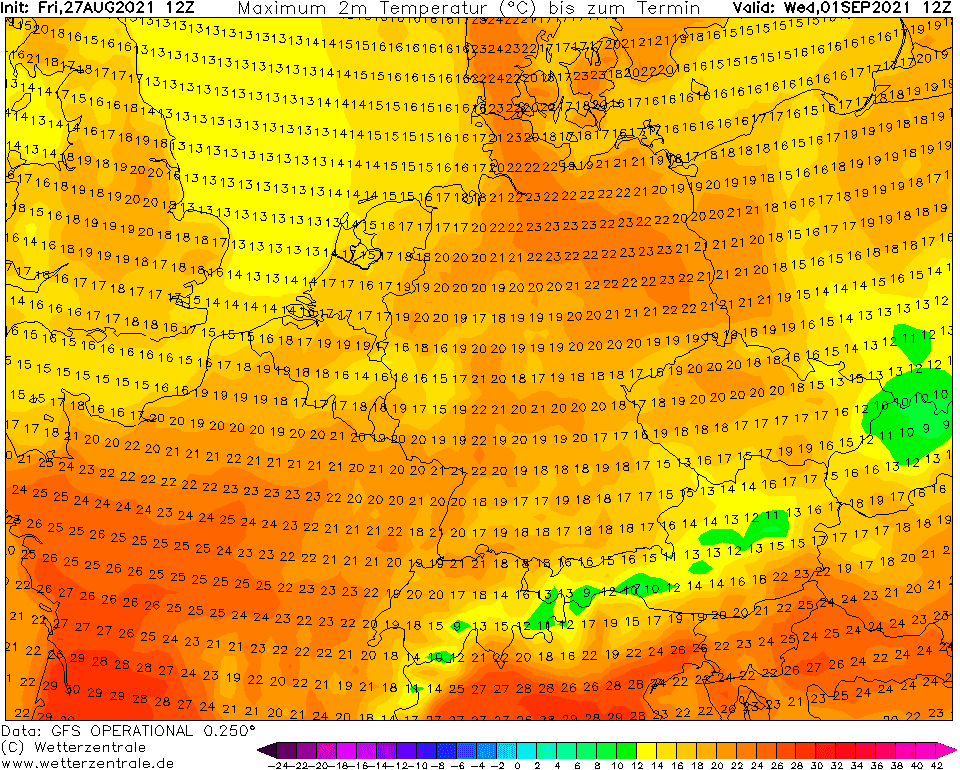 Source: wetterzentrale.de