Extreme storms with 12 cm hail, 130 km/h winds, floods, tornadoes and damaging lighting hit Poland!
Not only Czechia and a large part of Europe /Czechia hit EF3 tornado, 5 dead, 200 injured, 7 villages destroyed! If is something apocalyptic, so scenes captured from hit areas – it was the strongest tornado in Czechia in all-time history! | mkweather; Deadliest tornado (EF3-4) in Europe in 20 years! Czechia after natural disaster + Footages day after | mkweather; Breaking! Trough Europe are shifting extreme storms! Floods, large hails, gusting winds and damaging lighting! | mkweather; France: tornado ripped off a church bell | mkweather; Belgium hit EF2 tornado with a twin: 17 injured, 92 buildings damaged | mkweather; 10 cm hailstorms are shifting to Germany, CZ, CH, AU, DK, SE and N IT from France, PT, ES, BE, NL, LU! | mkweather/, but Poland is bothered by severe storms, too.
In the country, 3 little tornadoes, flash floods in metropolitan cities, gusty storms with 130 km/h winds gusts and hailstorms with hail up to 12 cm has in the last days appeared, simultaneously with the extremely dangerous situation across Europe.
Before severe storms, mammatus clouds were observed not only in Austria, Slovakia, and Czechia but too in Poland, from which, very interesting captures originated. Mammatus clouds are a predictor of tornadoes.
In some parts of Poland, rainfall up to 111 mm / 24 hours (Wronowice) was according to IMGW measured.
Wind gusts near storms, before which warnings of 3rd level, were valid, reached 130 km/h.
In Zarzęcin, Łódzkie region, a 12 cm hailstorm occurred on Thursday around 17:30 /note: a similar time such as a Czechian EF3 tornado).
In Czarny Potok, Malopolskie region, a 9 cm hailstorm occurred on Friday around 11:40 UTC.
Currently available videos from Poland you should look below.
For better clarity, we have constructed maps from ESWD for every extreme weather event separately – below videos, you should see, where in Europe have occurred in last 7 days hailstorms, tornadoes, gusting winds, heavy rain or damaging lighting.
Forecasts for Poland are quite bad, with a return of heatwaves early next week and the next powerful cold front in the following days, while in July 2021, near frontal precipitation, even stronger rains should occur.
Regionally severe storms should appear in Poland during the weekend, the next storms are forecasted from Wednesday to the end of the next week and the next storm round is possible between 6.-12. July according to the newest GFS.
We will furthermore watch the current extreme situation in Europe on Mkweather.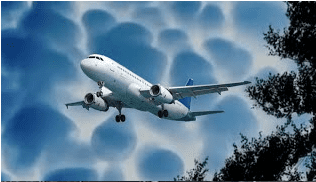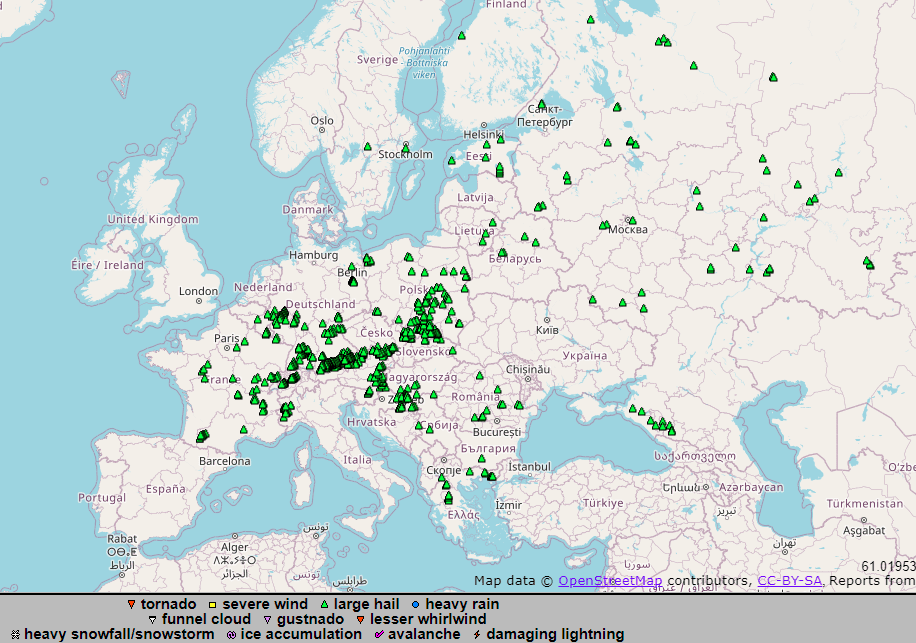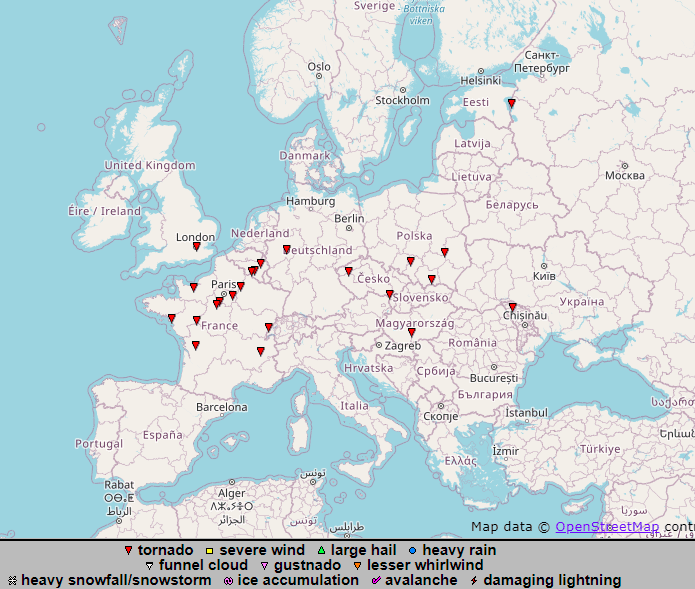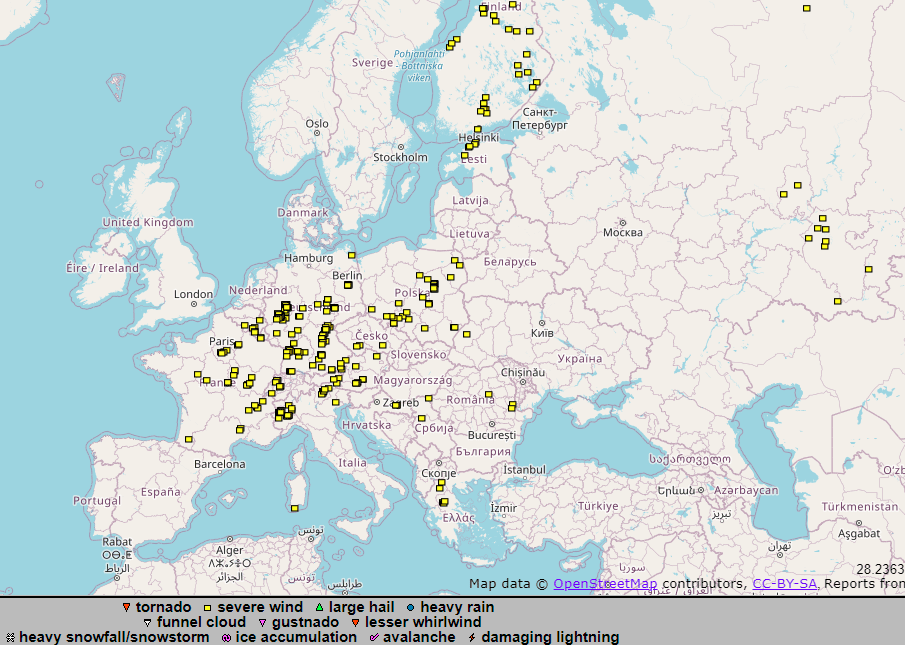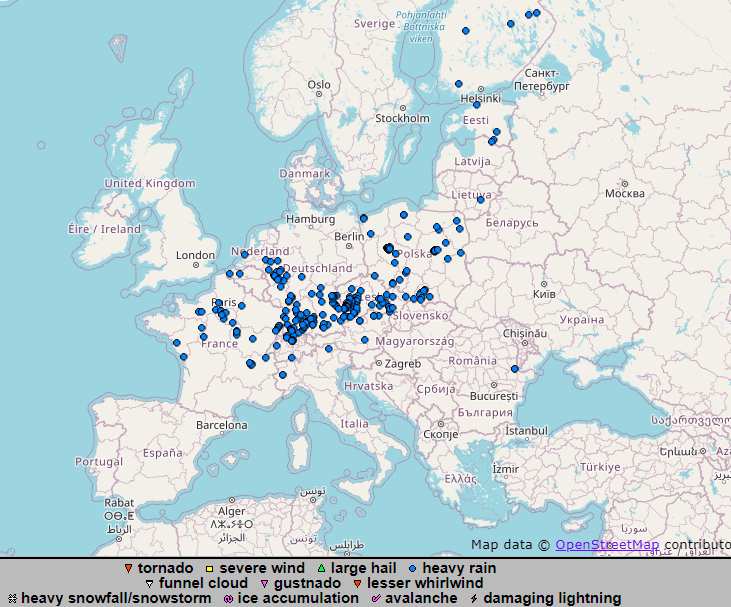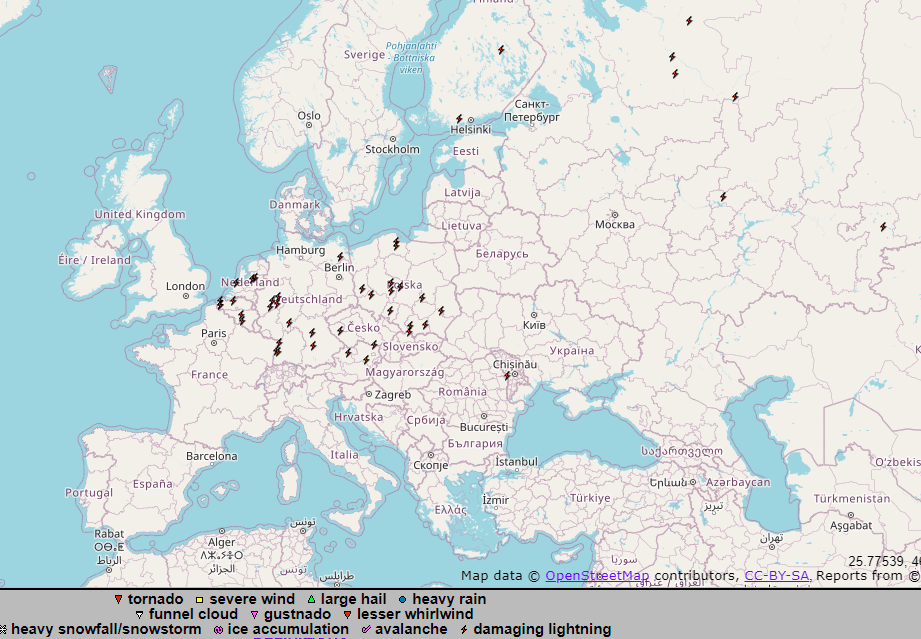 Source: European Severe Weather Database (eswd.eu)