November should start with summer weather, record temperatures +25°C in continental Europe are possible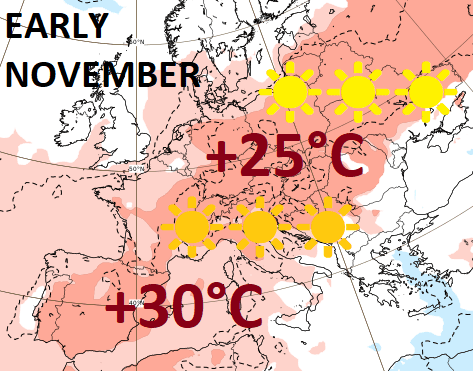 Excluding of 6-week forecasts until 22. November 2021 for Europe, North America, and the World you will find in this article an extremely warm forecast for the peak of the Indian summer period in Europe.
Indian summer in Europe will be lasting approximately from 20. October to 15. November 2021 and extremely warm air mass will be shifting from western Europe to eastern parts of the continent and then southward for almost 4 weeks.
The warmest will be the first November 2021 week, with possible summer temperatures up to +25°C in continental Europe, rarely, mainly near foehn winds, in the Mediterranean, maximum temperatures should reach tropical +30°C still!
Anomalously warm will be a long time in Canada – mainly in eastern and northern parts, without extreme frosts and very warm weather will be longer time enjoying people in Siberia and gradually neighboring Asian countries, too.
Australia, South America, and South Africa expect in October 2021 late-season coldwaves, yet and coldwaves are temporarily waiting for Eastern Asia, India, northern Middle East, NE Africa, and Eastern Mediterranean and Amazon, too.
Central and NW Africa, Southeastern Asia, northern Andes, the Caribbean, Central America, and firstly the Himalayas region too, will experience anomalously hot weather.
Maps of temperature anomalies between 11. October – 22. November 2021 you will find below the article.
The previous outputs of the 6-week forecast including Indian summer predictions for the Northern Hemisphere you will find here: https://mkweather.com/20c-in-northern-25c-in-southern-mid-latitudes-in-november-2021-untraditionally-late-indian-summer-for-northern-hemisphere-is-confirming/; https://mkweather.com/silence-before-a-storm-and-the-last-summer-like-weather-before-an-extremely-cold-winter-the-first-half-of-november-should-bring-indian-summer-in-europe-canada-and-siberia-forecast-until-15-novemb/.
New Winter forecasts 2021/2022 you should read here: https://mkweather.com/winter-2021-2022-forecast-extreme-frosts-in-eurasia-in-december-in-north-america-in-february-early-canadian-stratospheric-warming-ne-pacific-blob-la-nina-qbo-and-shift-from-nao-to-nao-such-le/; https://mkweather.com/winter-2021-2022-forecast-a-peak-near-nao-already-in-december-ne-pacific-warm-blob-nao-and-early-spring-in-february-north-america-oppositely-warm-start-cold-end-of-winter/; https://mkweather.com/russian-meteorologists-expect-extreme-winter-around-december-january-2021-22/.