San Francisco region under a bomb cyclone and atmospheric river attack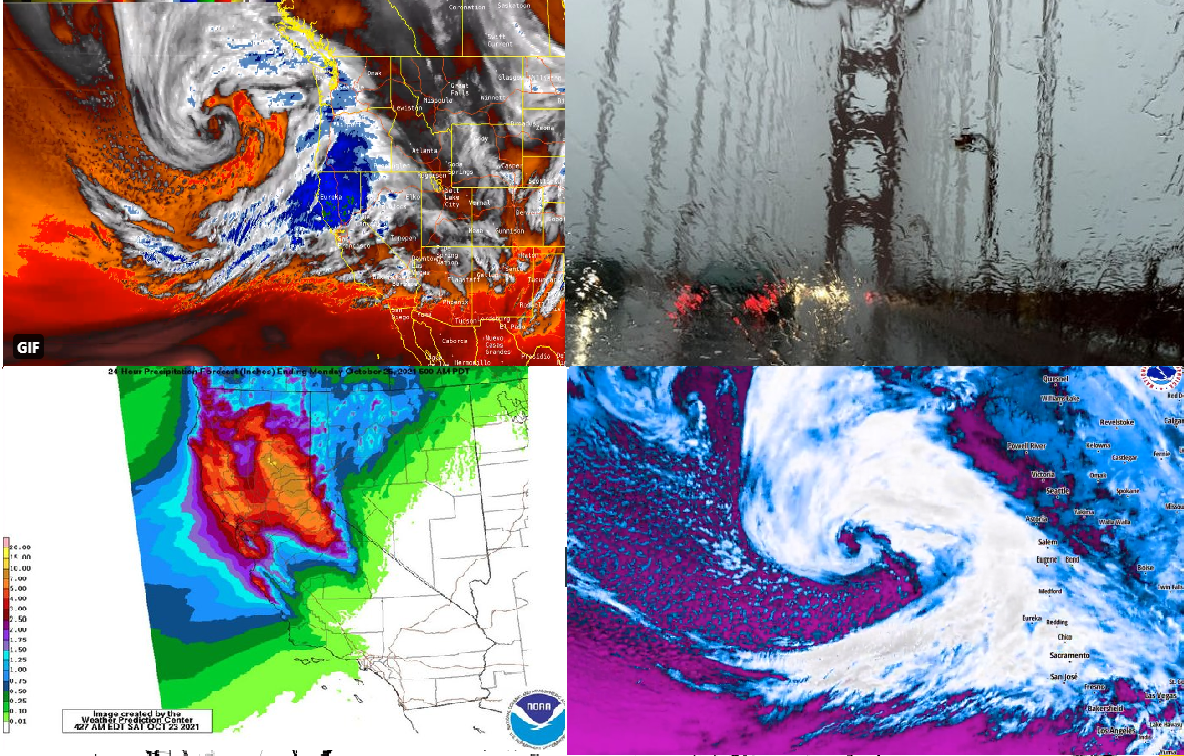 Forecasted cooldowns in the USA in the next 2 weeks, with regional blizzard conditions and gradual severe frosts /https://mkweather.com/the-usa-hit-3-arctic-blasts-25-10-1-11-30-10-5-11-and-4-11-10-11-2021-the-first-snow-in-many-regions-forecasted// will start in the northwestern USA (and SW Canada) with a bomb cyclone and atmospheric river activity.
A deep cyclone with air pressure in the middle of the system around 940 hPa is bringing from Northern California to British Columbia anomalous rainfall and floods
In San Francisco since Thursday has fallen already 47,1 mm / 1.85 inches of rain, Portland reports 46,7 mm, but it´s only the beginning.
Parts of Northern California, mainly continental mountainous regions, should until Monday, 25. October 2021, receive up to 400 mm / 15 inches of rain in 24 hours.
Coastal parts of California should receive around 125 mm / 5 inches of rainfall in 24 hours until Monday, with subsequent floods, including metropolitan areas.
Usually hot and dry Sacramento is forecasted to receive almost 5 inches / 120 mm of rainfall, too.
The worst situation is forecasted in the San Francisco region, but atmospheric river hits Portland, Seattle, or Vancouver, too, with a subsequent cooldown.
Offshore waves up to 50 feet / 15 meters are forecasted thanks to severe winds along the coast and shipping will be significantly limited.
Extremely low pressure up to 940 hPa should cause many health problems to meteosensitive people.
The atmospheric river above Eastern Pacific is according to climatologists associated with a creating NE Pacific Warm Blob Anomaly. This anomaly is forecasted to strengthen during an upcoming winter /https://mkweather.com/winter-2021-2022-forecast-extreme-frosts-in-eurasia-in-december-in-north-america-in-february-early-canadian-stratospheric-warming-ne-pacific-blob-la-nina-qbo-and-shift-from-nao-to-nao-such-le/; https://mkweather.com/winter-2021-2022-forecast-a-peak-near-nao-already-in-december-ne-pacific-warm-blob-nao-and-early-spring-in-february-north-america-oppositely-warm-start-cold-end-of-winter/; https://mkweather.com/winter-2021-2022-forecast-for-north-america-a-peak-of-winter-with-extreme-arctic-blasts-and-blizzards-in-february-2022//, therefore it´s possible, that the next months will bring many similar situations above Pacific Coast.
If you live in the region we recommend you to watch current weather news, warnings, forecasts and advisories.