Spain +39,2°C, France +36,7°C, Portugal +36,0°C: Heatwave is bringing many all-time September records!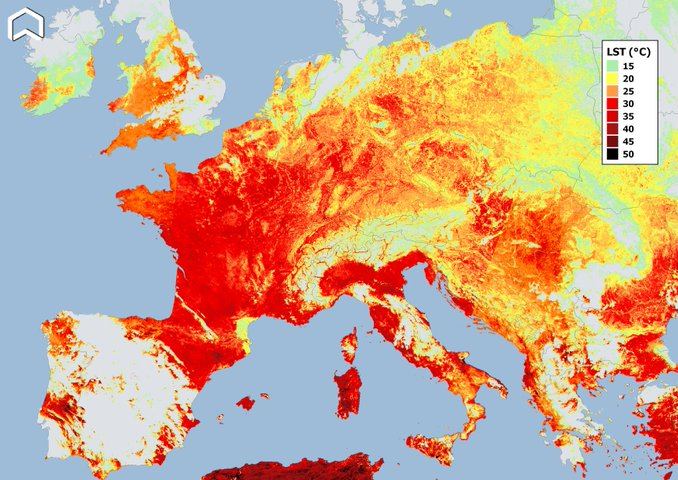 Wave of extremely hot weather hit in the last days not only northwestern Africa (all-time September record in Algeria, +48,2°C and almost all-time September record in Morocco, +44,5°C) /https://mkweather.com/nouasseur-morocco-445c-only-07c-below-all-time-national-september-temperature-record/; https://mkweather.com/algeria-482c-egypt-477c-only-02c-01c-below-all-time-september-records-extremely-hot-will-be-until-early-next-week// and British Islands (Ireland, +28,6°C, the highest September temperature since 1906, Wales +30,7°C and England +30,1°C) /https://mkweather.com/uk-ireland-glenbeigh-ireland-286c-the-hottest-september-day-since-1906-gogerddan-wales-307c-northolt-england-301c-2021//, but anomalous and record temperatures were reported from Spain, Portugal, and France, too. The heatwave will gradually shift almost above all continent /https://mkweather.com/a-jump-from-30c-to-5c-around-20-september-in-continental-europe-scandinavia-15c-already-the-next-week//, with tropical days above Central Europe.
In Spain, the hottest day was reported on Sunday, 5. September – in Moron de la Frontera, +39,2°C, in Cordoba +38,8°C and in Sevilla +38,5°C was measured. A day later, record-high September maximum temperature was reported from Bilbao, northern Spain, +38,8°C, and on Tuesday, 7. September 2021, +39,1°C was measured in Granada.
In France, +36,5°C was measured on Monday, 6. September 2021 in Biscarosse and +36,7°C on Tuesday, 7. September 2021 in Cazaux. Many all-time September temperature records were overcome, including hot nights, similarly such as in Spain /Tweets below/.
In Portugal, the hottest was on Sunday, 5. September, with maximum temperature +36,0°C in Coimbra.
Already on Wednesday, 8. September and Thursday, 9. September 2021, temperatures around +29°C should appear in southern Scandinavia and tropical days around +30/+32°C in Germany, Benelux, and the rest of Central Europe.
The long-term forecast for Europe, mainly an arrival of possible frosts, will be updated in the next Mkweather articles – summer, in southern France tropical days should persist in the region until the end of the week and summer days in southern France should appear until 18. September, yet, in Spain will be hot longer such as in continental Europe (tropical days around 25. September, yet).