Algeria +48,2°C, Egypt +47,7°C, only 0,2°C / 0,1°C below all-time September records! Extremely hot will be until early next week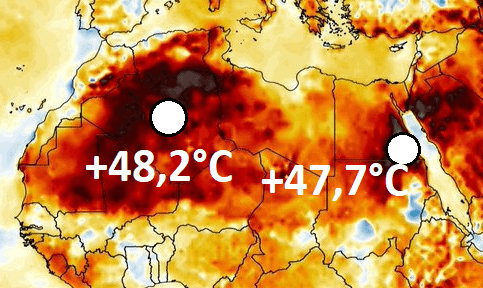 Extremely hot weather in Northern Africa is back!
After record heatwaves and deadly wildfires in August 2021 /https://mkweather.com/tunisia-503c-the-highest-temperature-in-the-country-in-modern-history/; https://mkweather.com/tunisia-with-all-time-record-before-a-mega-european-heatwave-jendouba-490c-kebili-485c-algeria-up-to-489c-last-days/; https://mkweather.com/extremely-hot-air-for-europe-is-prepared-algeria-495c-tunisia-485c-and-all-time-records/; https://mkweather.com/natural-disaster-in-algeria-69-dead-after-disastrous-wildfires-due-to-50c-heatwaves/; https://mkweather.com/agadir-491c-all-time-august-record-for-morocco-broken/; https://mkweather.com/486c-in-marrakech-morocco-the-highest-august-temperature-in-the-country-ever//, the next anomalous heatwave has appeared, with a peak above parts of Sahara at the second Autumn 2021 day, 2. September.
Measured maximum temperatures were extremely high, with 2 regions with anomalous heatwaves – above Algeria and Egypt.
In In Salah, Algeria, +48,2°C was measured, which is only 0,2°C below the highest measured September temperature in the country ever (Hassi Messaud, 1989).
In Aswan, Egypt, +47,7°C was observed, which is 0,1°C below all-time record from Aswan from the year 1957.
The next heatwave should bring the next severe wildfires – heatwaves in both regions are forecasted to persist minimally until early next week and then, only a slight cooldown is forecasted.
Extreme wildfires in Algeria in August 2021 in numbers (Source Desert Dreams, Twitter): 144 charred dead, 700 wounded, 12 000 victims dozens of houses ravaged by fire, hundreds of charred vehicles, 8000 hectares of olive trees, 800 hectares of fruit trees, 900 head of cattle, 100 000 broilers and laying hens and 10,000 bees were hived.
Hot weather hit/hits parts of Morocco, Tunisia, Libya, Western Sahara, Mauritania, northern Mali, northern Niger, northern Chad, and northern Sudan in the next few days, and mainly in the Atlas region and Libyan coast are forecasted some storms until 18. September 2021 /see wcharts.com forecast maps/.
Autumn 2021 forecast for North Africa you will find here: https://mkweather.com/spring-autumn-forecast-for-africa-mostly-hot-and-dry-parts-of-sahel-equatorial-africa-stormy-and-south-africa-stormy-and-cold/.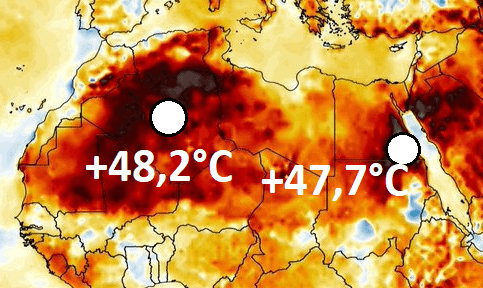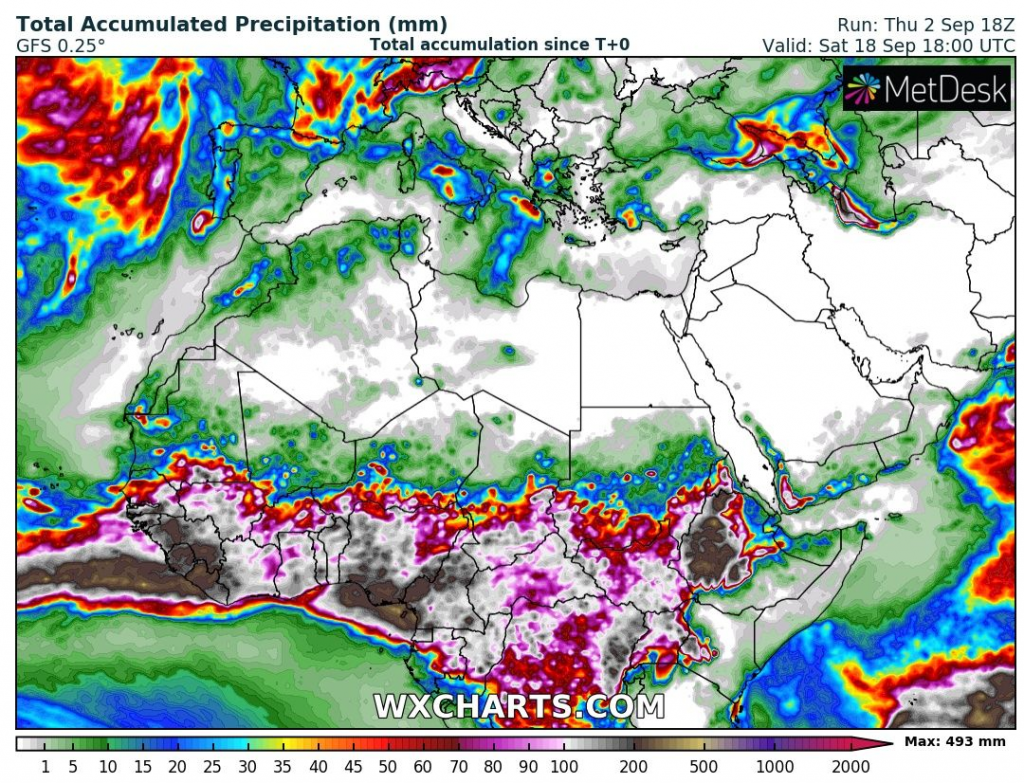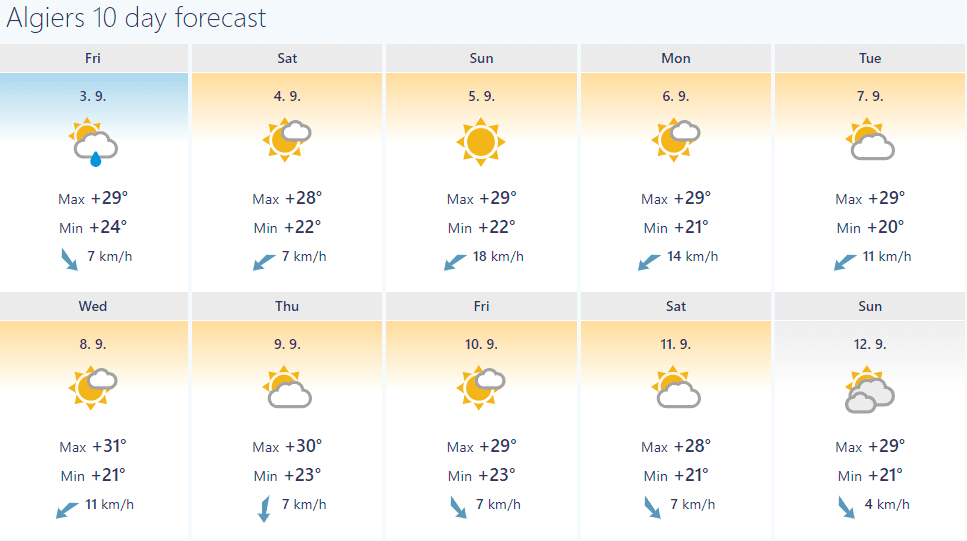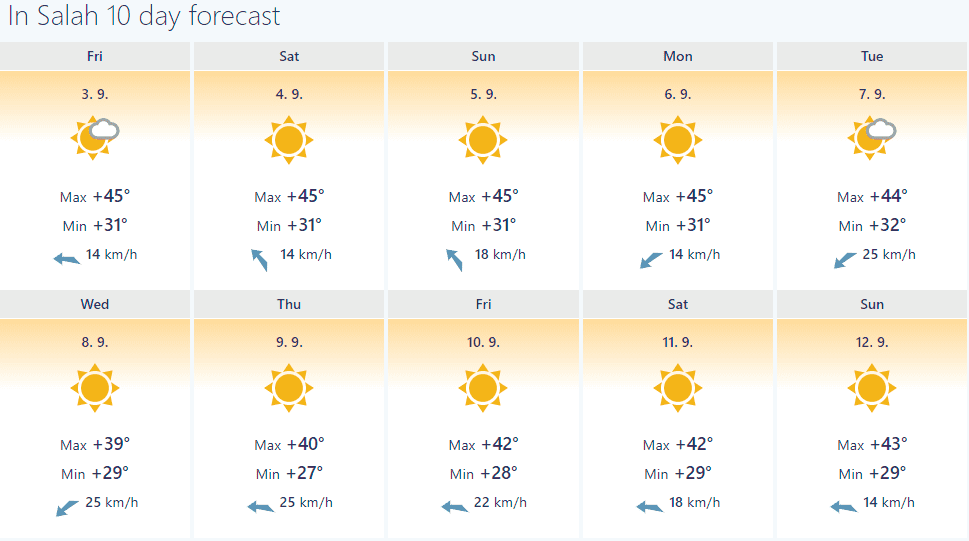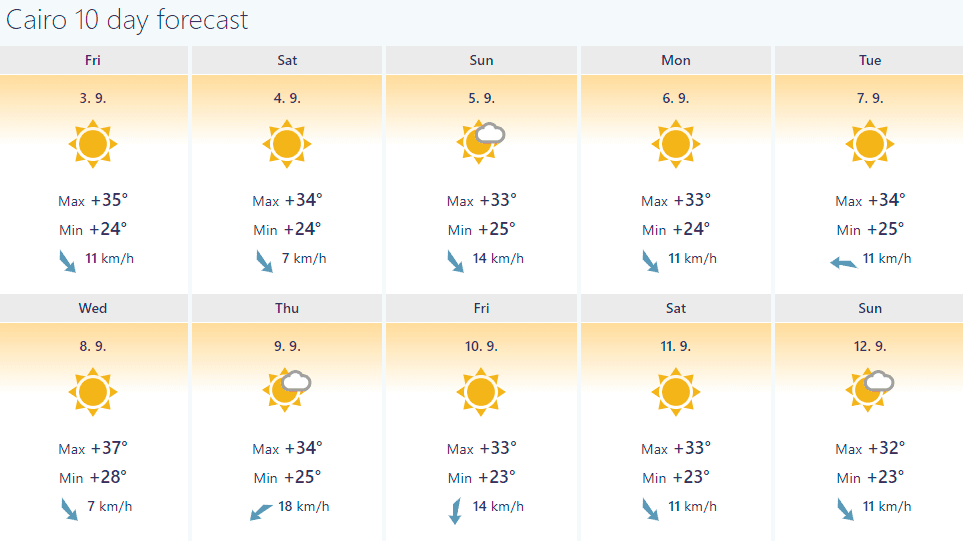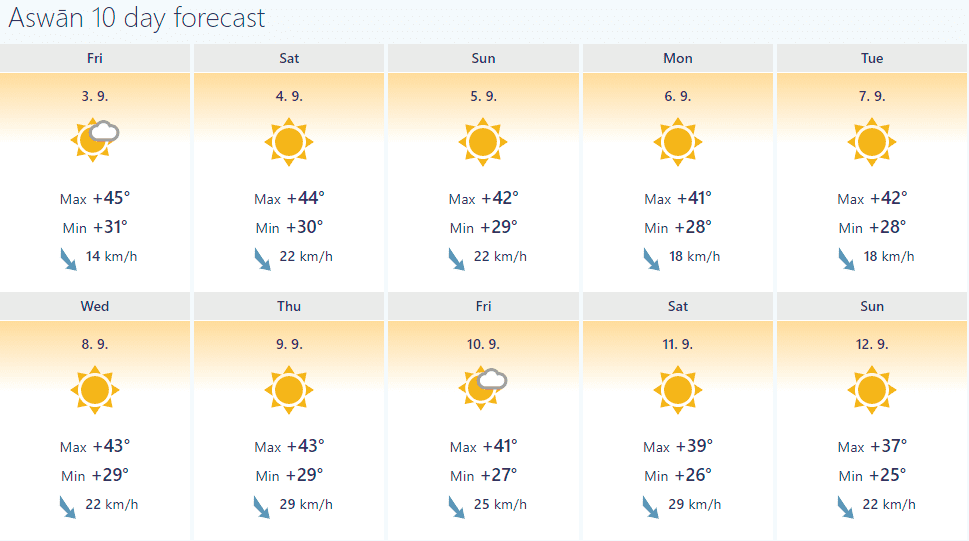 Source: froeca.com