Strange end of Hurricane season 2021 without hurricanes – No hurricanes for the first time in 65 years!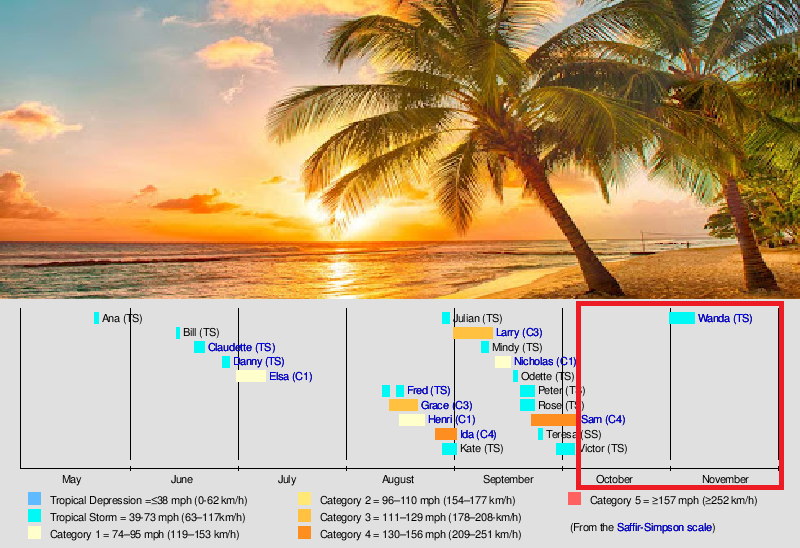 The last 50 days of Hurricane season 2021 were historically weak.
From late October 2021, any hurricane or tropical storm appeared above Northern Atlantic, which happened the last time before 65 years.
The latest tropical storm, Wanda, appeared from late October to early November 2021 and hit British Islands – mainly northern Ireland and Scotland.
However, a significant lack of activity was evident during the month of October, too – mainly during the second and the third decade.
Practically the last 50 days of the hurricane season, any tropical storm or hurricane excluding Wanda hasn´t appeared / according to forecasts won´t appear.
2021 has been however a very active year, with the 3rd most active hurricane season on record.
More active were only the years 2020 and 2005.
A possibility of a weak tropical storm in December is still not fully excluded, but mostly winter conditions with AO- and NAO- together with dry or neutral MJO conditions should mean, that any surprise we won´t see until the end of 2021.
In 2022, a good start of hurricane season thanks to La Nina conditions in Spring and Summer 2022 is possible /https://mkweather.com/2022-2023-forecast-chances-for-el-nino//, but in Autumn 2022, El Nino – a weaker hurricane season predictor is already expected.
Meanwhile below average typhoon season is ending in Asia and a very strong cyclone season in Australia and parts of the Indian Ocean is possible /https://mkweather.com/in-australia-more-snow-than-in-canada/; https://mkweather.com/summer-2021-2022-forecast-for-australia-and-oceania-stormy-colder-la-nina-pattern-above-the-continent/; https://mkweather.com/winter-2021-2022-forecast-for-asia-early-extreme-arctic-and-siberian-blasts-and-blizzards-late-dry-and-warm-conditions/; https://mkweather.com/winter-and-summer-2021-2022-forecast-for-africa//, thanks to La Nina, and in relation with MJO and IOD phases (activity will be shifting from west to east during the winter above the Indian Ocean).
Until the end of Winter 2021/2022, the first forecasts for Hurricane season 2022 will be available and we will bring this information on our homepage.