The strongest early frosts in the Baltic region in 62 years (since 1959)! Tartu, Estonia -27,6°C, Zoseni, Latvia -26,4°C
MK
December 7, 2021
2 min read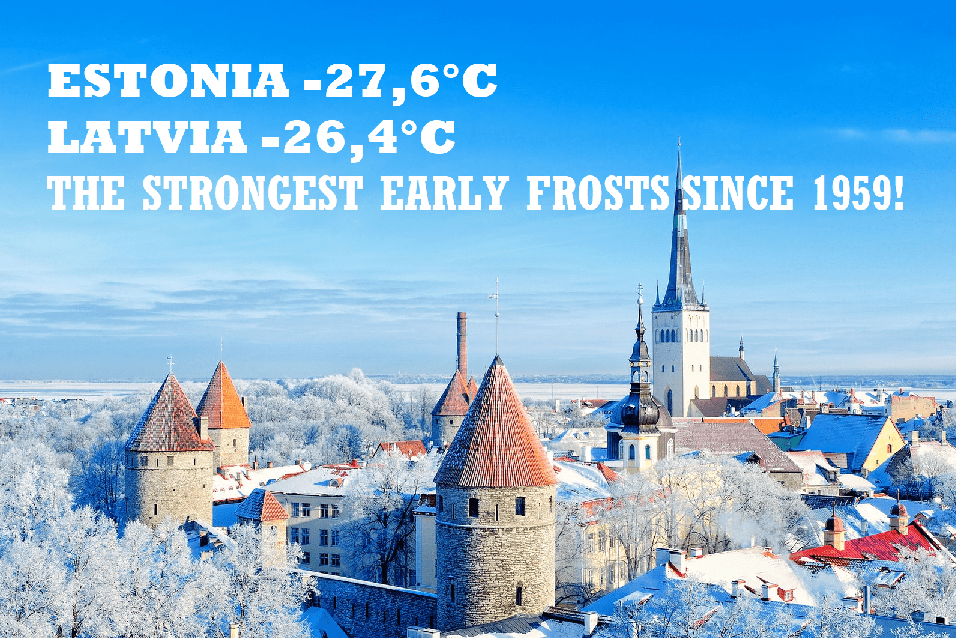 Already in the last articles, we were informed about extreme frosts in Estonia /https://mkweather.com/30c-in-baltic-states-possible-siberian-air-already-in-estonia-260c-in-tudu/; https://mkweather.com/arctic-air-has-shifted-above-the-baltic-region-and-scandinavian-capitals-southern-norway-269c-estonia-179c-oslo-160c-stockholm-120c-tallin-103c-helsinki// and the strongest early frosts in Scandinavia since 1945 (-43,8°C in Sweden: https://mkweather.com/the-worst-predictions-came-true-sweden-427c-the-lowest-temperature-in-naimakka-in-december-in-all-time-history/).
Now we should return back to Estonia, but to Latvia, where the next extreme cold times are on 7. December 2021 reported.
In Tartu, one of the Estonian biggest cities, on 7. December only -27,6°C was measured.
Zoseni in Latvia reported freezing -26,4°C.
These temperatures mean the lowest values of minimum temperatures in the region in early winter minimally since the year 1959 (in the last 62 years)!
The historic temperature record from 1893 was broken in St. Petersburg, too (the next Mkweather article) and the following night will be extremely cold in continental Europe, too (in valleys possibility below -20°C).
Currently, large parts of the continent expect the next blizzards, after which, even strongest frosts should appear, mainly in continental Europe.
Extreme frosts should persist above the region almost until the half of December 2021 /https://mkweather.com/natioanl-tops-nights-below-20c-purple-15c-dark-blue-and-10c-light-blue-in-frost-basins-valleys-or-lowlands-below-1000-masl-in-europe-until-21-december-2021//, with a possible return of extremely cold conditions around Christmas and New Year 2021-2022 /https://mkweather.com/winter-in-europe-will-return-around-christmas-and-new-year-2022-especially-in-the-central-and-eastern-sector-long-term-forecast-until-10-january-2022/; https://mkweather.com/white-christmas-2021-a-big-snow-forecast-for-europe-until-10-january-2022//.
Cold weather has a bad impact on the virological situation, heart attack rates, many kinds of cancer, or should cause hypothermia.
Blizzards should cause widespread problems on roads, highways, or railways and power outages, including metropolitan areas.
If you live in Europe, we highly recommend you to watch current weather news, forecasts, warnings, and advisories.