Very bad news: COVID-19 situation in Europe is in early Autumn 2021 much worse than in 2020: many times higher incidence and increasing trends should cause tragic Winter 2021/2022 – weather is worsening COVID in COLD / DRY conditions
It´s already generally known, that COVID-19 is behaving such as other viruses similar to flu and that the biggest outbreaks are observed in the winter season near very cold or very dry weather.
There are signals, that not only Siberian and Arctic blasts but the too long-term position on stormtrack or dry desert air (e.g. India in Spring 2021) are for viruses unfavorable.
Now, we should look at the current virological situation in Europe and compare it with Autumn 2021 and Winter 2021/2022 forecasts /https://mkweather.com/autumn-2021-forecast-for-europe-mostly-dry-and-frosty-autumn-be-prepared-for-early-severe-frosts/; https://mkweather.com/winter-2021-2022-forecast-the-first-reliable-estimates-extreme-cold-blasts-from-canada-and-western-siberia-snow-in-western-europe-and-eastern-asia-la-nina-qbo-to-qbo-shift-sufficient-nao-ao//.
For purposes of this article, we have created graphs of evolution new daily COVID-19 cases in European countries between a period 1.7. – 3.9. for 2020 and 2021 and according to these comparisons made a big overview in a table and map, where are countries marked from the worst outlook/forecasts to better conditions leading to slower arrival of the 3rd wave in upcoming weeks, maybe months.
Such we should notice from the main outputs – table and map below, the worst situation is at the start of Autumn 2021 in Southern, Southeastern, Eastern Europe and Scandinavia and relatively bad it is or soon should be in Central Europe and British Islands, while France and Iberia are reporting decreasing numbers, and in Spain is the situation even better than in 2020.
Most countries are however with bad or very bad outlook/forecasts for Autumn and maybe Winter 2021/2022 because the number of cases is in many of them several times higher than before a year.
While in Western Europe, July´s coldwaves had some contribution to increase of cases, in Central, Eastern, Southern and Southeastern Europe, such as Scandinavia appeared in several countries dramatic increase immediately after an arrival of August coldwaves and some countries were probably affected by extremely dry Saharan air during Summer 2021 heatwaves, too (Mkweather remembers the situation with the UK on stormtrack and Italy with a peak of summer, both with a significant increase of cases, while Europe was relatively stable).
The situation in Winter 2021/2022 should be significantly worsened in Canada and parts of the USA, mainly northern half or Great Lakes area /see winter forecast – link above/, where is forecasted extremely cold Winter 2021/2022. The situation should be bad in Russia, too, mainly Western Siberia and European Russia, where the second area with stocks of extremely cold air is forecasted.
In Europe should be critical predicted long-term frosts around October 2021 – mainly in continental parts (this anomaly will shift above the Mediterranean in November according to the Autumn 2021 forecast for Europe, look link above). Indian summer with frosts and drought is forecasted for central parts of North America, too /https://mkweather.com/autumn-2021-forecast-for-north-america-long-indian-summer-and-weaker-hurricane-season-such-as-expected//. It appears, that during winter it should be worse in the eastern half of Europe than the western half, thanks to expected Siberian blasts from the east, warmer and wet anomaly above western Europe and better vaccination in western countries.
The map below should be a relatively good predictor of the COVID-19 behavior in the next few weeks – mainly in regions with significant coldwaves or drought, however, situation during mid-Autumn 2021 and late-Autumn 2021 should develop in many other directions, yet, with a forecasted main direction – a significant worsening of the situation, therefore stay safe, dress warm and watch current weather forecasts and news.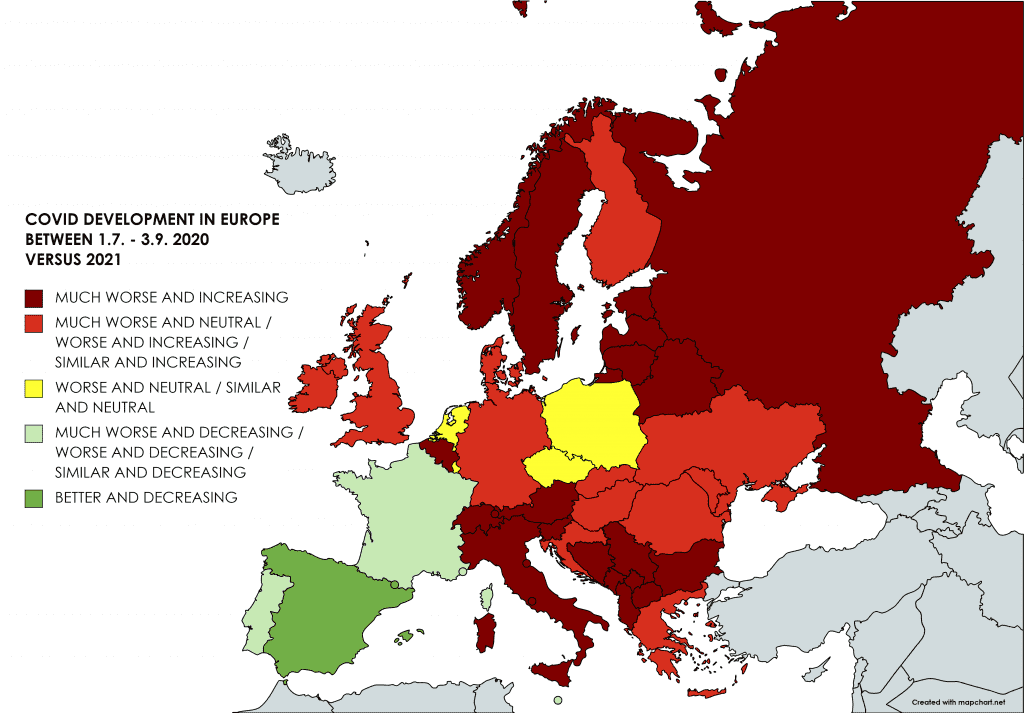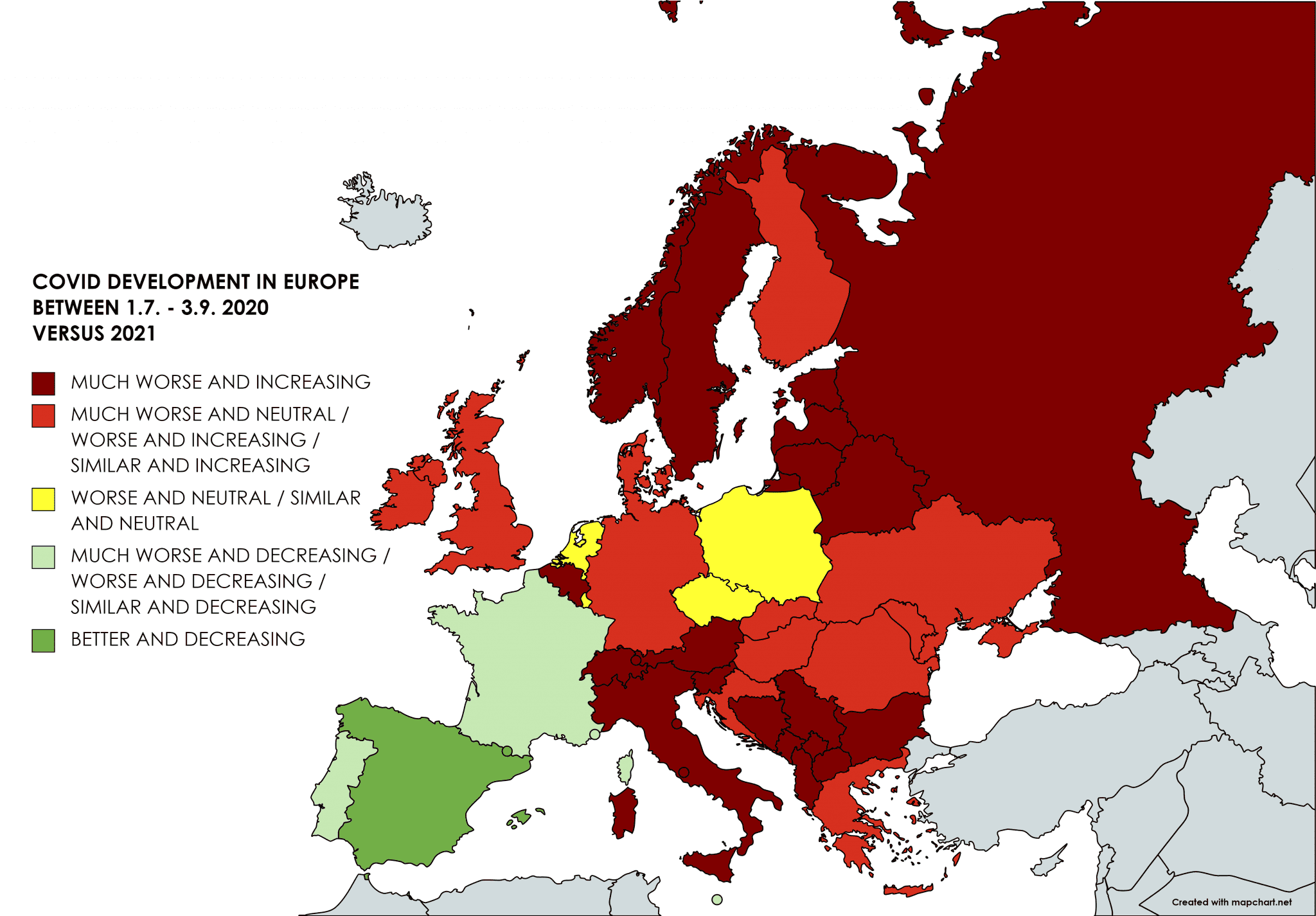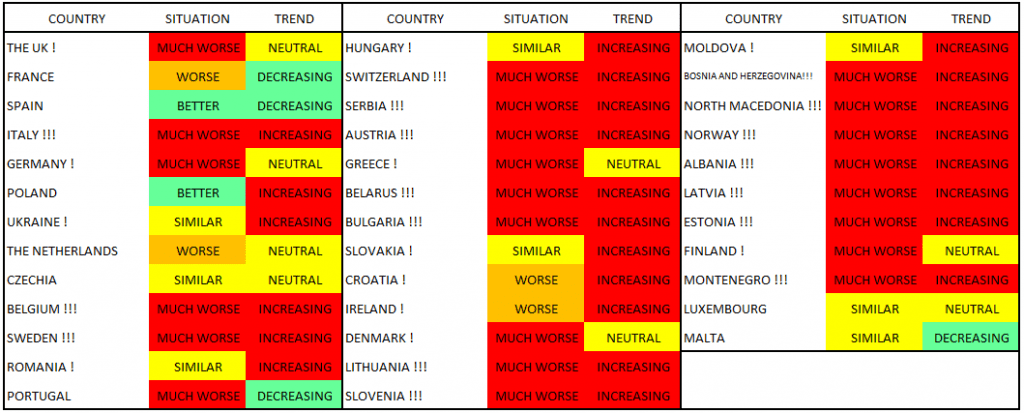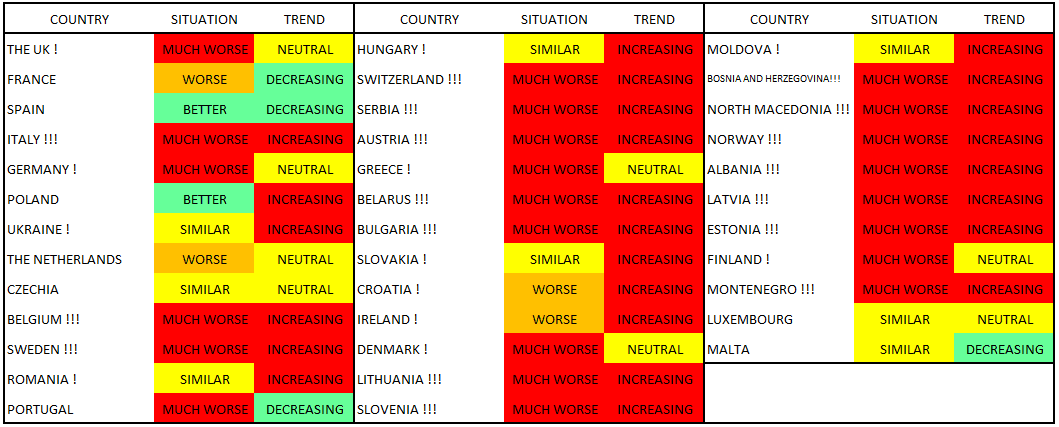 The situation between 1.7. – 3.9. 2020 versus 2021 (with emphasis to early Autumn conditions) /Data source https://www.worldometers.info/coronavirus/
New daily cases per countries: