White Christmas in the UK after 10 years!
3 days before Christmas (24.-26. December 2021) it appears, that not only parts of Scotland, but England, Wales, or Northern Ireland, too, should see rare Christmas snow cover!
A belt of severe snowfall is forecasted for the central or northern third of England, so far.
Snow cover up to 20 cm should create.
In many parts of England, e.g. in Birmingham or Manchester, or maybe in London or Bristol, it should be the first white Christmas in 10 years!
After a snowfall, extreme frosts until a New Year are possible, maybe we will be surprised with -20°C in the region with deep snow cover /https://mkweather.com/20c-in-england-and-benelux-around-sylvester-31-12-2021//.
Forecast outputs are still changing – into England and the Netherlands should expand a wider European blizzard region, lasting from Wales (or Amsterdam on the continent) to Moscow /https://mkweather.com/gfs-expects-extreme-blizzards-in-europe-regionally-20-70-cm-locally-up-to-1-meter-of-snow-possible//.
Chances for Christmas snow in the most populated metropolitan cities in England are thanks to Siberian blasts, expected in Europe in the next period /https://mkweather.com/europe-before-an-aggressive-siberian-blast-european-russia-50c-scandinavia-45c-central-europe-france-eastern-europe-baltic-region-turkey-30c-balkan-and-italy-25c-b/; https://mkweather.com/40-45c-frosts-in-scandinavia-after-christmas/; https://mkweather.com/20c-in-england-and-benelux-around-sylvester-31-12-2021/; https://mkweather.com/chances-for-30c-around-sylvester-2021-31-12-in-central-europe-are-still-alive/; https://mkweather.com/italy-and-balkan-with-siberian-frosts-20-25c-on-new-year-turkey-30c-around-christmas// really high.
A position of the quasi-stationary frontal boundary from the UK to European Russia will be in the next days changing, yet, therefore its possible, that snowfall will shift southward, in a direction towards London and Plymouth, or northward, to northern England and Scotland.
For further interest we recommend you to watch current weather news, forecasts, warnings and advisories.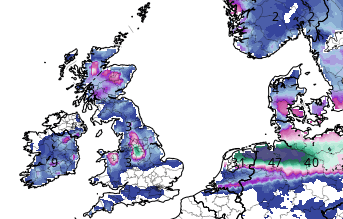 Source: tropicaltidbits.com