New cars were delivered to Russian port in a thick ice cover!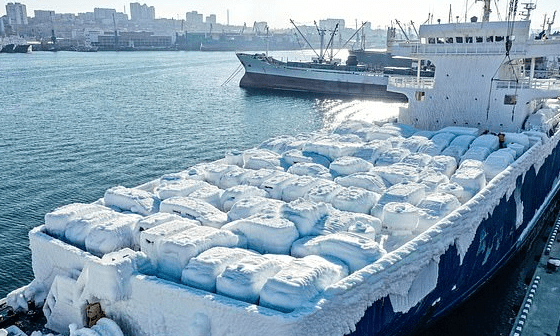 A very interesting look at frozen cars in the port of Vladivostok had workers and passersby near unloading of goods from the ship, which carried several pieces of new cars for the regional market.
New cars were due to freak weather delivered to Russian port caked in several inches/centimeters of ice!
An ice cover was around 15 cm / 6 inches thick and any parts of the cars weren´t visible.
Vehicles had to be hoisted off the deck by a crane in temperatures of almost -20°C / -2°F.
The Japanese 'Sun Rio' cargo carrier surely experienced a severe blizzard during its was from Japan to the Far East.
Moreover, only before a few days (a few days after an accident), temperatures in Oymyakon dropped to -57,4°C /https://mkweather.com/the-temperature-in-oymyakon-again-close-to-60c-parts-of-siberia-with-a-severe-blizzard// and in NE China, abnormal -46,9°C was measured /https://mkweather.com/hulunbuir-china-469c-the-coldest-day-in-history//.
Japan, Korea, and China at the end of the year 2021 really reported severe blizzards and extreme cold blasts /https://mkweather.com/north-korea-hit-brutal-winter-353c-pyongyang-210c-only-18c-from-all-time-december-record/; https://mkweather.com/seoul-south-korea-the-coldest-december-day-since-1980-160c-northern-parts-of-the-country-254c/; https://mkweather.com/213-cm-of-snowfall-in-japan-only-at-900-masl-sukayu-the-next-snow-is-expected/; https://mkweather.com/frosts-hit-almost-all-china-northeast-with-historic-444c-in-jiayin-the-strongest-frosts-in-the-region-in-all-time-history//, which will be the most probable cause of an accident.
Would you buy these cars? (If you knew?)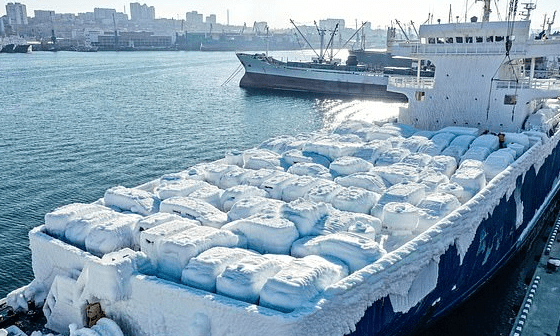 Source: https://retiredfelixstowedockworkersassociation.wordpress.com/2022/01/02/theyll-be-tricky-to-start-in-the-morning-new-cars-are-delivered-to-russian-port-caked-in-several-inches-of-ice-due-to-freak-weather/