Be prepared for an extremely long and strong coldwave! Arctic blasts in Europe between 10. November – 15. December are expected!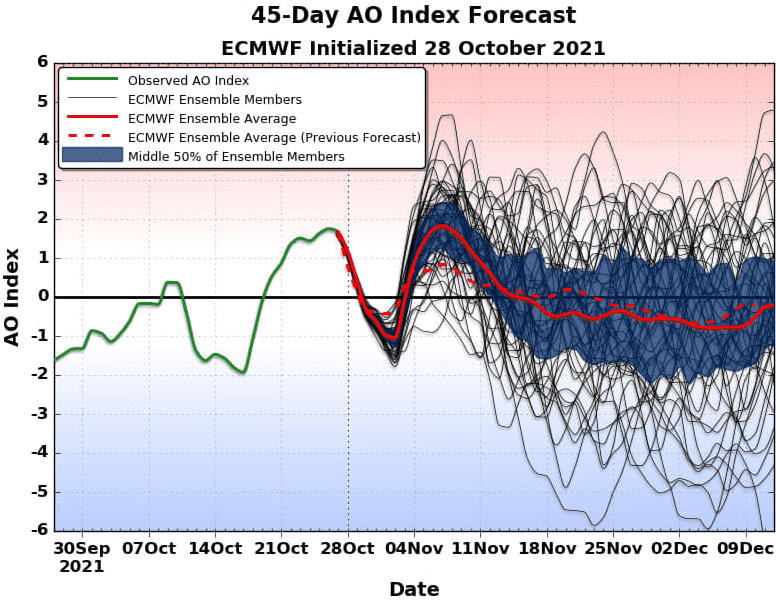 Already in the last articles, we were informed about extremely frosts in Europe, which will come very probably already after 10. November 2021 /https://mkweather.com/winter-will-come-earlier-than-was-forecasted-30c-in-scandinavia-20c-in-central-europe-and-10c-in-british-island-around-10-november-is-possible/; https://mkweather.com/we-will-see-20c-in-november-in-europe-long-term-forecasts-promise-the-arrival-of-winter-2021-2022-in-the-second-half-of-november-snow-and-severe-frosts-are-possible//.
An arrival of extreme frosts should be gradual, but all period between 10. November and 15. December 2021 appears very, or extremely cold, so far.
It´s more than a month of very cold conditions in Europe – in Scandinavia with a possible -30°C, in central Europe -20°C, and in British Islands -10°C during the peaking of the period in late November and early December 2021.
The main reason for anomalously long cold blast will be a forecasted persisting NAO- /AO-phase (a negative phase of North Atlantic Oscillation).
During the next 45-day period, according to ECMWF and CFS, a declining trend of NAO/AO is predicted, which means a strengthening of winter patterns above Europe, including (mainly) its western, central and northern parts.
During this period, airflow from Greenland and the Arctic above Europe will be very often and Greenland high will produce peaks of extremely cold weather.
Very cold conditions should appear near a very low AO index across all Northern Hemisphere, including the USA, Canada, Siberia, China, India, Middle East, or Saharan states (or North America, Asia, or even North Africa).
All forecasted scheme agrees with Mkweather Winter 2021/2022 forecasts for Europe and North Hemisphere /https://mkweather.com/winter-2021-2022-forecast-for-europe-early-extreme-arctic-and-siberian-blasts-and-blizzards-late-dry-and-very-warm-conditions/; https://mkweather.com/winter-2021-2022-forecast-extreme-frosts-in-eurasia-in-december-in-north-america-in-february-early-canadian-stratospheric-warming-ne-pacific-blob-la-nina-qbo-and-shift-from-nao-to-nao-such-le/; https://mkweather.com/winter-2021-2022-forecast-a-peak-near-nao-already-in-december-ne-pacific-warm-blob-nao-and-early-spring-in-february-north-america-oppositely-warm-start-cold-end-of-winter/; https://mkweather.com/russian-meteorologists-expect-extreme-winter-around-december-january-2021-22//, only arrival of the winter-like patterns will be around 10-20 days earlier.
A very preliminary estimate is moreover telling about a warming up before the Christmas 2021, holidays and New Year´s Eve however should be again anomalously cold.
The worst winter conditions are forecasted in late January and during a few weeks in February, but mainly February 2021 is giving hope for a return of the NAO-/AO- phase.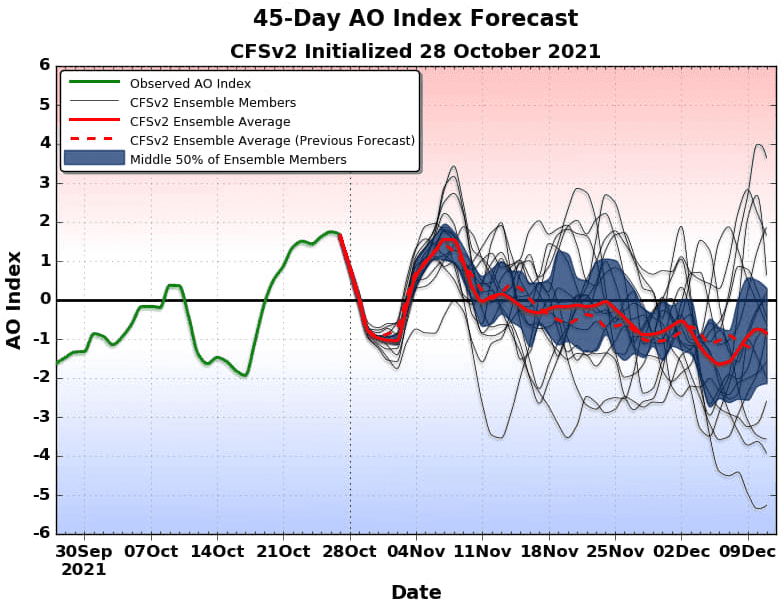 Forecasted AO index according to CFSv2 – Source: https://www.facebook.com/LRWFS/photos/pcb.1250950222049018/861357161221098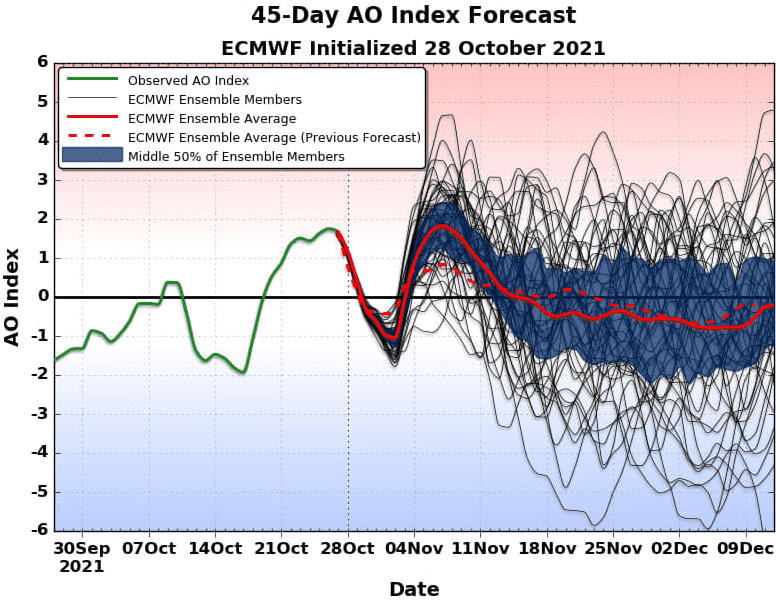 ecasted AO index according to ECMWF – Source: https://www.facebook.com/LRWFS/photos/pcb.1250950222049018/861357271221087