Only in September 2021, we were informed, that the Arctic Sea Ice Extent is the largest since 2014 /https://mkweather.com/arctic-sea-ice-extent-26-greater-than-last-year-12th-lowest-on-record-and-the-largest-since-2014//.
These conditions should be linked mainly with very cold conditions in the Canadian and Alaskan Arctic in Summer 2021 /https://mkweather.com/a-lot-of-arctic-sea-ice-northwest-passage-canadian-arctic-should-be-closed-for-the-first-time-since-2008//, such as very cold Spring 2021 in Europe and parts of Asia.
During Autumn 2021, very cold Autumn conditions in the Arctic were continuing, currently with a result of extreme frosts up to -42,7°C in Yukon, Canada, and Alaska, the USA /https://mkweather.com/northern-canada-427c-alaska-422c-only-4c-above-all-time-november-records//.
According to many watchers and forecasters, the level of Arctic Sea Ice Extent reached in the last days the second-highest value in the last 15 years (since 2006) and the next growing of Arctic ice is thanks to persisting AO- and NAO- phases until New Year 2022 expected /https://mkweather.com/nao-index-falls-to-2-0-the-lowest-value-since-legendary-35c-frosts-in-europe-in-january-february-2021-or-206c-in-april-2021/; https://mkweather.com/extremely-cold-weather-until-a-new-year-2022-arctic-air-should-come-in-3-peaks-around-30-11-14-12-and-christmas-wider-european-region-estimates/; https://mkweather.com/winter-2021-2022-forecast-for-northern-hemisphere//, with a possibility of the reaching of a 20-year maximum.
A surprising trend in the Arctic is bringing many severe coldwaves across continents of the Northern Hemisphere /see our homepage/ and the next coldwaves are only expected, yet.
From Northern Route even, 21 big ships are reported to be stuck these days, thanks to anomalously high Arctic Sea Ice Extent (a topic of the next Mkweather article).
Cold conditions in the Arctic are coming after long series of extremely warm years and climatologists are waiting, what it will do with an upcoming Winter 2021/2022 /our forecast is available here: https://mkweather.com/winter-2021-2022-forecast-for-northern-hemisphere//.
La Nina together with often AO- conditions (more than usual, e.g. in Little Ice Age, AO- was bringing very strong El Ninos) should have contributions on this anomaly – El Nino is forecasted only from Autumn 2022 /https://mkweather.com/2022-2023-forecast-chances-for-el-nino//, with a possible warmer Earth (global) anomalies.
A relatively colder Arctic should mean more coldwaves for continents of the Northern Hemisphere in the case of favorable circulation patterns (AO-, NAO-, MJO+, IOD-,QBO-, NE Pacific Blob for Northern America, La Nina generally, SSWs, AAO+, European blocking…) and severe early winter coldwaves are forecasted to peak in Europe and Asia already from late November to early January 2021-2022, while in North America, the strongest winter is forecasted around February 2022 /see Winter 2021/2022 forecast – link above/.
We will see, if climate change brings the next unexpected surprise, soon.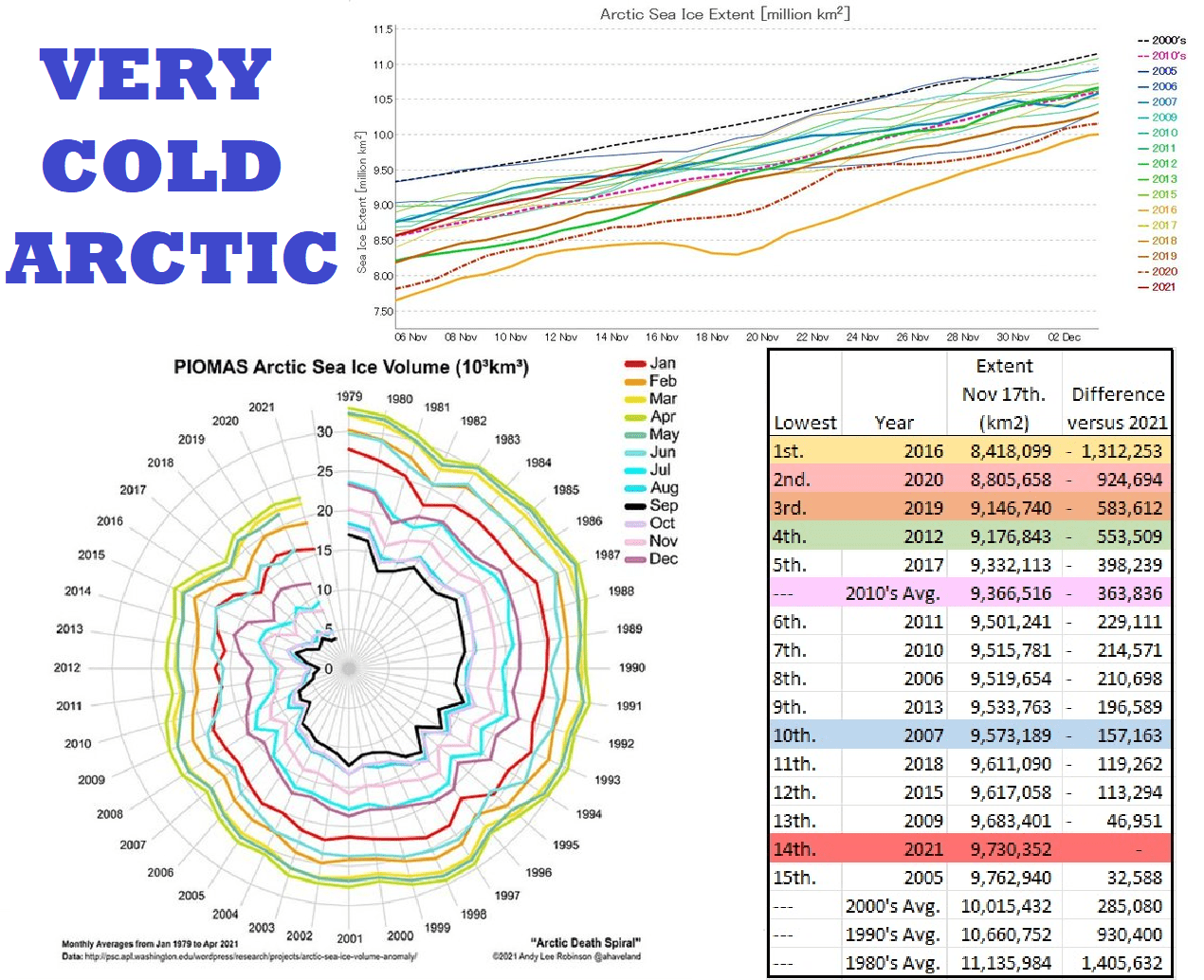 (Visited 356 times, 5 visits today)