December 2021 in the USA sovereignly warmest in history, +5°F above average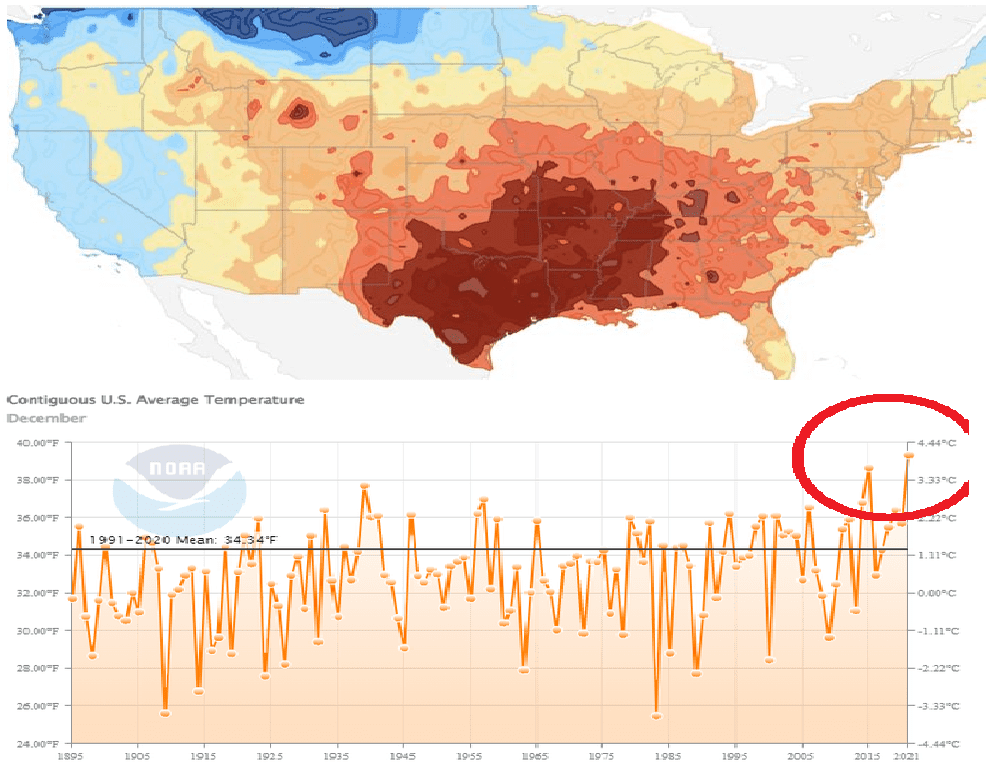 Many Americans will remember December 2021 as anomalously warm, in southern states hot month, with temperature records, wildfires, summer-season like storm rounds, or tornado outbreaks (Kentucky, 10. December 2021: https://mkweather.com/breaking-ef4-tornado-in-kentucky-killed-50-people-it-was-historic-winter-supercell/).
Hot weather in the country was peaking even on New Year 2022, with historic heatwaves in Texas (99°F / +37,2°C /https://mkweather.com/breaking-falcon-lake-texas-372c-99f-the-highest-january-temperature-in-us-history// and Mexico /http://mkweather.com/the-highest-january-temperature-in-north-america-in-history-mexico-417c//.
Lower 48 USA average temperature anomaly for December 2021 reached according to NOAA data over +5°F / almost 3°C, which is unrivaled the warmest December in all-time US history /https://www.axios.com/us-record-warm-december-462173de-36e1-4a5d-ac37-e6cc0f00fb74.html/.
December 2021 in the USA had an average temperature of 39.34°F / +4,08°C, which was a much higher value than the warmest Decembers in the past.
Very warm, or maybe hot anomaly, was persisting above central and eastern, especially south-central parts of the USA, with a peak in the last December 2021, when Denver reported instead of snowy winter devastating wildfires /https://mkweather.com/1000-homes-destroyed-after-horrifying-winter-wildfires-in-denver-colorado//.
Tropical temperatures above 86°F / +30,0°C hit minimally 6 states of the USA – not only mentioned Texas, but Oklahoma, Alabama, Mississippi, Georgia, and Florida, too. 75°F / +24°C was measured even in Illinois.
Snowing in Chicago was missing a record long time until late December 2021 /https://mkweather.com/chicago-with-the-latest-first-snowfall-in-history//.
In December 2021, many storm rounds appeared in Midwest and Southeast regions, with devastating tornadoes, thanks to the extreme temperature gradient between the western half of Canada and S/SE USA and Mexico.
After heatwaves, a strong Arctic blast ended the long period by snowing in Florida and cooldown in Falcon Lake, Texas, from 99°F to 23°F (+37,2°C to -5,0°C) /https://mkweather.com/snowing-in-panhandle-florida/; https://mkweather.com/falcon-lake-texas-from-99f-372c-to-only-23f-50c-in-2-days//.
The coldest December in the USA, December 1983, was for comparison about 15°F / 9,4°C colder.
A similar situation is again forecast around early February 2022 /https://mkweather.com/ecmwf-6-week-forecast-for-the-usa-canada-mexico// – January 2022 should bring a peak of Winter 2021/2022, while February will be again warmer, with possible Kentucky-like synoptic situations.
According to Spring 2022 forecast for the USA, powerful tornado season in central and eastern USA and early wildfires on Southwest are predicted /https://mkweather.com/spring-2022-forecast-for-north-america//.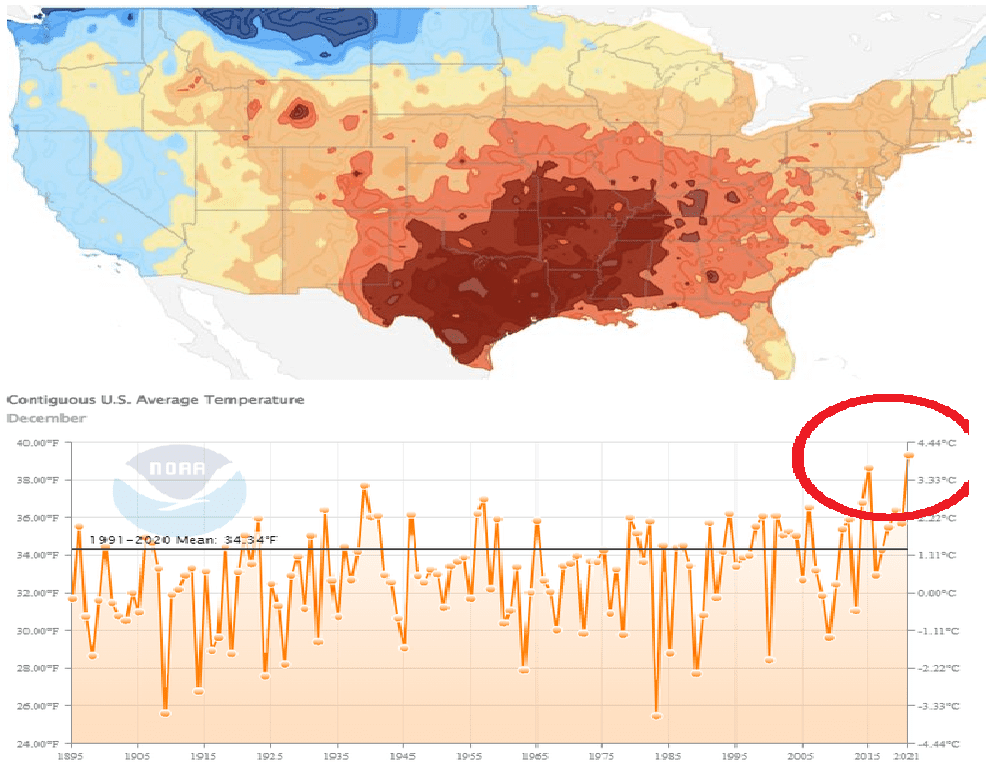 Illustration map and graph: axios.com, NOAA