Falcon Lake, Texas: from 99°F / +37,2°C to only 23°F/-5,0°C in 2 days!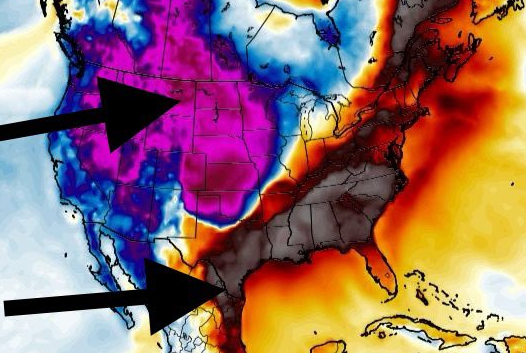 The weather in the first days of the year 2022 was in Texas very crazy.
In Falcon Lake, on 1. January 2022, the all-time January temperature record for the USA was measured (99°F / +37,2°C: https://mkweather.com/breaking-falcon-lake-texas-372c-99f-the-highest-january-temperature-in-us-history/) and Denver, Colorado suffered severe wildfires /https://mkweather.com/1000-homes-destroyed-after-horrifying-winter-wildfires-in-denver-colorado//.
Only in 2 days, on 3. January 2022, the same station (Falcon Lake) reported freezing 23°F / -5,0°C, and desert localities around even 12°F / -11°C, while Florida reported rare snowfall /https://mkweather.com/snowing-in-panhandle-florida//.
The temperature in Falcon Lake dropped around 75°F / 42°C in a very short time and people in Texas and all Gulf Coast after extreme December heatwaves (minimally 6 states with tropical 86°F / +30°C and more – link above; the hottest December in Texas since 1889) experienced with a big temperature shock.
In parts of southern states, rare snowing appeared, while in parts of Midwest, Northeast and Mid-Atlantic, hit powerful blizzard (the next Mkweather article).
Temperatures in the northern USA dropped up to -41°F / -40,6°C and in Alaska and NW Canada up to -51,5°C (the next Mkweather article).
On the frontal boundary between both extreme air masses, tornadoes in the Kentucky region appeared /https://mkweather.com/an-ef2-tornado-in-hopkinsville-kentucky-it-looks-like-a-tornadic-winter//.
It´s possible, that warm weather will return above southern and eastern USA, soon, but above western Canada and N-NW USA, strong winter conditions are forecast to persist until the end of Winter 2021/2022 /https://mkweather.com/kentucky-like-tornadoes-for-the-usa-in-january-and-february-2022-cfs-sees-extreme-temperature-differences-across-the-continent-and-sharp-frontal-boundaries-for-midwest-southeast//.
Expected NAO+ in February and March 2022 should cause severe coldwaves and blizzards in the Great Lakes region, too.
Shorter, but similarly intense and sharp coldwaves should appear after a transition of cold fronts with storms and tornadoes in southern regions, temporarily.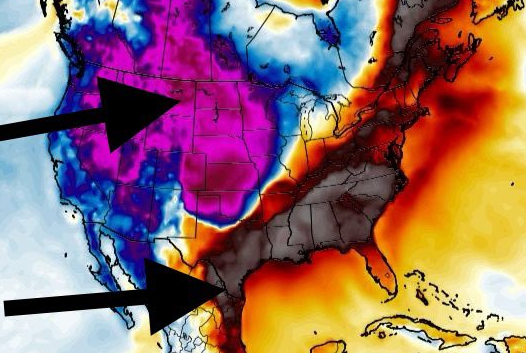 Source: US Storm Watch Twitter, wxcharts.com