Arctic Sea Ice Extent 26% greater than last year, 12th-lowest on record and the largest since 2014!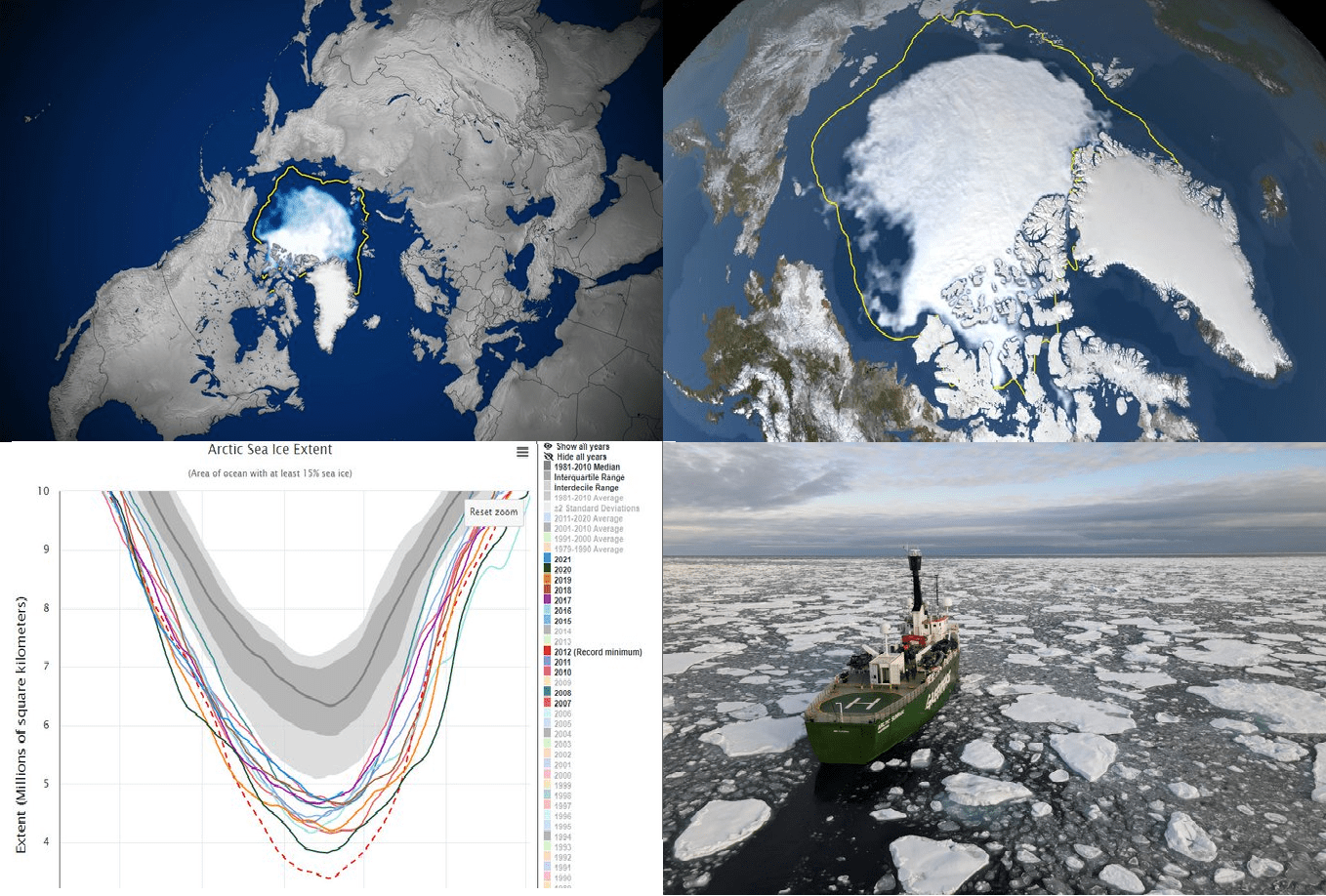 Surprising Arctic Sea Ice Extent anomaly is reported in the last days from the Arctic region.
Arctic Sea Ice Extent yearly minimum (on 16. September 2021 at 4,72 million square kilometers (1.82 million square miles)) was 26% greater such as in the year 2020, 12-th lowest on record, and the greatest since 2014!
First-year ice extent increased from last year's 1.58 million square kilometers (610,000 square miles) to 2.71 million square kilometers (1.05 million square miles) according to arctictoday.com /https://www.arctictoday.com/a-cool-summer-sees-arctic-sea-ice-reach-its-12th-lowest-minimum-extent-on-record//.
From the last 15 years, higher Arctic Sea Ice Extent had only years 2009, 2013, and 2014.
Yes, in 2014 was ending longer La Nina period, which was bringing colder Earth conditions and since 2020, La Nina again has appeared, and according to current materials, it will persist minimally until Autumn 2022 /https://mkweather.com/2022-2023-forecast-chances-for-el-nino//.
In 2021, the first 5 months were bringing unexpectedly long period with returning cold blasts /https://mkweather.com/a-big-european-circulation-anomaly-in-2021-totally-oppositely-such-as-in-the-world-and-showing-what-climate-change-should-bring-until-2100// and Summer 2021 wasn´t in some regions, such as Western Europe or northern Canada /https://mkweather.com/bad-year-for-vineyards-in-france-belgium-after-extreme-frosts-in-spring-2021-extremely-wet-summer-2021-harvest-the-worst-since-1977-july-the-wettest-since-1981/; https://mkweather.com/the-weakest-summer-in-paris-france-after-2000-the-hottest-day-of-the-year-with-only-333c/; https://mkweather.com/the-weakest-summer-in-paris-france-after-2000-the-hottest-day-of-the-year-with-only-333c// very hot, too, with a result of relatively cold conditions across parts of the Arctic.
Colder was mainly North-American part, where extremely cold Winter 2021/2022 is moreover possible /https://mkweather.com/mkweather-special-forecast-for-the-next-3-seasons-cold-autumn-2021-warmer-winter-2021-2022-cold-spring-2021-for-europe-a-peak-of-winter-in-its-colder-first-half-north-america-with-extreme-cold-2021-20/; https://mkweather.com/winter-2021-2022-forecast-the-first-reliable-estimates-extreme-cold-blasts-from-canada-and-western-siberia-snow-in-western-europe-and-eastern-asia-la-nina-qbo-to-qbo-shift-sufficient-nao-ao//, which is creating very good conditions for the next ice sea extent development until Spring 2021 and maybe the next colder year in the Arctic (although a strong NAO- is in Summer 2022 possible).
Surprisingly cooler periods and increases of Arctic Ice Sea Extent in the next decades and mainly centuries should be linked with a possible weakening of Sun cycles activity, between 2100 – 3500, extremely low solar activity is predicted, which should be linked with some changes in projections of climate models for far future.