Europe: 11 from 16 next days very or extremely warm!
At the end of a workweek, extremely hot +28,9°C was measured in Spain, +24,7°C in France, +22,1°C in Austria, and at the weekend already +20,9°C in Bosnia and Herzegovina, +20,0°C in Serbia or +19,2°C in Albania (the next Mkweather article).
After a shift of severe and deadly windstorms Dudley and Eunice /https://mkweather.com/stronger-as-in-the-worst-nightmare-england-hit-the-strongest-winds-in-history-196-km-h-in-lower-situated-areas-10-dead-rotterdam-130-km-h-frankfurt-123-km-h/; https://mkweather.com/severe-windstorm-eunice-hits-nw-europe-with-wind-gusts-100-140-km-h-rarely-180-km-h/; https://mkweather.com/the-next-bad-news-from-poland-tornado-hit-krakow-2-dead-2-injured/; https://mkweather.com/5-destructive-tornadoes-hit-poland-injured-people-and-destroyed-homes-the-strongest-should-have-the-power-of-ef2// eastward, colder Arctic air is shifting above the continent.
The next, however, a shorter, very warm period in continental Europe is predicted between 22.-24. February 2022, and then, between 27. February – 6. March 2022, maybe longer, minimally a week, maybe 2-weeks lasting extreme warm spell is predicted.
11 of 16 next days in Europe will be therefore very, or even extremely warm.
In Iberia (Spain, Portugal), maximum temperatures should reach up to +30°C.
Continental Europe should see temperatures above +20°C again, maybe closer to +25°C, if the warmest variants from ensemble runs will be in the next dozen runs confirmed.
It won´t appear, that the next severe windstorms hit so southward regions and with so extreme power such as these days, but some severe storms are still predicted mainly for the British Islands (Scotland), Scandinavia, and maybe weaker in the North Sea or Baltic Sea region.
The arrival of an extremely warm period at the end of February and the start of March 2022 should be in Balkan, Eastern Europe, and in Turkey shifted to a later period, maybe during the first half of March 2022.
Many temperature records during the period should be broken and weather in the Mediterranean and southern continental Europe will be very good for outdoor activities, in northern parts of continental Europe and northern Europe it is needed to be careful before possible windstorms or powerful edges of cold fronts with short-term severe winds.
A 6-week forecast for Europe and NAO forecast until 4. April 2022 are available here: https://mkweather.com/ecmwf-6-week-forecast-for-europe-until-4-april-2022-extremely-warm-and-windstorms-and-tornadoes-possible-more-than-was-predicted/; https://mkweather.com/nao-leading-pattern-minimally-until-1-april-2022/.
Illustration picture: Temperature anomalies above Europe during the peaking of the extremely warm period; wxcharts.com
Source: wxcharts.com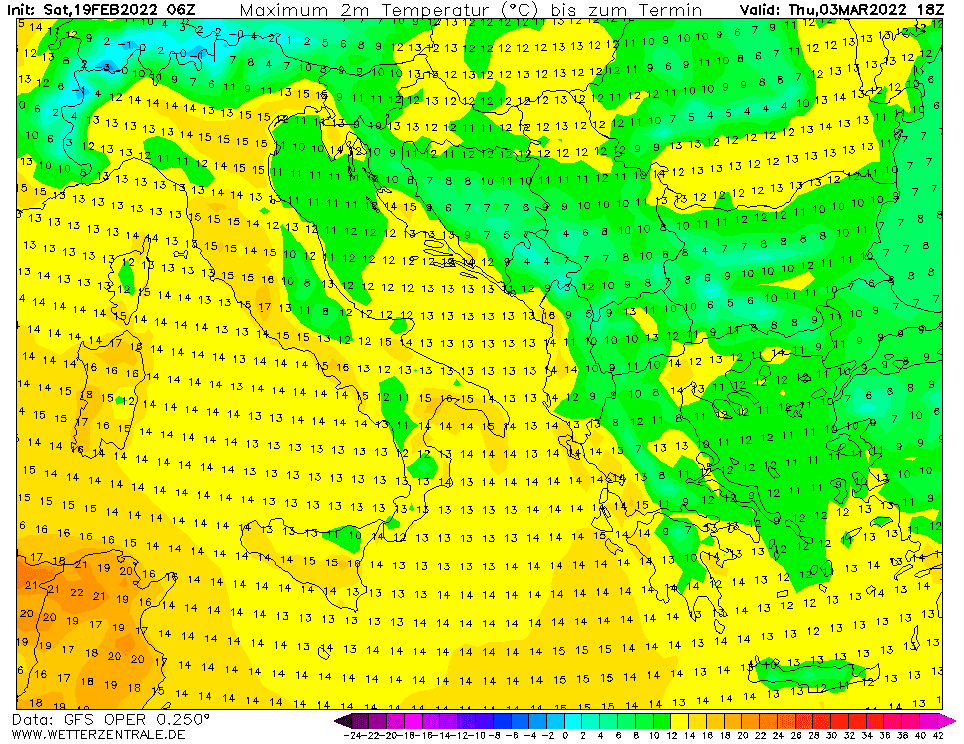 Source: wetterzentrale.de