Montoro, Spain: +47,4°C! All-time national record! Madrid the hottest day in history, +42,7°C!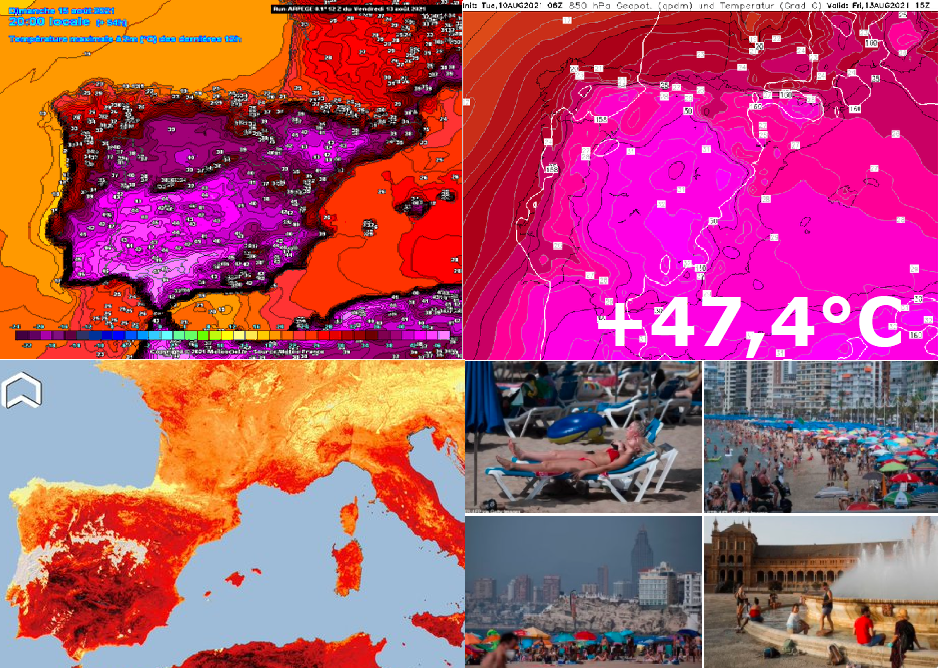 While in Turkey, the all-time record, +49,1°C was before a few weeks measured /https://mkweather.com/all-time-record-in-turkey-491c-the-heatwave-is-deadly//, in Greece maximum temperatures stopped only 0,9°C below all-time record (+47,1°C) /https://mkweather.com/greece-471c-only-09c-below-european-record-north-macedonia-441c-bulgaria-425c-and-tirana-albania-422c-all-time-record-while-wildfires-are-raging-across-all-mediterranean// and in Italy, a new European record was measured (+48,8°C) /https://mkweather.com/siracusa-italy-488c-european-all-time-temperature-record-was-broken//, on Saturday, 14. August was extremely hot in Spain, too – according to updated information, up to +47,4°C in Montoro, which is a new all-time national record for Spain!
Meanwhile, in Tunisia and Algeria, heatwave brought all-time temperature records (Tunisia, +50,3°C) and deadly wildfires, too /https://mkweather.com/natural-disaster-in-algeria-69-dead-after-disastrous-wildfires-due-to-50c-heatwaves/; https://mkweather.com/tunisia-503c-the-highest-temperature-in-the-country-in-modern-history/; https://mkweather.com/tunisia-with-all-time-record-before-a-mega-european-heatwave-jendouba-490c-kebili-485c-algeria-up-to-489c-last-days//.
Extremely hot was in Madrid, too – the hottest day ever brought the maximum temperature up to +42,7°C at stations of the city.
In some places of Iberia, temperatures were reaching +41/+42°C around 2:00 – 3:00 at the night (Castellon de la Plana) and across the peninsula started to spread more and more wildfires.
Heatwave should be moreover deadly – mainly for people who do not follow a drinking regime and who are expose to direct sun for a long time.
From other cities were interesting temperatures on Saturday, 14. August 2021, e.g. in Cordoba, +46,9°C, Ecija, +46,5°C, Granada, +46,0°C, Toledo, +44,2°C or Pamplona, +41,6°C – in many places with all-time temperature records.
In Portugal, +42,6°C was measured in Evora (but national TOP will be probably 1-3°C higher), in southern France was measured on Friday, 13. August 2021 +41,9°C /https://mkweather.com/american-model-returned-for-spain-50c-spain-462c-france-419c-so-far-all-time-spain-record-is-473c//.
Weather models are returning extremely hot temperatures until Monday, 16. August – on Sunday is the hottest Murcia with +45,6°C, so far, but until early evening, this temperature will be even higher. On Monday, temperatures around +47°C are still possible in southern Spain, while from the north, a coldwave will arrive.
Hot weather is at the weekend reported from other parts of Europe, e.g. Firenze in Italy reported +40,8°C, Ustica, Italy, +39,8°C, Le Luc, France, +39,6°C, Knin, Croatia, +39,3°C, Skhodra, Albania, +39,4°C, Split, Croatia, +39,0°C, on Saturday, Carpentras, France, +38,7°C or Mostar, Bosnia and Herzegovina, +38,4°C.
Heatwave is however returning above Italy, Balkan, Greece, and hit/hiss Alpine, Carparpathian region and Ukraine, too, with the next potential for breaking all-time records.