NAO+ heatwave is bringing summer: France +24,8°C, Spain +28,0°C, Morocco +32,1°C, Western Sahara +33,1°C!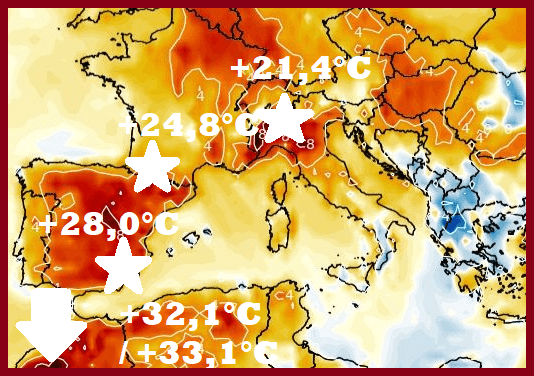 Winter heatwave in Europe is continuing and southwestern Europe reports summer, northwestern Africa even tropical winter weather!
About the first round of extremely hot days, we informed here: https://mkweather.com/early-spring-weather-is-coming-switzerland-214c-spain-267c-morocco-298c/; https://mkweather.com/tenerife-hit-floods-from-32-mm-rainfall-in-a-few-hours-agadir-morocco-already-317c/.
Information about the NAO+ phase in February and March 2022 we brought here: https://mkweather.com/early-spring-is-coming-nao-with-blocking-admixtures-will-bring-very-warm-february-and-march-2022-in-europe/; https://mkweather.com/ecmwf-6-week-forecast-for-europe-temperatures-up-to-22c-in-mid-latitudes-and-28c-in-the-mediterranean-in-february-and-25c-30c-in-march/; https://mkweather.com/the-second-february-week-in-europe-will-be-extremely-warm-temperatures-above-20c-in-mid-latitudes-and-30c-possible-in-the-mediterranean/.
The first February days were extremely warm in France, Spain, and NW Africa.
Eus, France reported on 2. February 2022 +24,8°C and Serralongue, 700 MASL in the Pyrenees, reported +24,4°C – the highest winter temperature at the station in the history of the station.
Extremely hot was on 2. February in southern Spain – Xátiva reported +28,0°C or Chelva +27,7°C (both near Valencia).
Even hotter is these days in Morocco and Western Sahara – Agadir in Morocco reported on 2. February +32,1°C or Dakhla, Western Sahara, +33,1°C.
In Algeria was the warmest at the end of January, so far (the first link above).
Temperatures up to +22°C were reported from northern Italy, too and +21,4°C was measured at the end of January 2022 in Lugano, Switzerland (although in early February, the Alps hit severe blizzard with a regional 2 m snowfall).
Extremely warm, in the warmest regions maybe hot weather will be persisting in southwestern and western and gradually almost all Europe until the end of the second February 2022 week, with really interesting maximum temperatures, near foehn in the Alps maybe up to +22°C, in many lowlands in Central Europe up to +18°C, maybe +20°C, in Balkan and Italy maybe up to +25°C, in SW France above +25°C and in Spain and Portugal very close to +30°C in selected regions with the warmest conditions.
Very good, early-spring weather conditions should be used for outdoor activities – not only in SW/W Europe, but soon in central, or shorter eastern parts, too.
Mkweather will be furthermore watching the situation and soon we will bring updates of measured temperatures during upcoming days.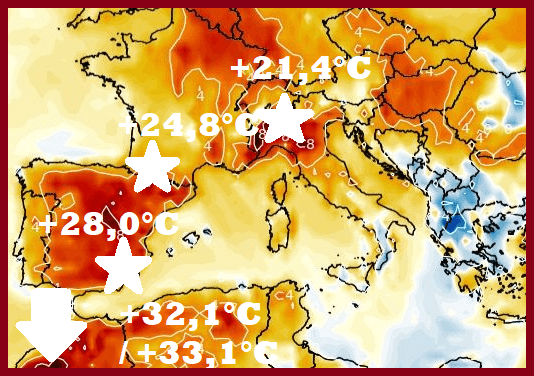 Illustration map: T2m anomaly on 2.2.2022 at 18:00 /wxcharts.com