-22,0°C in Pontets, France!
MK
December 3, 2021
3 min read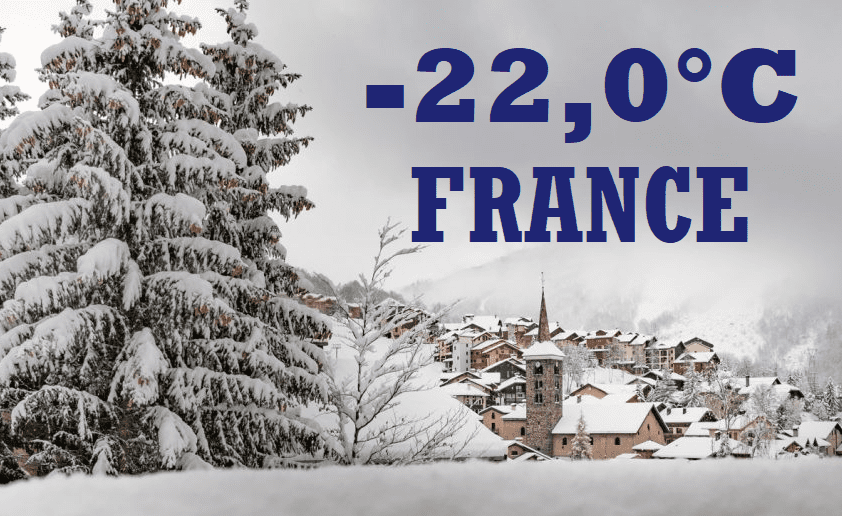 In Europe, extreme frosts, blizzards, and windstorms in the last period appeared, including many temperature and snowfall records /legendary frosts in Scandinavia up to -37,5°C: https://mkweather.com/brutally-cold-weather-in-scandinavia-legendary-frosts-in-sweden-375c-norway-369c-and-finland-340c-and-below-40c-is-forecasted-the-coldest-seasonal-temperatures-in-50/; Italy -31,4°C in the Alps and -17,8°C in populated areas: https://mkweather.com/italy-314c-in-the-alps-and-178c-in-populated-areas/; northern Italy up to -15°C in 800 MASL: https://mkweather.com/northern-italy-with-15c-in-lower-situated-areas-rare-snow-in-sicily-and-sardinia-forecast/; -19,6°C in 975 MASL, France: https://mkweather.com/combe-de-loscence-france-196c-in-975-masl/; 50-year record -10,0°C in Grenoble, France: https://mkweather.com/grenoble-france-384-masl-100c-the-coldest-temperatures-in-the-region-minimally-in-the-last-50-years/; 0,5 meters of snow in Switzerland, 800 MASL and 40 cm in Austria, 700 MASL: https://mkweather.com/linthal-switzerland-800-masl-with-05-meters-of-snow-koetzchach-austria-40-cm-next-3-days-will-come-the-next-snowfall/; blizzard in the UK: https://mkweather.com/a-snowstorm-trapped-60-people-in-uk-pub-they-had-fun-and-sang-for-three-days/, blizzard in Denmark and Germany: https://mkweather.com/denmark-hit-120-km-h-winds-with-heavy-snowfall-a-blizzard-hit-germany-too-130km-h-wind-in-istanbul-killed-4// and low temperatures in Scandinavian capitals and Estonia / St. Petersburg blizzard /https://mkweather.com/arctic-air-has-shifted-above-the-baltic-region-and-scandinavian-capitals-southern-norway-269c-estonia-179c-oslo-160c-stockholm-120c-tallin-103c-helsinki//.
While in Grenoble, southeastern France, a possible lowest November temperature in 50 years (-10,0°C) was before a few days measured /link above/ and Alpine basins and valleys at 975 MASL reported up to -19,6°C /link above/, on 3. December 2021, after a cold front, temperatures fell even lower!
In Pontets, 1005 MASL, only -22,0°C was according to information from infoclimat.fr, measured.
The coldest was in departments of Doubs and Jura.
Extremely cold air is shifting above Central Europe and at the weekend, first frosts below -20,0°C are in Germanian, Swiss, Austrian, Czechian, Polish, Slovakian or Slovenian valleys, possible.
The anomalous temperature on Friday appeared in La Brevine, Switzerland, too – it will be a topic of the next Mkweather article.
Warmer weather is forecasted in Europe only after 10. December 2021, but Christmas and New Year 2021-2022 should be cold, especially in western and southern half of Europe, according to ECMWF /will be updated soon on our homepage/.