A possible Tropical storm Mindy should hit Texas, Louisiana, Mexico, maybe Mississippi, Alabama, and Florida! The next hurricane in the Gulf Coast possible around 15.9. and near western Mexico around 8.-12.9., between 20.9.-10.10. a long break from hurricanes!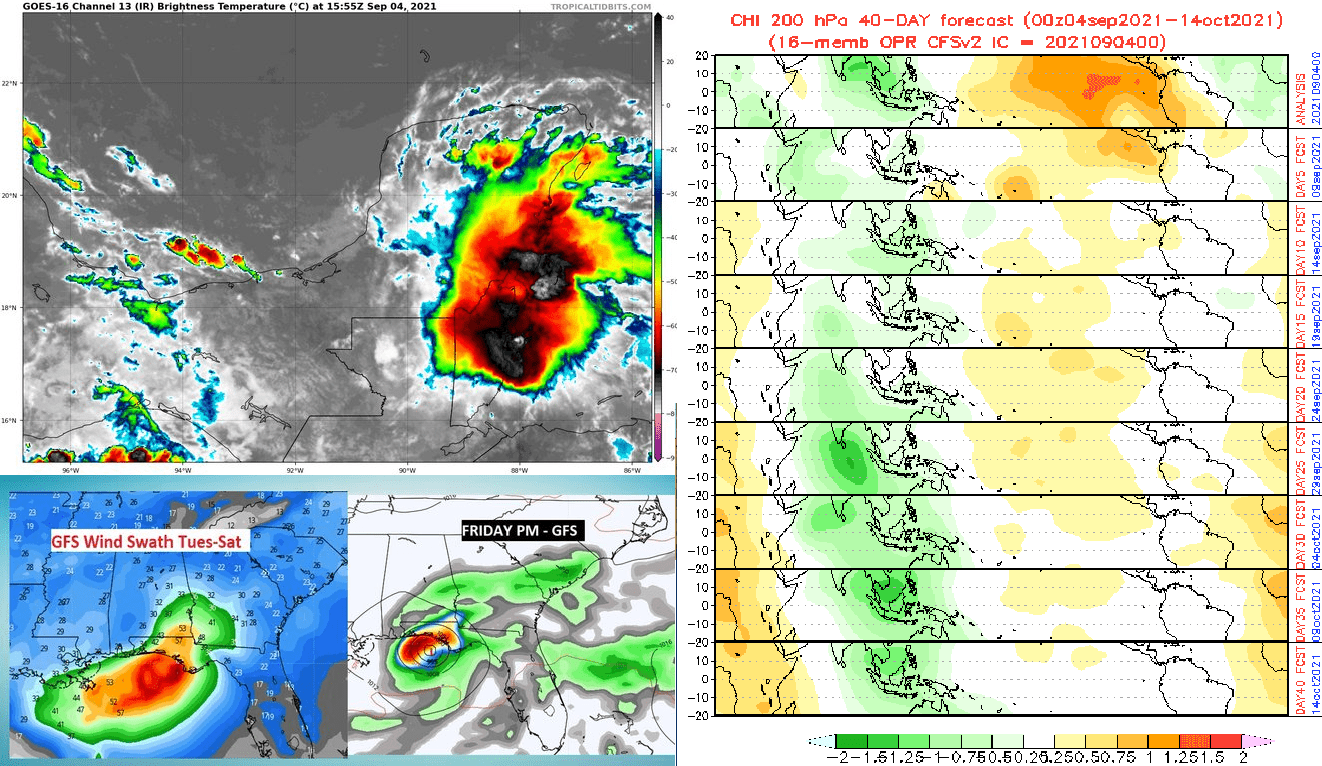 After Hurricane Ida /articles about devastating hurricane Ida and its impacts in the USA you will find here: https://mkweather.com/60-dead-and-total-destruction-new-york-after-ex-hurricane-ida-experienced-the-worst-flash-floods-in-history-80-mm-1-h-northeast-after-a-natural-disaster/; https://mkweather.com/terrifying-and-dramatic-videos-of-hurricane-ida-category-5-louisiana-the-usa-must-see/; https://mkweather.com/breaking-top-1-weather-event-natural-disaster-of-the-year-catastrophic-hurricane-ida-category-5-hit-the-usa-the-strongest-hurricane-in-louisiana-since-1850/; https://mkweather.com/terrifying-noises-of-hurricane-ida-category-4-5-looks-like-ef4-5-tornado-videos//, two Tropical storms above the Atlantic – Julian and Kate /https://mkweather.com/a-possible-hurricane-julian-should-shift-towards-europe-tropical-storm-kate-towards-greenland// and Hurricane Larry /https://mkweather.com/hurricane-larry-possible-category-5-stormtrack-direct-impact-in-british-islands/; https://mkweather.com/the-first-significant-ex-hurricane-in-europe-possible-hurricane-category-4-larry-should-bring-danger-to-america-then-should-aim-towards-the-uk-france-ireland-benelux-norway-spain-or-portugal// appeared above the Gulf Coast the next possible Tropical storm – Mindy.
Tropical depression 91L Invest will be strengthening during the next hours near its moving not so far from eastern Mexican coast (it hit Yucatan already) and into the USA it should arrive already during the second half of the next week, after Ida with additional rainfall and strong winds.
The system according to Sunday´s, 5.9. 2021 forecasts, should hit mainly northeastern Mexico, Texas, and Louisiana, but the impact in Mississippi, Alabama, and northwestern Florida isn´t excluded, too.
A possible rainfall up to 3 inches / 75 mm is, for now, possible along the Gulf Coast and wind gusts above 100 km/h are locally forecasted.
Not only a possible Tropical storm Mindy and extremely strong Hurricane Larry, but too the next tropical threat, probably hurricane will appear between 8.-12. September near the western Mexican coast and Baja California and the next hurricane, Nicholas or Odette (according to development near shores of Western Africa, where the next threat is already building), is possible in the same region, near NE Mexico, Texas, and Lousiana around 15.-17. September 2021.
It appears that wet MJO conditions above Northern Atlantic and the Caribbean are showing / will show a maximum of its potential, before a longer break, which should be lasting between 20. September – 10. October 2021, without significant tropical activity.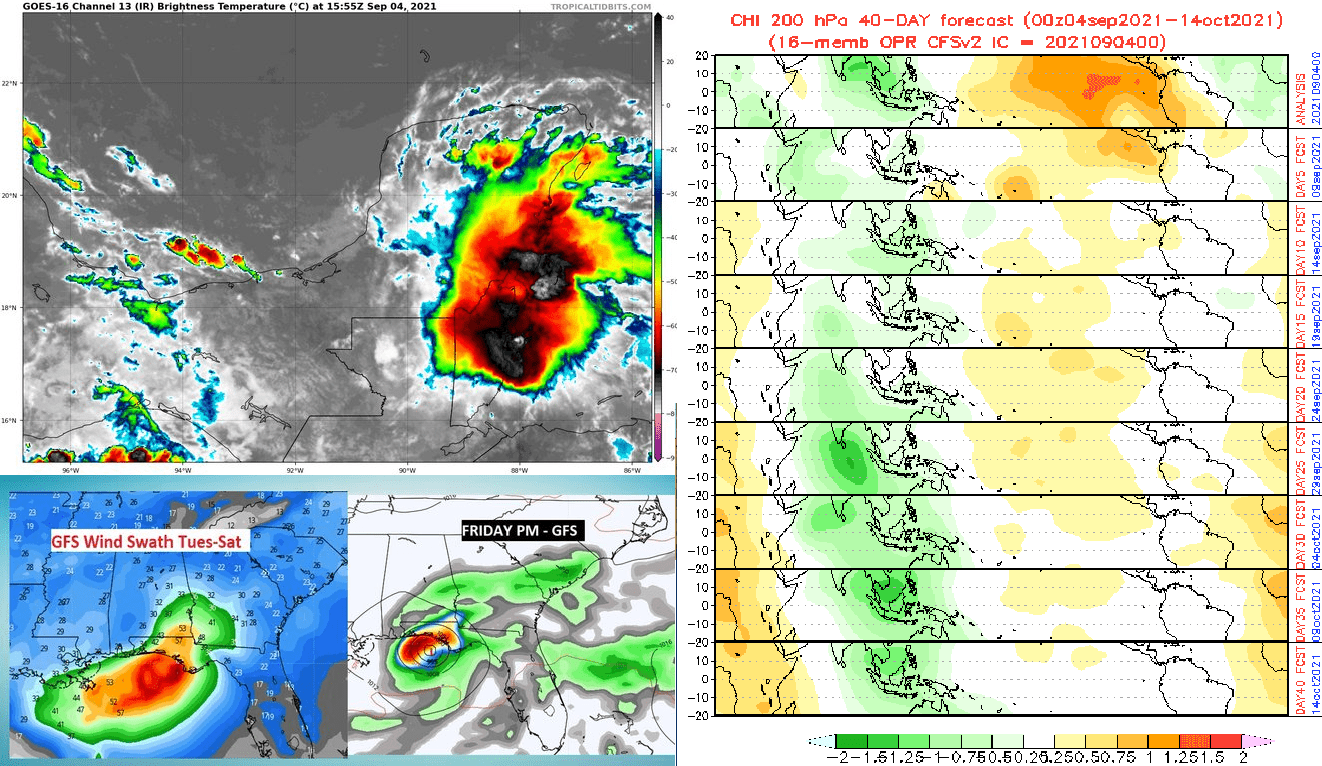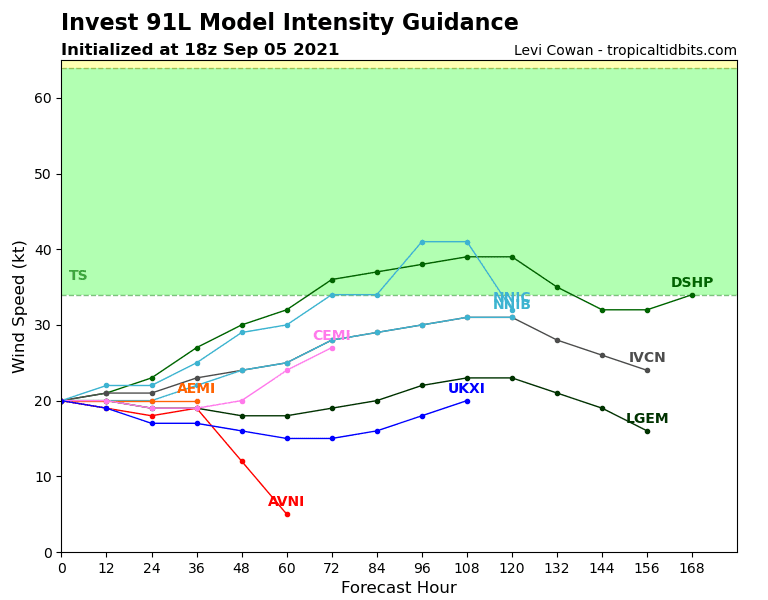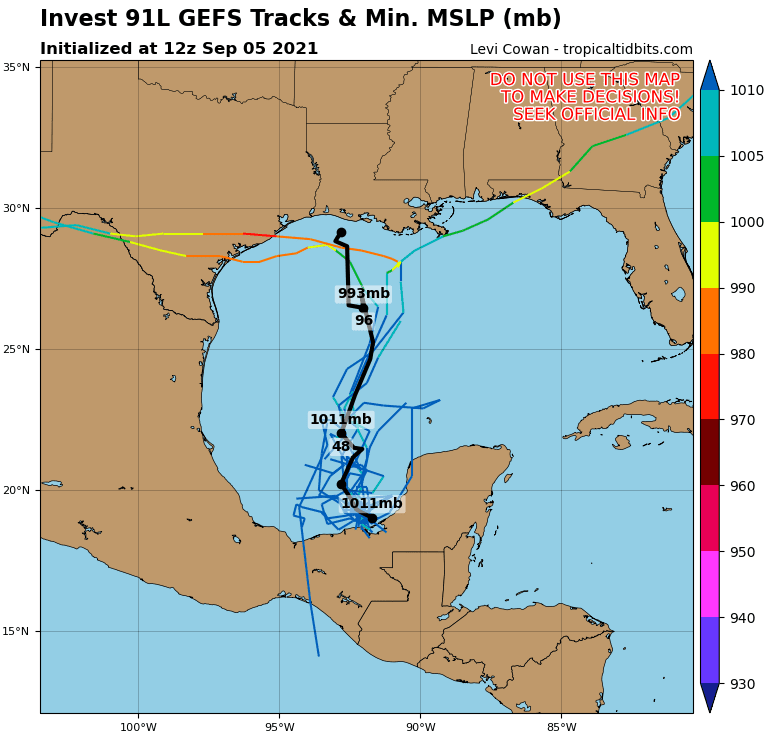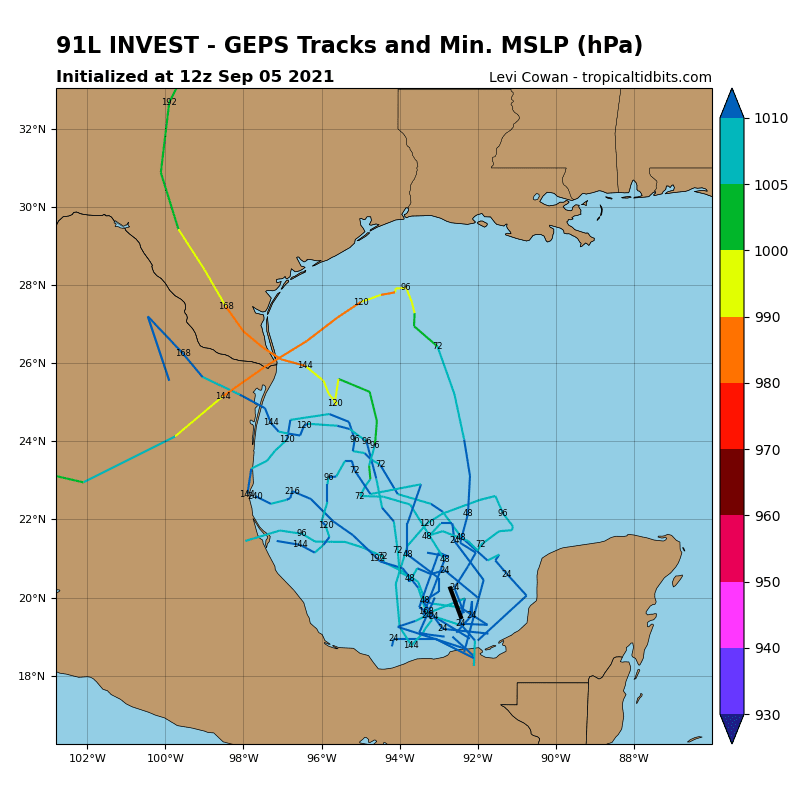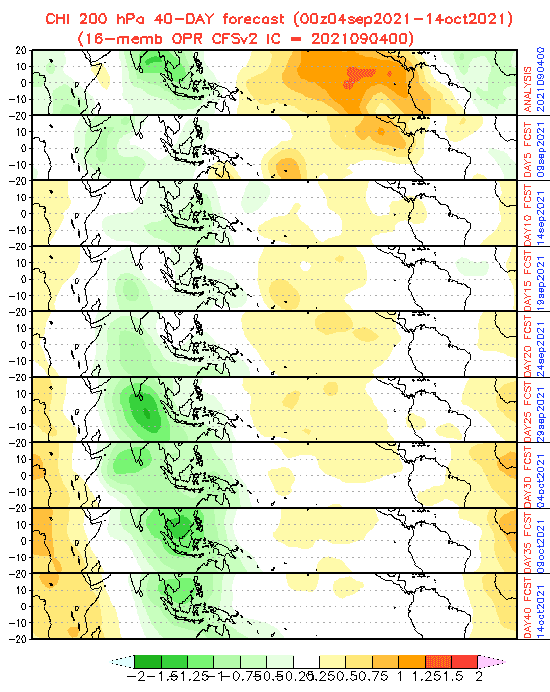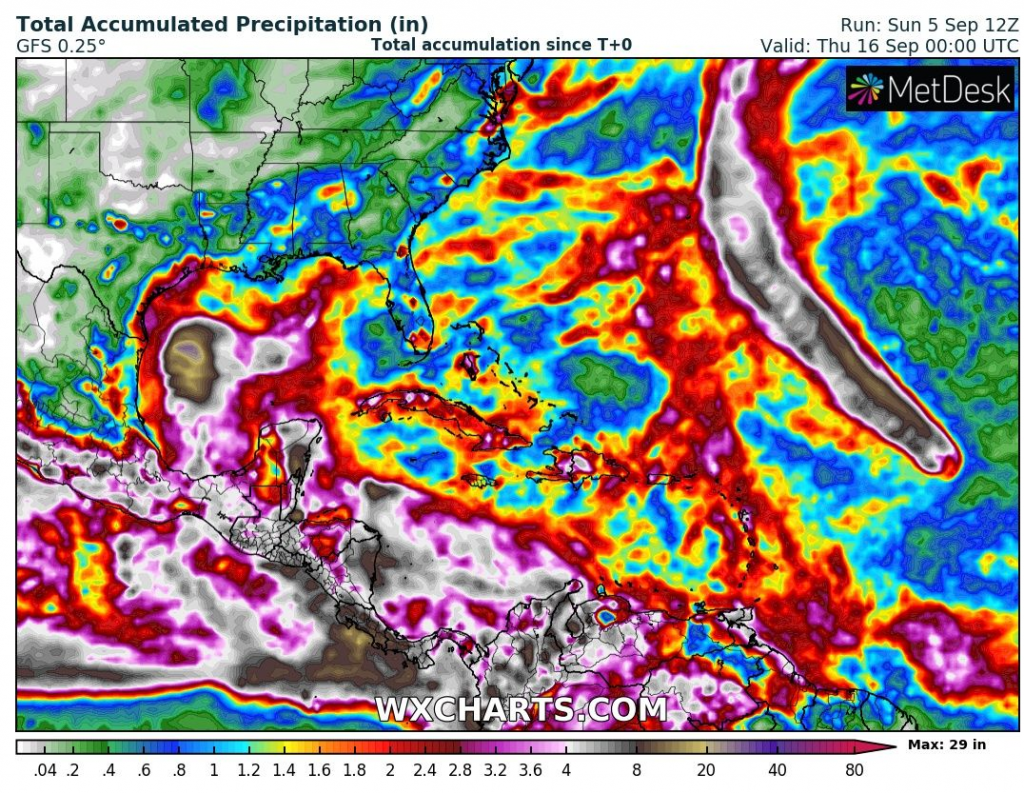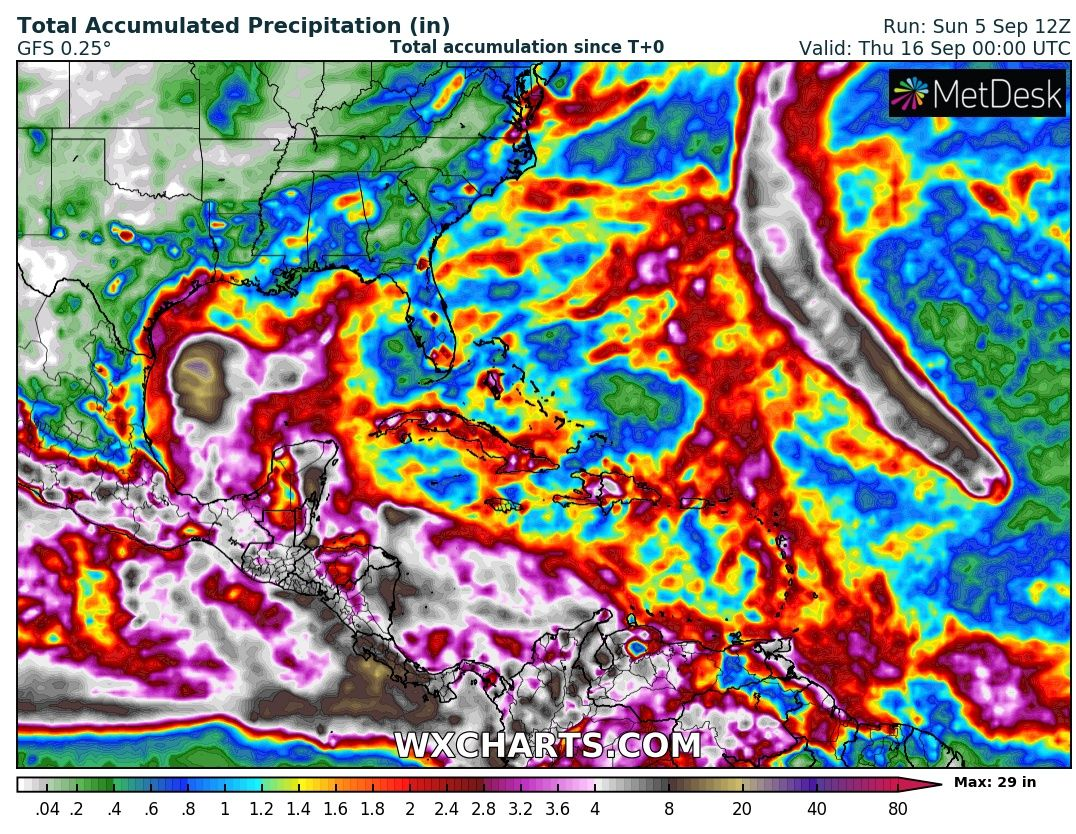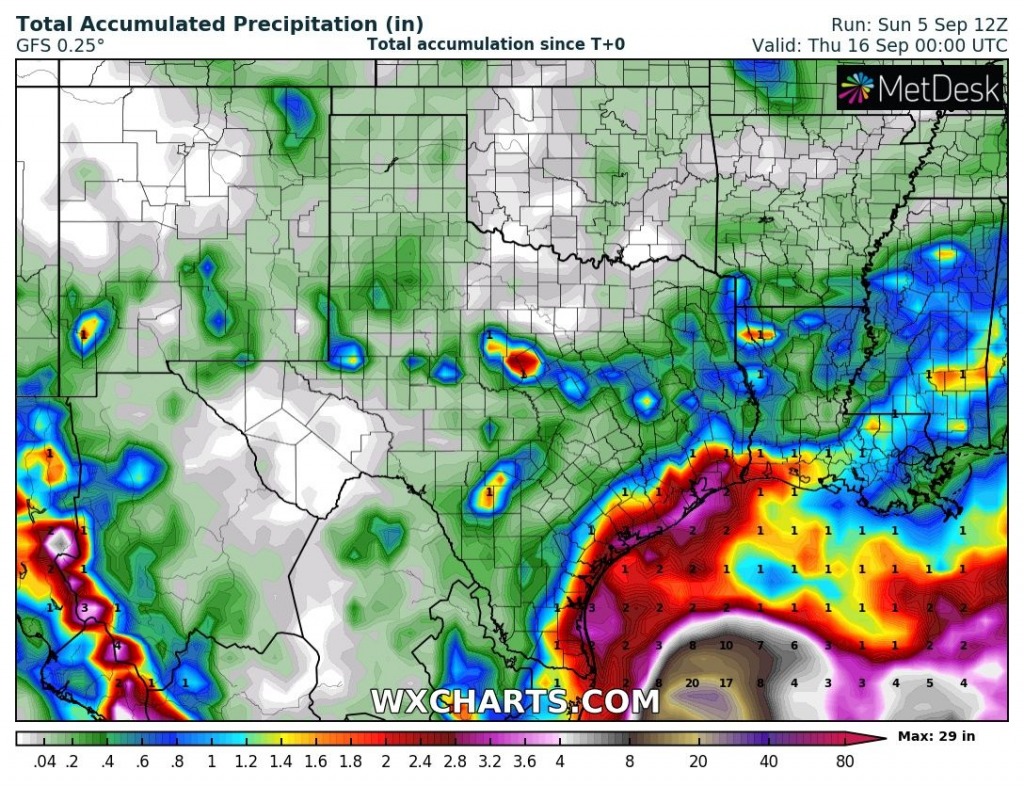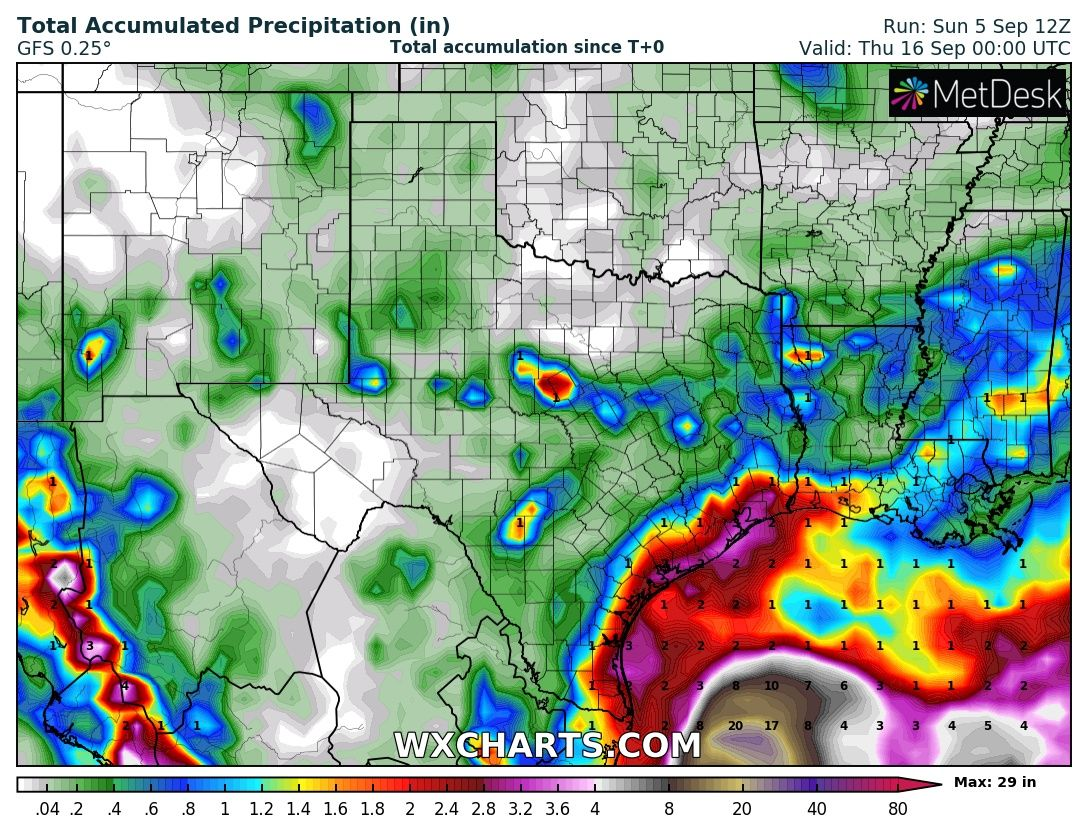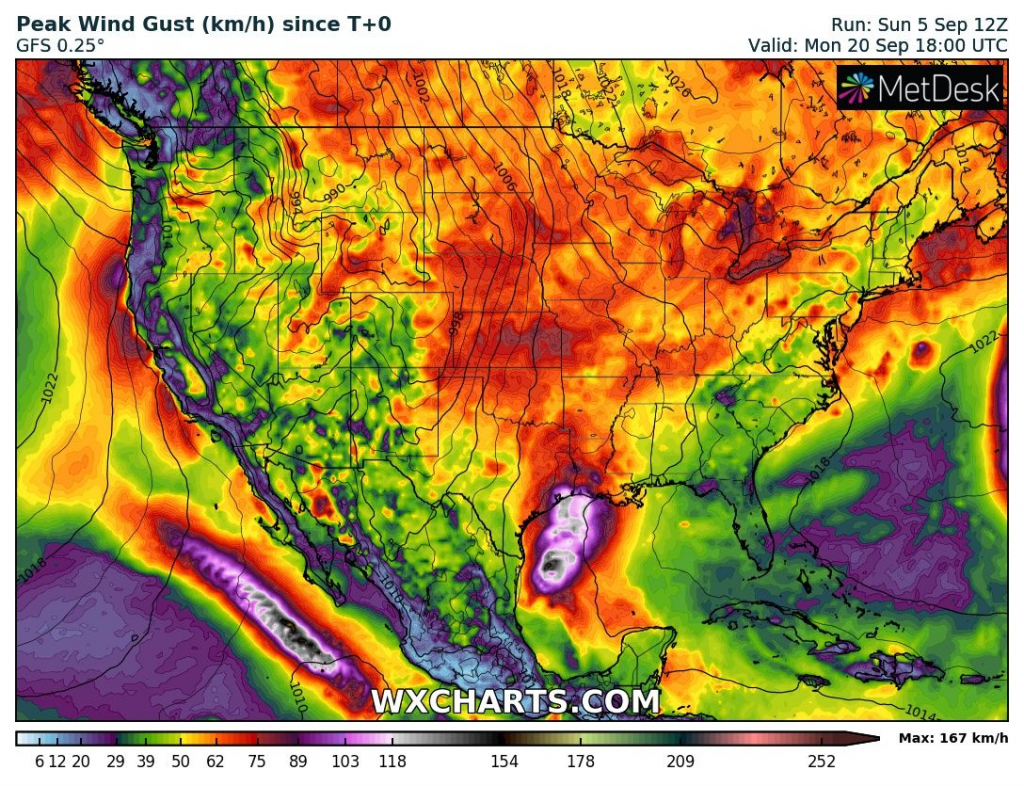 Source: wxcharts.com