Watchers on Twitter carefully watch situation in Antarctica, where extremely cold weather persist in June 2021, with the first -80,0°C of the year and temperature anomalies form long-term average locally up to -26°C.
30-day forecasts for Antarctica are too very cold and the continent is despite of climate change totally different such as rest of the world, with regional cooling trends in last decades /East Antarctica is NOT WARMING past 4 decades…Cooling trend – mkweather/. About conditions across the continent we have informed since the start of year 2021 /https://mkweather.com/first-700c-in-antarctica-of-the-season-continent-is-still-extremely-cold/; https://mkweather.com/east-antarctica-not-warming-past-4-decadescooling-trend/; https://mkweather.com/summer-in-antarctica-603c-only-42c-warmer-as-all-time-monthly-continental-record-extreme-cold-2021/; https://mkweather.com/antarctica-set-to-coldest-january-since-1978-southern-hemisphere-hasnt-been-so-cold-almost-10-years//.
Continental temperature anomalies only in last week reached around -7°C and cold Southern Hemisphere, thanks to Antarctica and La nina /The next cold winter? Strong La nina in Winter 2021/2022 forecasted! – mkweather/ with temperature anomalies -0,6°C had significant contribution on World´s temperature anomaly, which in last week temporarily dropped tightly below 0,0°C into negative values.
Currently therefore, we are without trend of global warming on the Earth overall, although, deadly heatwave is forecasted for Europe in the next period /Heatwave will be stronger as was forecasted and extremely deadly! Mediterranean +50°C, Balkan +44°C, Central Europe +38°C, Scandinavia +34°C – mkweather/.
During the next week(s), temperatures in Antarctica will drop even lower, such as these days and we should find ourselves very close to absolute continental records, which are officially not lesser than -90°C.
Climate feedbacks in Antarctica were linked with exceptional coldwave in SE Australia – in Sydney, the coldest day in 27 and in New South Wales in 122 years was last week measured (updated correct information: Historic winter 2021 in Australia: Sydney the coldest day in 122 years, powerful winterstorm from Tasmania to Queensland! – mkweather).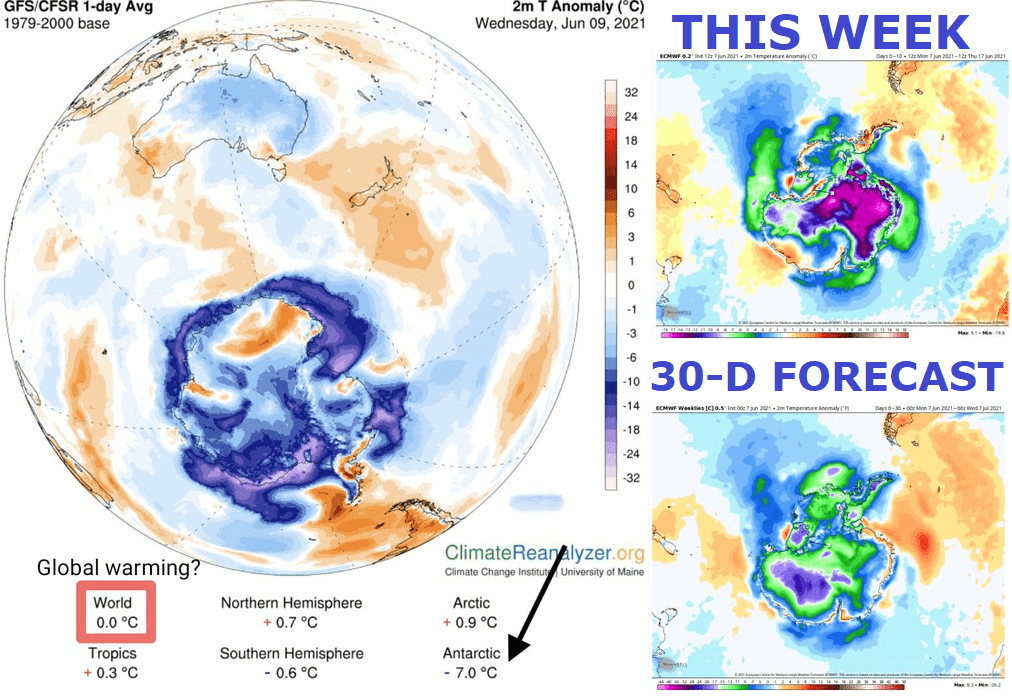 (Visited 44 times, 1 visits today)