MKWEATHER SPECIAL: Forecast for the next 3 seasons: Cold Autumn 2021 – Warmer Winter 2021/2022 – Cold Spring 2021 for Europe! A peak of winter in its colder first half. North America with extreme cold blasts and a lot of snow! Monsoon Asia stormy, Siberia and Japan snowy!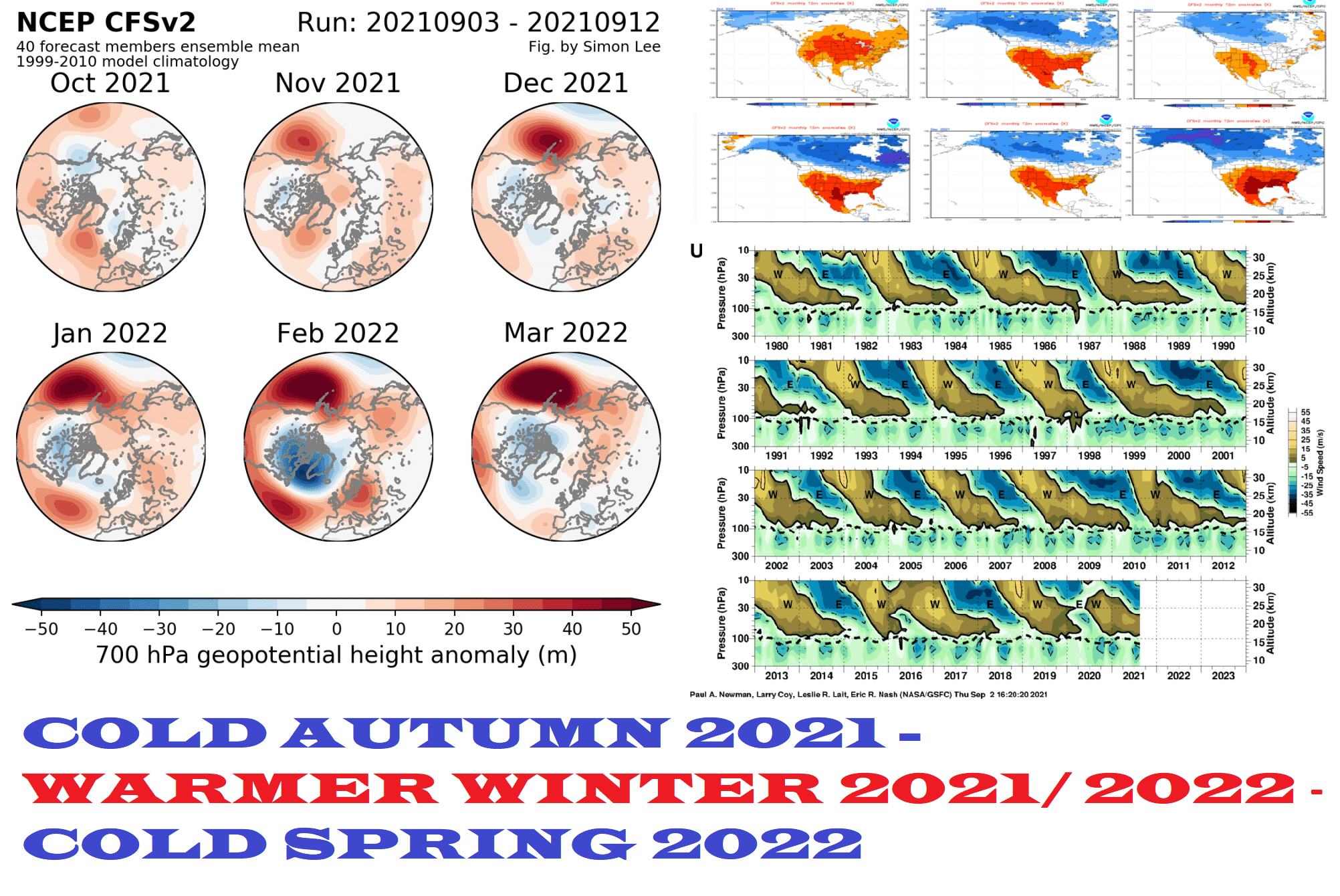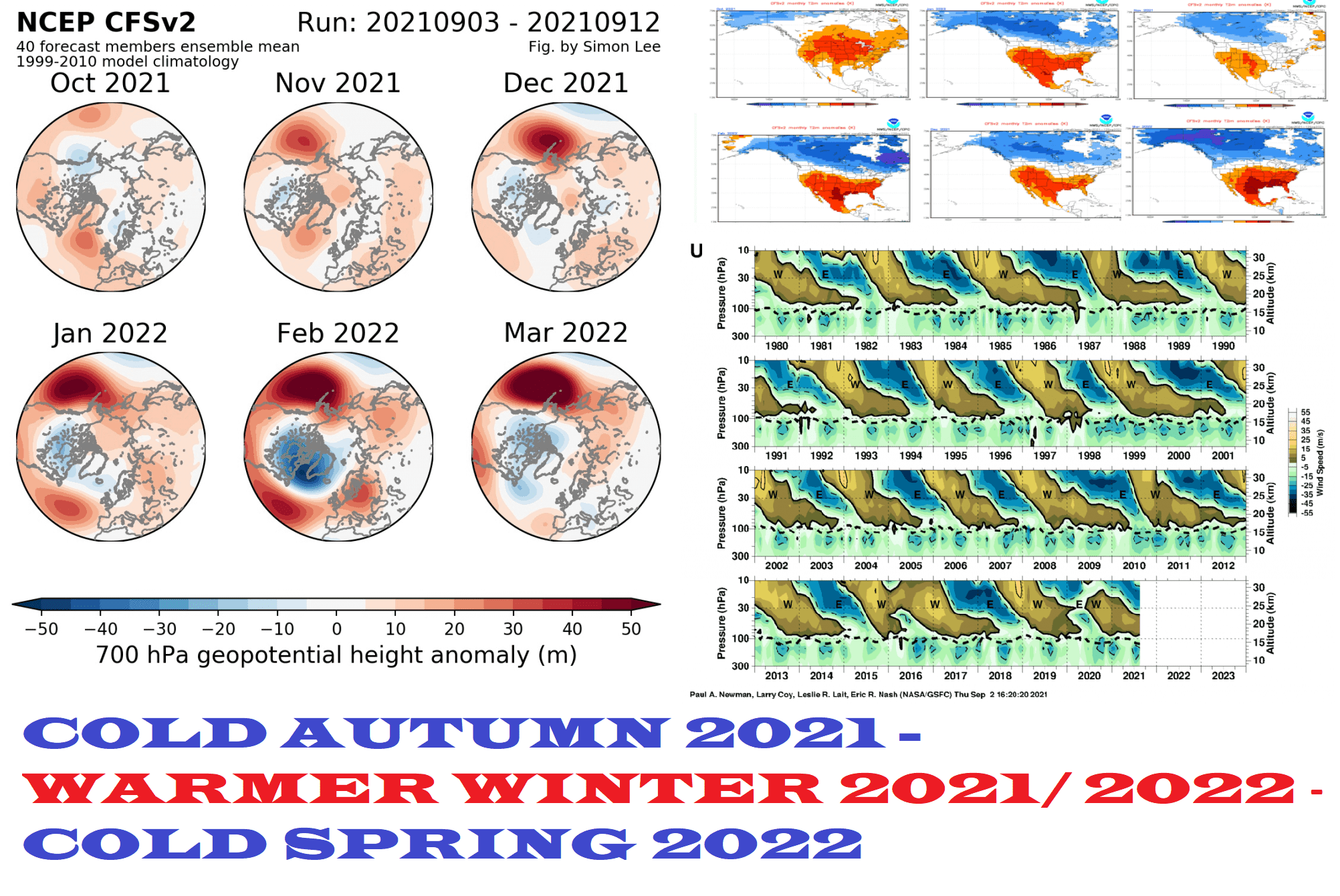 The last update of the Winter 2021/2022 forecast we published here at the end of Summer 2021: https://mkweather.com/winter-2021-2022-forecast-the-first-reliable-estimates-extreme-cold-blasts-from-canada-and-western-siberia-snow-in-western-europe-and-eastern-asia-la-nina-qbo-to-qbo-shift-sufficient-nao-ao/ and at the same time we published ENSO outlook, which is still very similar such as before a few weeks /https://mkweather.com/2022-2023-forecast-chances-for-el-nino//.
Continental forecasts for Autumn (in Southern Hemisphere Spring) 2021 we published here: https://mkweather.com/autumn-2021-forecast-for-europe-mostly-dry-and-frosty-autumn-be-prepared-for-early-severe-frosts/; https://mkweather.com/autumn-2021-forecast-for-north-america-long-indian-summer-and-weaker-hurricane-season-such-as-expected/; https://mkweather.com/autumn-2021-forecast-for-asia-strong-monsoon-for-s-se-e-asia-hot-and-dry-in-the-middle-east-late-siberian-cold-blasts-in-w-siberia-and-snow-calamities-in-e-siberia/; https://mkweather.com/spring-autumn-forecast-for-africa-mostly-hot-and-dry-parts-of-sahel-equatorial-africa-stormy-and-south-africa-stormy-and-cold/; https://mkweather.com/spring-2021-forecast-for-australia-and-oceania-under-la-nina-rules-cold-and-stormy-australia-warm-new-zealand-and-various-patterns-in-oceania/; https://mkweather.com/spring-2021-forecast-for-south-america-floods-and-drought-in-many-regions/ and in this article, some useful updates are available, mainly on the maps below.
The goal of this article is to inform about a possible raw estimate of upcoming seasons in key regions in the Northern Hemisphere (the most key region is Europe, the next are North America, Asia, and North Africa).
In Europe, a pattern COLD AUTUMN 2021 – WARMER WINTER 2021/2022 (STILL WITH ENOUGH COLD BLASTS – MAINLY IN IT´S FIRST HALF) – COLD SPRING 2022 is very possible.
It means, that during the rest of Autumn 2021 and in Spring 2022, according to current materials, above-average frequency of early/late cold blasts is forecasted, while in the second half of Winter 2021/2022 a powerful Northeastern Pacific Warm Blob anomaly will create above the Pacific, with the effect of possible AO+ / NAO+ during the second half of winter.
Cold conditions from October, November, and maybe December and the start of January 2021-2022 therefore should be during January and mainly February and the start of March 2022 suppressed, while in Spring 2022 should arrive in Europe lower geopotential from Canadian and Greenland´s sector and cause the return of inter conditions, mainly in March and April 2022.
Such we should notice on NCEP CFsV2 outputs below, anomaly above NE Pacific will be around February strongly associated with creating NAO+ pattern above Northern Atlantic (deep Icelandic low and pressure high above Europe), what should mean peak of warm conditions. This forecast is similar such as during the last winter outlook in the first link above. Cold blasts in Europe therefore should appear mainly in the first half of winter (December, first half of January 2021-2022), when a peak of the winter is possible.
The rest of Autumn 2021, the first half of Winter 2021/2022 and Spring 2022 should be therefore more AO / NAO neutral or AO- / NAO-, with more Arctic and Siberian blasts with extreme frosts or blizzards with heavy snowfall.
These anomalies will affect large parts of Northern Africa, Central Asia, and the Middle East, too.
La Nina forecast is staying the same, with colder Earth such is usual and effect into many regions from Southern Hemisphere to monsoon Asia, Africa or North America.
In North America, the NE Pacific Warm Blob anomaly should cause extremely cold Winter 2021/2022 in Canada and the northern USA, with significant coldwaves in the southern USA or Mexico, together with a negative phase of PNA and La Nina. Western Canada and the neighboring USA should be very snowy.
QBO should in Autumn 2021, maybe early Winter 2021/2022 stay in colder easterly phase, which should mean weaker zonality. Later it should shift into warmer westerly phase.
Hurricane season is forecasted to be relatively weaker than normal until 20. October 2021 thanks to dry MJO phase /https://mkweather.com/weaker-hurricane-season-between-10-september-20-october-dry-mjo-phases-456-and-7//, although some tropical storms or weaker hurricanes will be during the peak of the season still possible.
The Asian monsoon is forecasted to be above-average, thanks to La Nina conditions, associated with configurations of MJO and IOD.
Winter 2021/2022 should still bring a lot of snow amounts in the eastern half of Siberia and the northern half of Japan, some surprises should appear in northeastern China, too, but central parts of China should be according to the newest ECMWF outputs for the season drier.
November, January, and March are giving according to CFS some hopes for snowfall lows (so-called Genoa cyclones) in the southern half of Europe, in Northern America will be snowing according to CFS (and precipitation in any form) shifting gradually during the next half year from northern into southern parts.
Summer 2021/2022 should be colder and stormier in Australia and southern-African states, while South America should report a very hot summer season.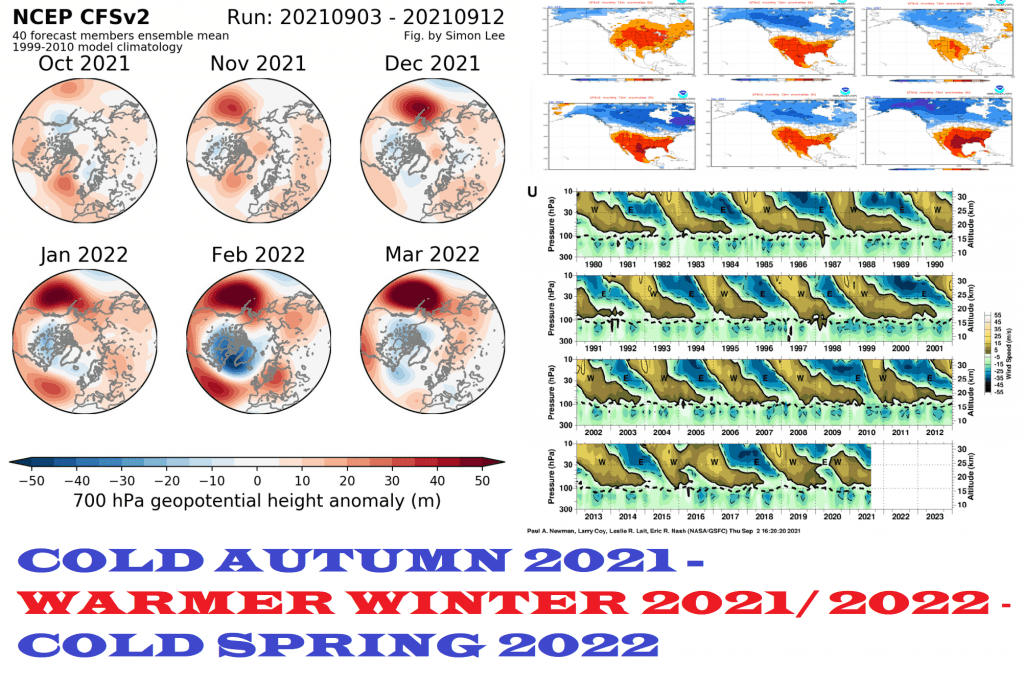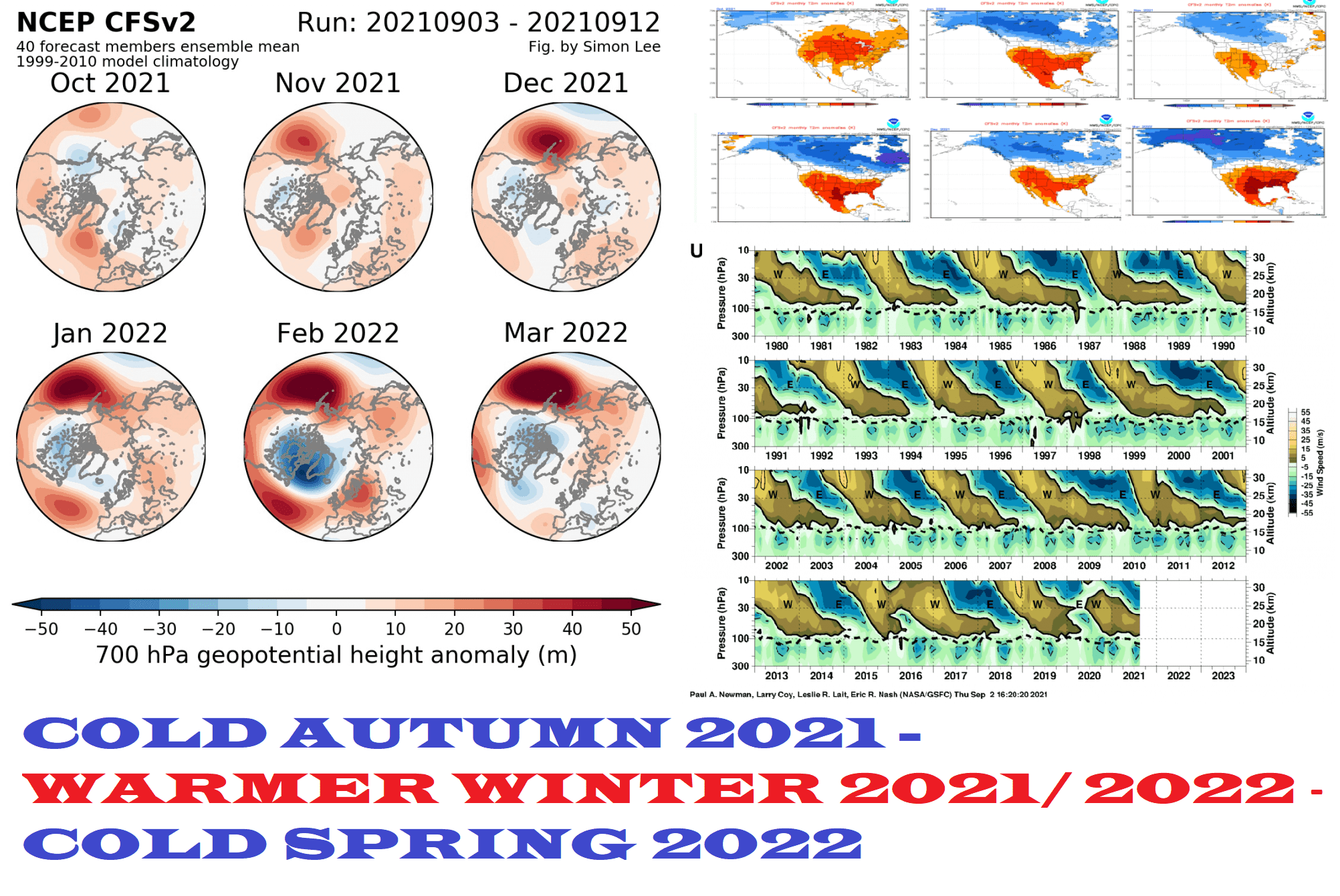 Illustration picture: sources below images below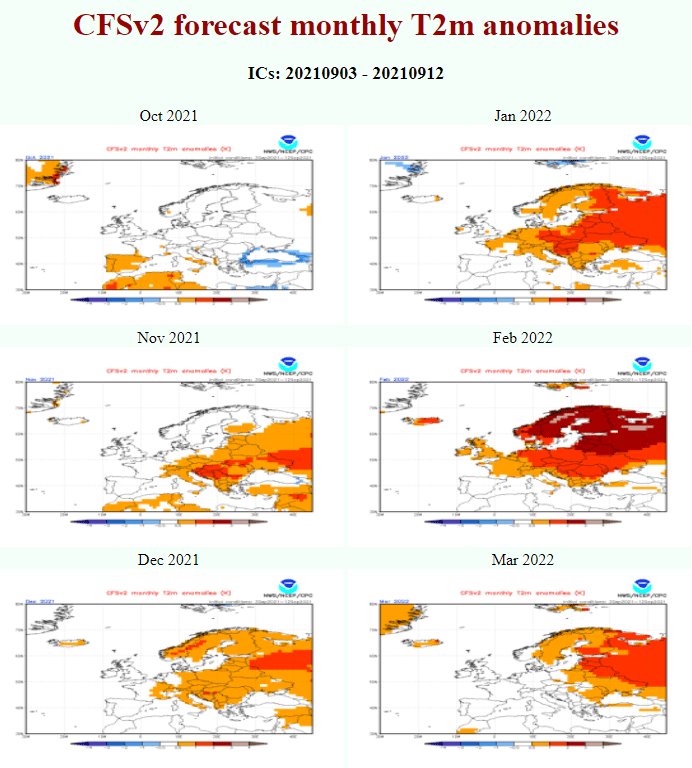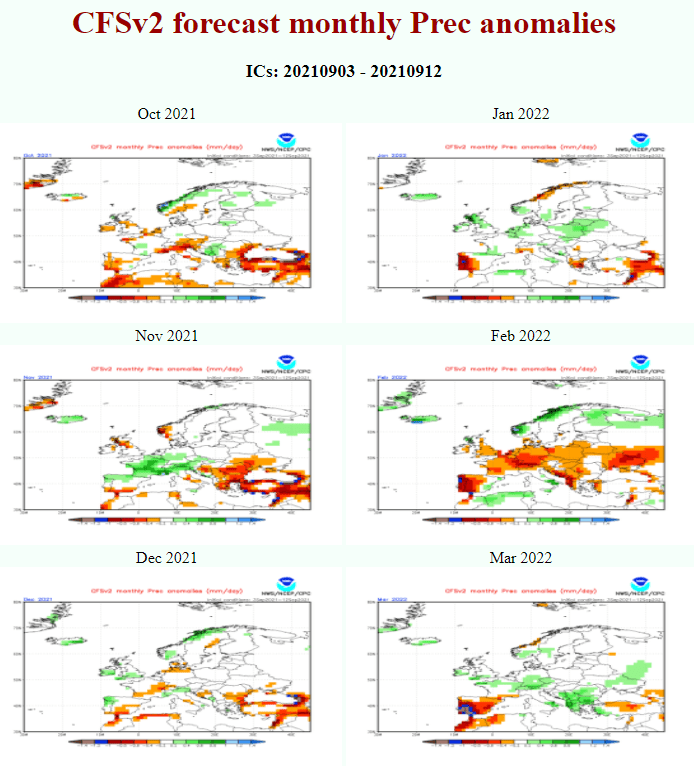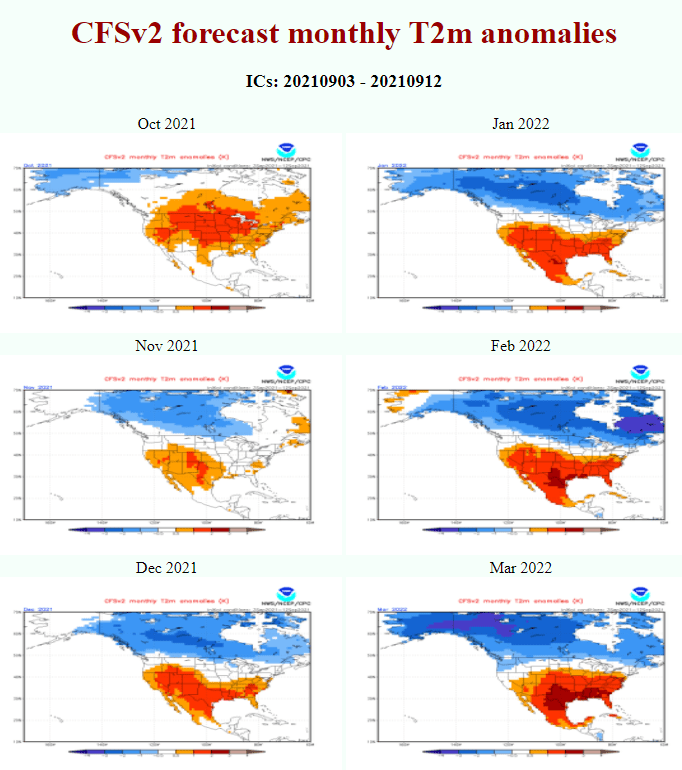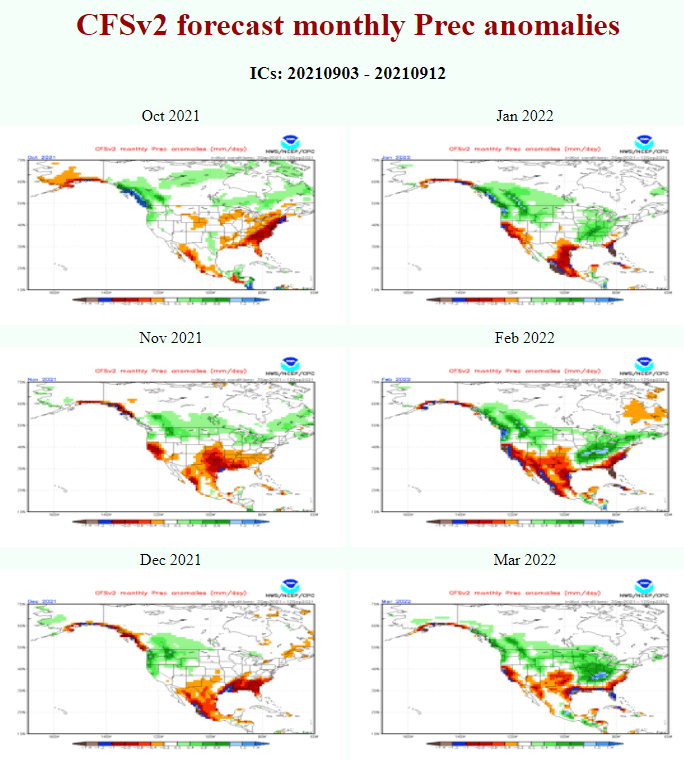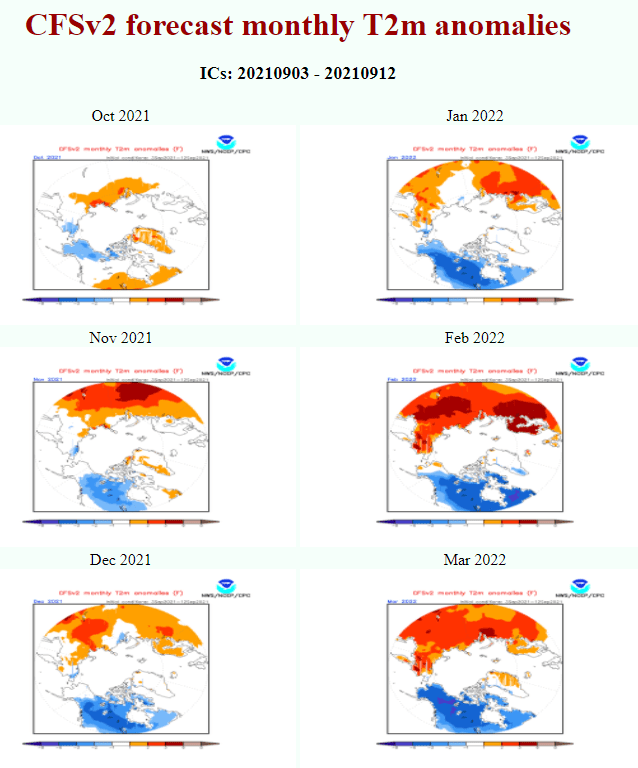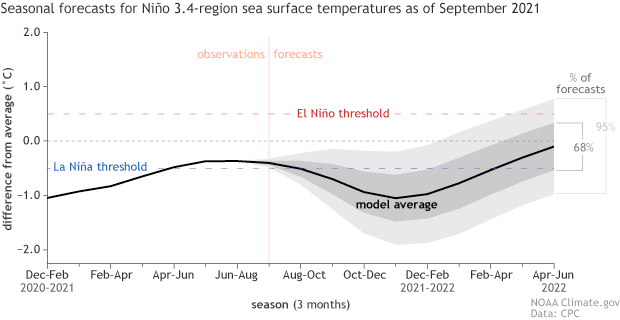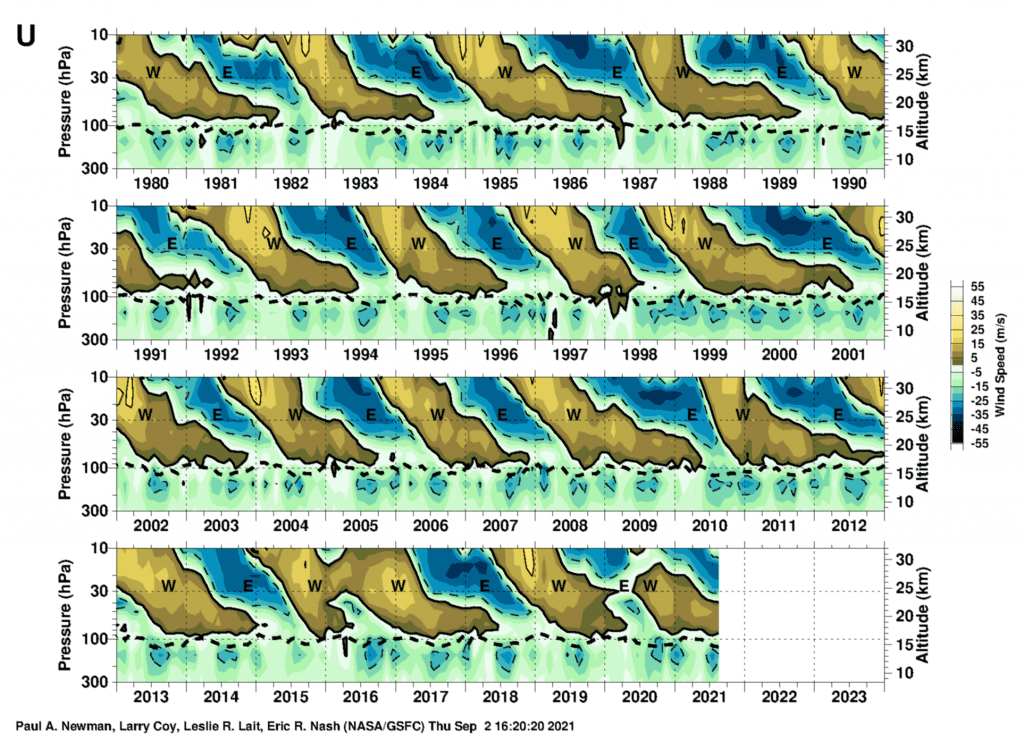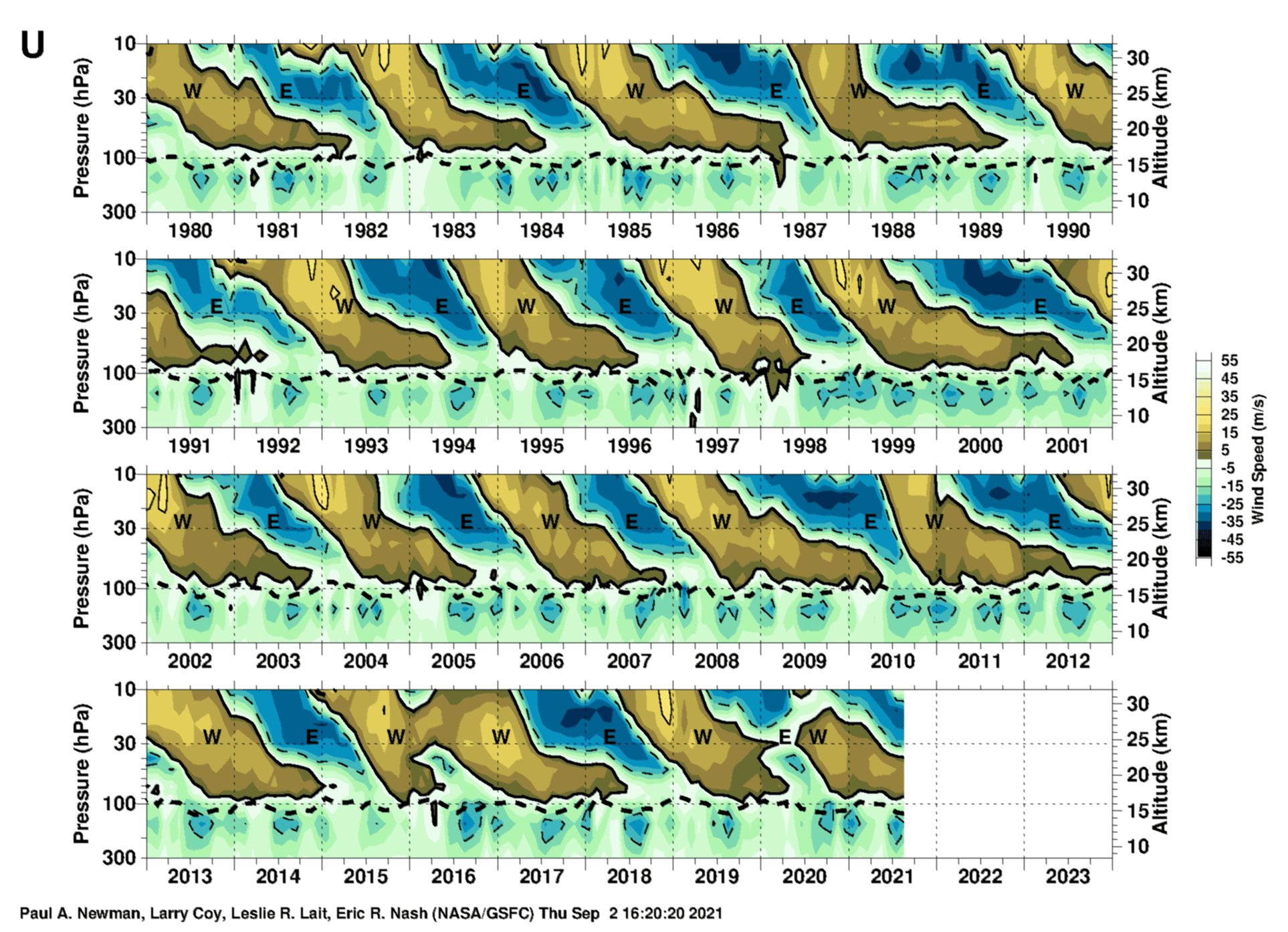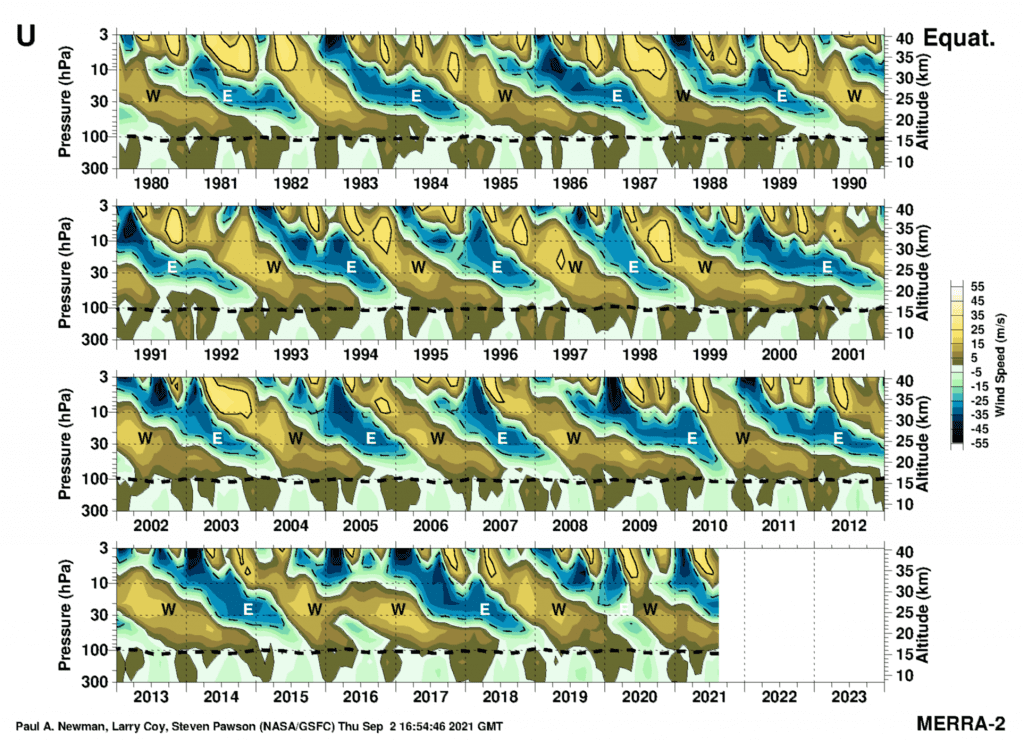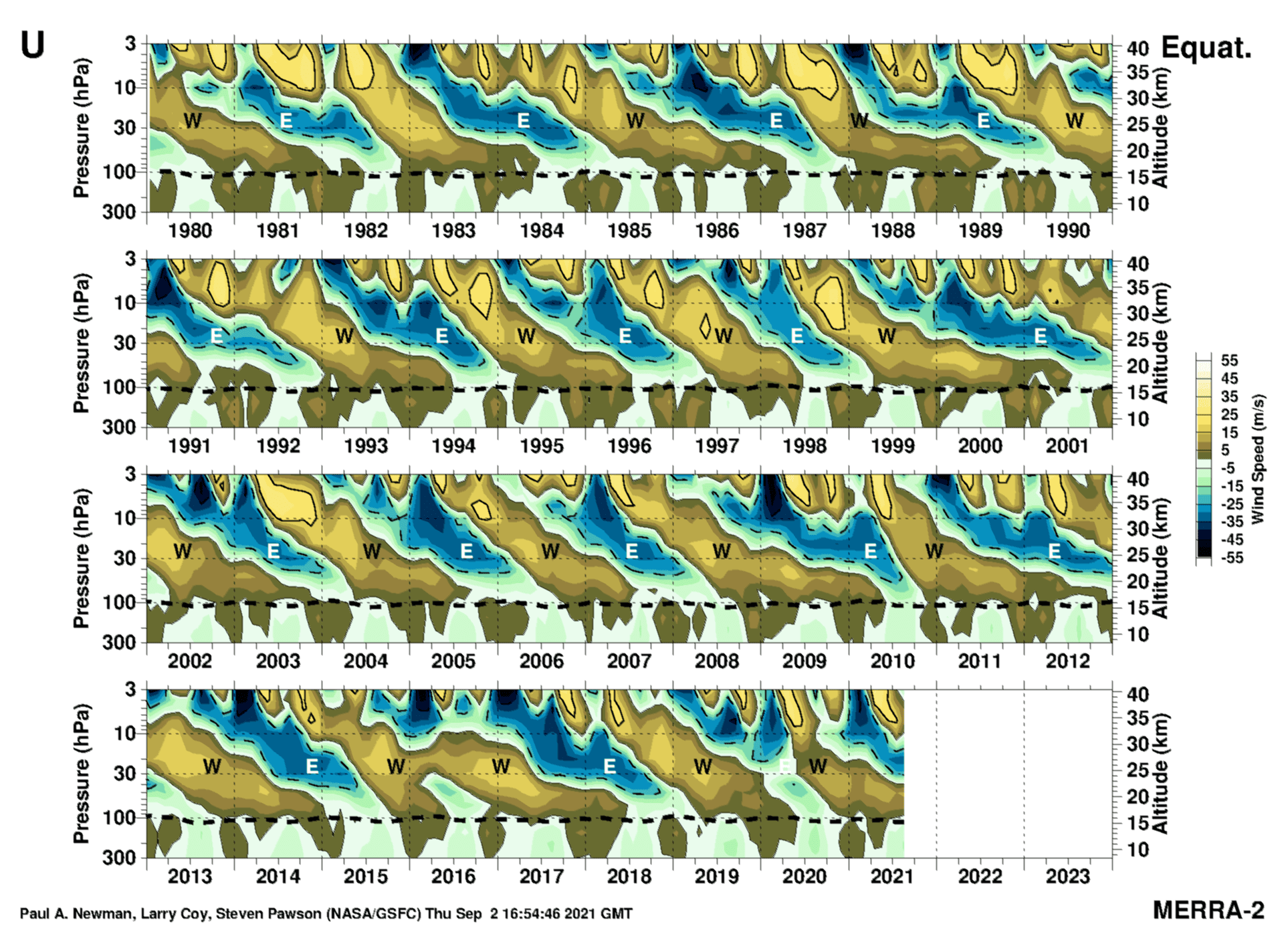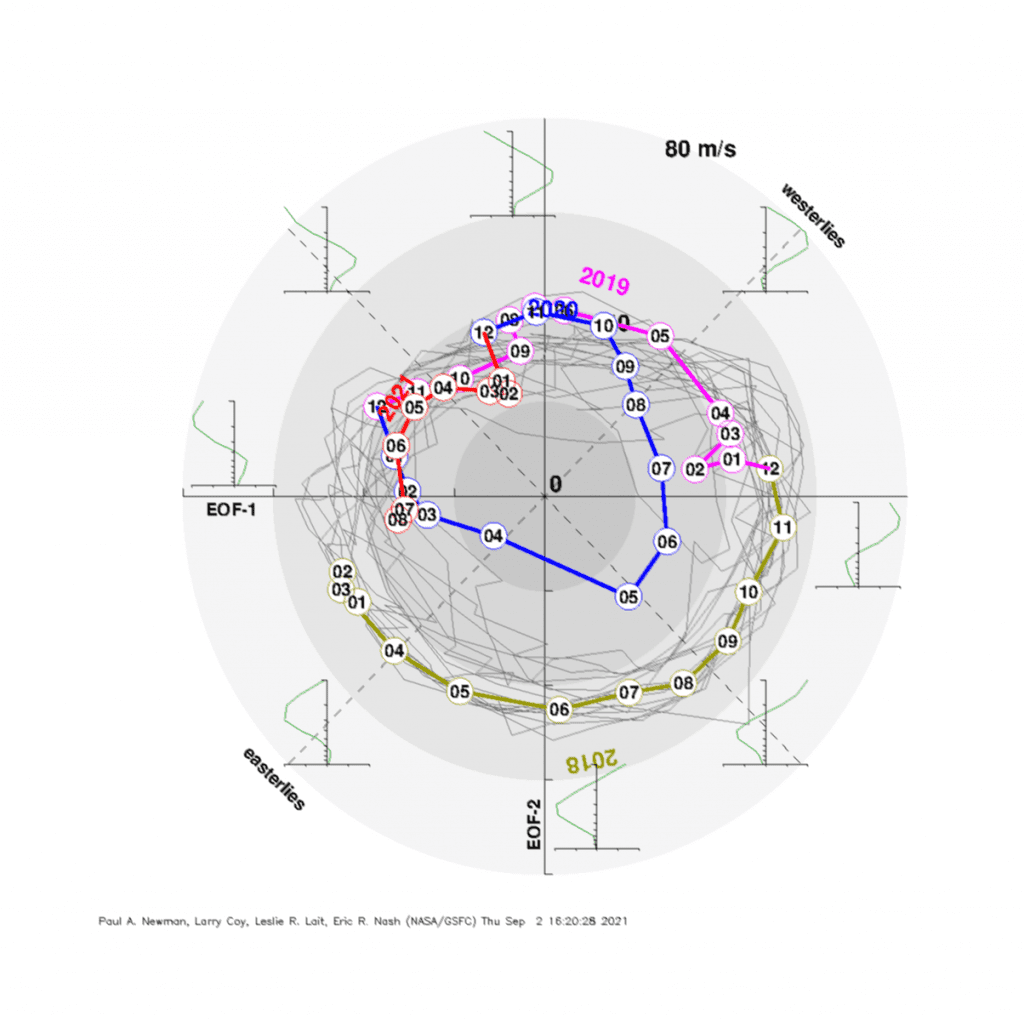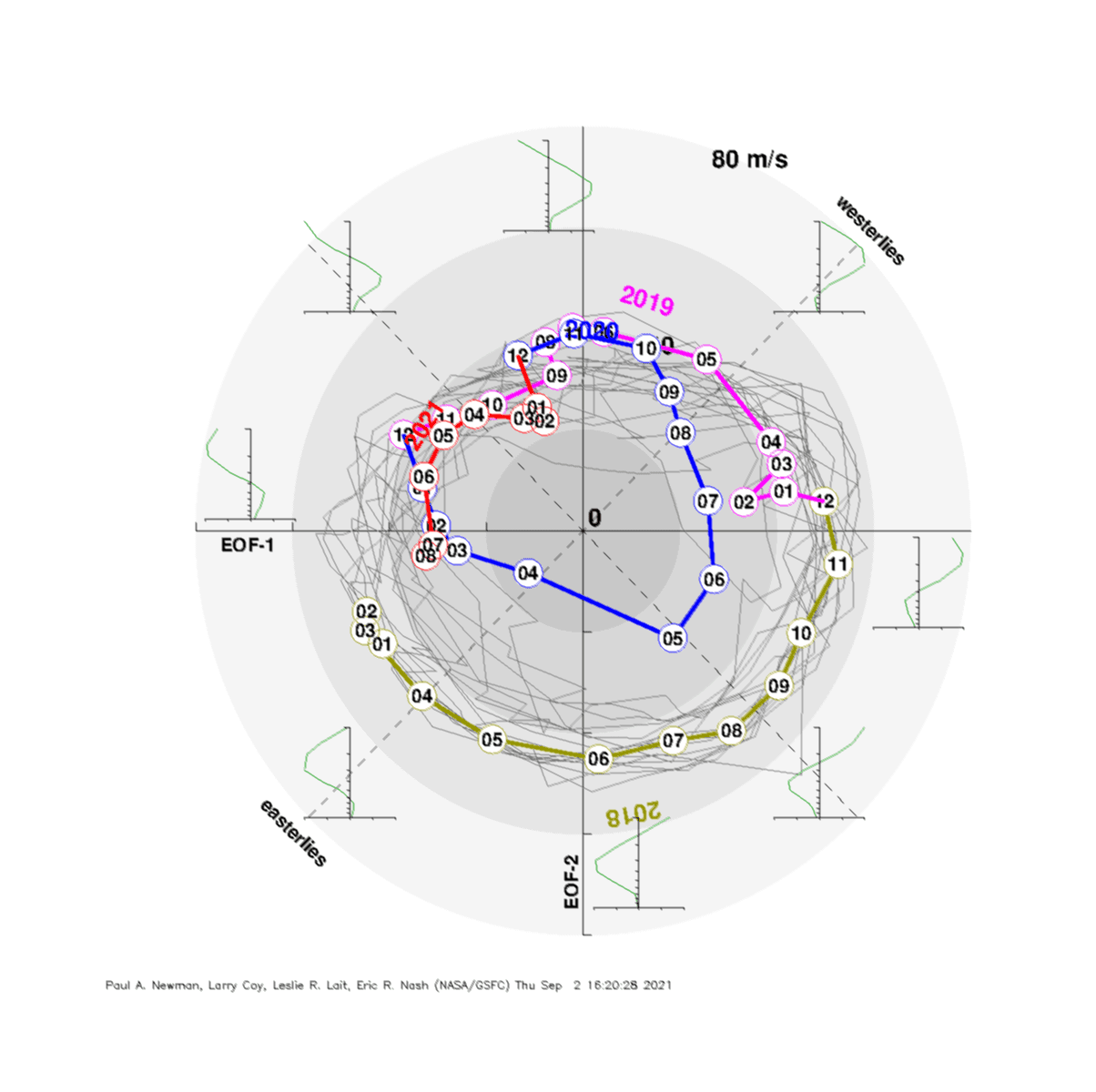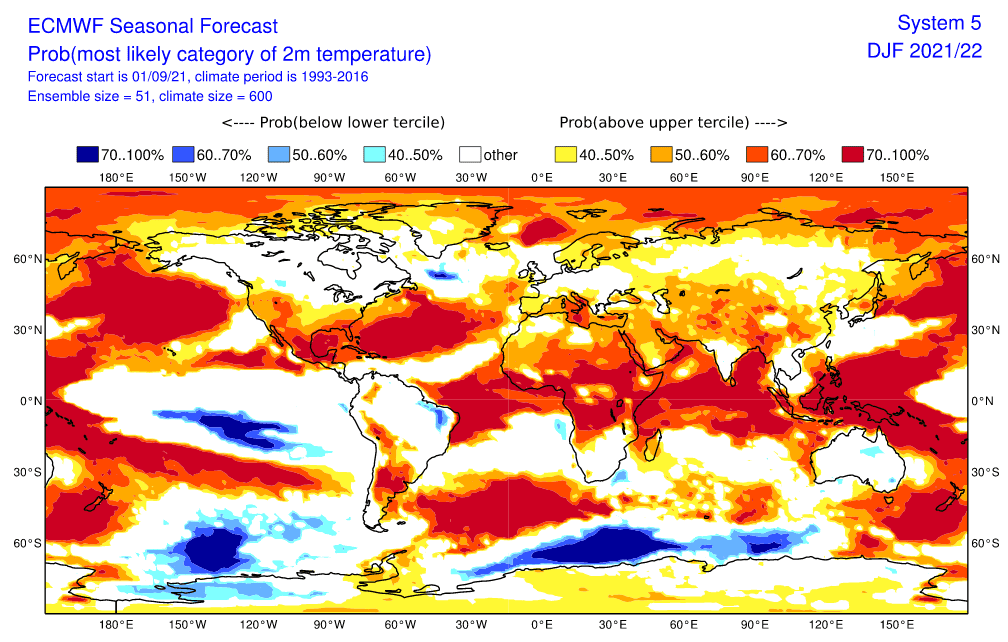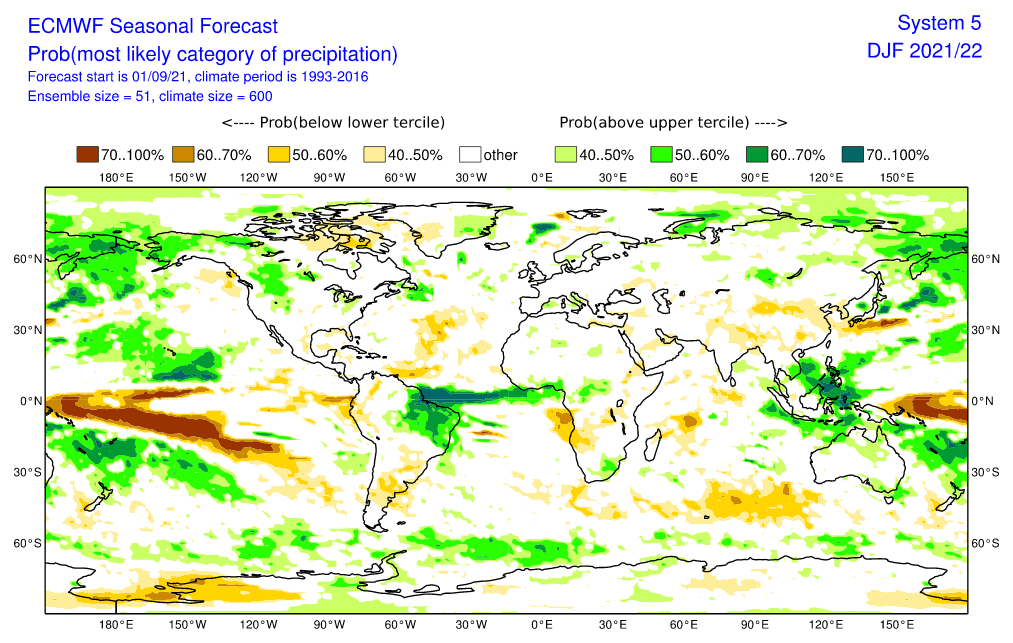 Source: https://www.ecmwf.int/en/forecasts/charts