Delyankir -41,8°C, Dzalinda -40,8°C, Oymyakon -40,5°C! If these frosts had struck a week earlier, they would have been historic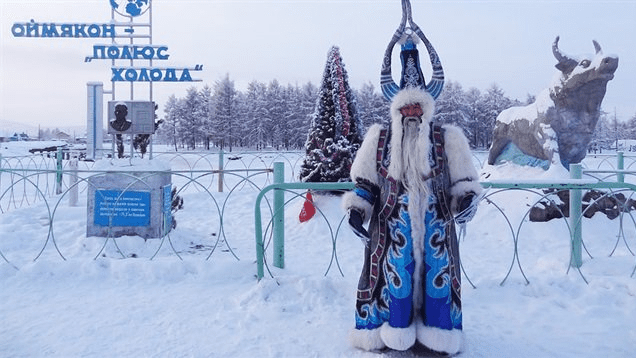 Not only a historic blizzard in China /https://mkweather.com/northeastern-china-hit-the-strongest-blizzard-in-116-years-in-taiwan-and-japan-still-summer//, but too the next severe coldwave in Eastern Siberia appeared in eastern parts of Asia in the last days.
About severe frosts, in Siberia, we were lastly informed here: https://mkweather.com/delyankir-siberia-348c-very-close-to-seasonal-records/.
The coldest was in the region on 9. November 2021 – in Delyankir only -41,8°C, in Oymakon -40,5°C or in Susuman -39,9°C.
Dzalinda on 11. November reported -40,8°C.
All-time October record for Deliankir has a value of only -39,8°C, therefore it´s very possible, that if extreme frosts appeared only a week before, e.g. in the first November 2021 days, it should be an event like "so severe frosts have never appeared before so early".
The extremely cold air from Siberia after the blizzard event has shifted already above East Asia (the first link above) – in Chinese coastal areas fall historic more than 50 cm of snow, what is the strongest blizzard since 1905 (in 116 years).
Despite returning extreme coldwaves, large parts of Siberia and Asia expect in Winter 2021/2022 anomalous amounts of snowfall /https://mkweather.com/russian-meteorologists-expect-extreme-winter-around-december-january-2021-22/; https://mkweather.com/winter-2021-2022-forecast-for-asia-early-extreme-arctic-and-siberian-blasts-and-blizzards-late-dry-and-warm-conditions/; https://mkweather.com/winter-2021-2022-forecast-for-northern-hemisphere-an-awakening-solar-activity-la-nina-neutral-nao-ao-wet-mjo-and-iod-to-drier-mjo-and-iod-qbo-ne-pacific-warm-blob-aao//, thanks to moisture escaping from the warming Arctic.
According to Russian meteorologists (link above), it should fall 2 or 4-times more snow regionally in Winter 2021/2022 such as climate normals for parts of Siberia.
The following AO- phase in the next weeks should severe frosts in Siberia even more strengthen /https://mkweather.com/be-prepared-for-an-extremely-long-and-strong-coldwave-arctic-blasts-in-europe-between-10-november-15-december-are-expected// and already in early December 2021, minimum temperatures should drop below -50°C, maybe -55°C.
An absolute peak of Winter 2021/2022 is forecasted in East Asia in December 2021, in Europe in January 2022 according to the lastest CFS monthly forecasts, but it should be changed yet – all winter appears mostly AO neutral, with an alternating of very cold with very warm periods. The first half of Winter 2021/2022 should be nevertheless very freezing, such as forecasted many earlier winter outlooks.