Dozens of tornado reports across the Midwest, remnants of Hurricane Pamela caused 2 deaths and rainfall up to 12 inches / 300 mm in Texas, too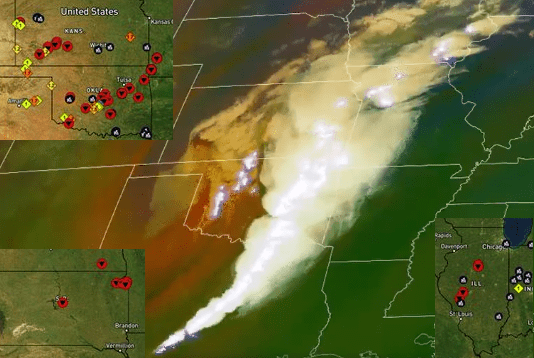 Remnants of Hurricane Pamela, before which we warned several days before an event, have already hit Texas and Midwest, leaving floods, severe winds, hails, and tornadoes.
The last articles about Pamela you should read here: https://mkweather.com/texas-411c-mexico-418c-before-the-arrival-of-hurricane-pamela-it-has-already-hit-the-land-severe-floods-in-texas-under-watch/; https://mkweather.com/hurricane-pamela-hits-mexico-texas-and-midwest/.
While in central Texas, according to radar estimates, up to 12 inches / 300 mm of rain should fall during the event, with a result of severe floods, in Midwest appeared a strong storm system, which was bringing tornadoes, large hail, and severe winds.
From Texas, 2 dead are reported /Tweets below/ – the most hit was a region near San Antonio (in the city fell 3,5 inches / 90 mm of rainfall).
Floods were reported from San Marcos or Fayette County, Texas.
For Sandies Creek near Westhoff was predicted to crest at a major flood stage at 26.9 feet on Friday, 15. October 2021 – it´s only 2.1 ft below the record of 29.1 feet set in 1992.
Tornadoes in Midwest were reported mainly from Oklahoma and Texas, where dozens of tornado reports, some in densely populated areas, with damages, were around Tuesday, 12. October 2021, observed.
One "multi-vortex" storm was observed, too.
The next tornado reports came from regions of Illinois and South Dakota states.
Many households across Midwest stayed without power, most of them in Oklahoma.
Meanwhile, all East Coast and Eastern Canada experience extremely hot Indian summer conditions, in Northeast with temperatures 77/86°F / +25/+30°C /https://mkweather.com/mid-october-heatwave-in-northeast-the-usa-indian-summer-brought-86f-300c-in-columbus-82f-278c-in-cleveland-81f-272c-in-washington-d-c-detroit-and-indian// and western half of the USA is after a powerful cooldown and blizzard /https://mkweather.com/seattle-with-the-coldest-october-day-since-1899-vancouver-since-1958/; https://mkweather.com/winter-came-to-the-usa-up-to-40-inches-1-meter-of-snow-is-forecasted//.
Mkweather Winter 2021/2022 forecast you should find here /https://mkweather.com/winter-2021-2022-forecast-extreme-frosts-in-eurasia-in-december-in-north-america-in-february-early-canadian-stratospheric-warming-ne-pacific-blob-la-nina-qbo-and-shift-from-nao-to-nao-such-le/; https://mkweather.com/winter-2021-2022-forecast-a-peak-near-nao-already-in-december-ne-pacific-warm-blob-nao-and-early-spring-in-february-north-america-oppositely-warm-start-cold-end-of-winter/; https://mkweather.com/russian-meteorologists-expect-extreme-winter-around-december-january-2021-22// and soon, continental forecasts on our homepage will be available.