Fulda (242 MASL), Germany: +1,6°C – very cold southern half of the country, strong winds on the north (and Denmark)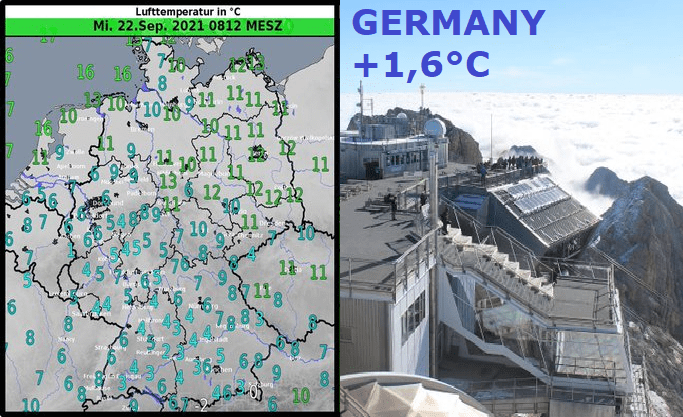 On the trip around Europe, associated with observed extremely low temperatures during a current coldwave we will look into Germany.
While, the Alps, mainly in Austria, are receiving from the first significant blizzard of the season up to 1 meter of snow /https://mkweather.com/heavy-snowfall-1-meter-in-the-alps-is-coming-many-resorts-are-already-under-the-snow// and cold temperatures were reached in France, Belgium, Slovakia, Hungary, Poland or Czechia /https://mkweather.com/belgium-08c-france-20c-the-first-ground-frosts-of-the-season/; https://mkweather.com/the-coldest-place-in-continental-europe-stratena-slovakia-26c/; https://mkweather.com/the-first-snow-in-carpathians-lodz-poland-lowlands-almost-frost-07c//, in Germany appeared very cold minimum temperatures in its southern half.
The coldest was at the station of Fulda (242 MASL) in central Germany, only +1,6°C, but ground frosts should in the last morning occurred in many parts of the country between the Alps and Brocken region.
Only warmer north of the country and Denmark have stayed warm, thanks to windstorm, associated with jet-stream over the region.
From larger cities was colder e.g. in Augsburg, +2,5°C, Muenchen, +3,2°C or Nuernberg, +3,7°C on Wednesday and in Meiningen, +3,3°C or Wasserkuppe, +3,6°C on Tuesday, 21.-22. September 2021.
After the last cold hours on Thursday and Friday, a period of Indian summer-like weather is coming into continental Europe since the weekend /https://mkweather.com/continental-europe-indian-summer-will-be-shorter-25-30-9-in-october-will-come-colder-days//.
Indian summer should persist above a western and temporarily central third of Europe during October 2021, but the eastern half of Europe should be firstly cold /https://mkweather.com/ecmwf-6-week-forecast-until-1-november-2021-europe-north-america-world-more-indian-summer-in-key-regions//.
In the next 2 articles, we will look at frosts and ground frosts in the Balkan and Baltic region (and Russia).