Late November and early December 2021 Coldwave in Europe (25.11.-10.12.2021): National TOP minimum temperatures below 1000 MASL – estimates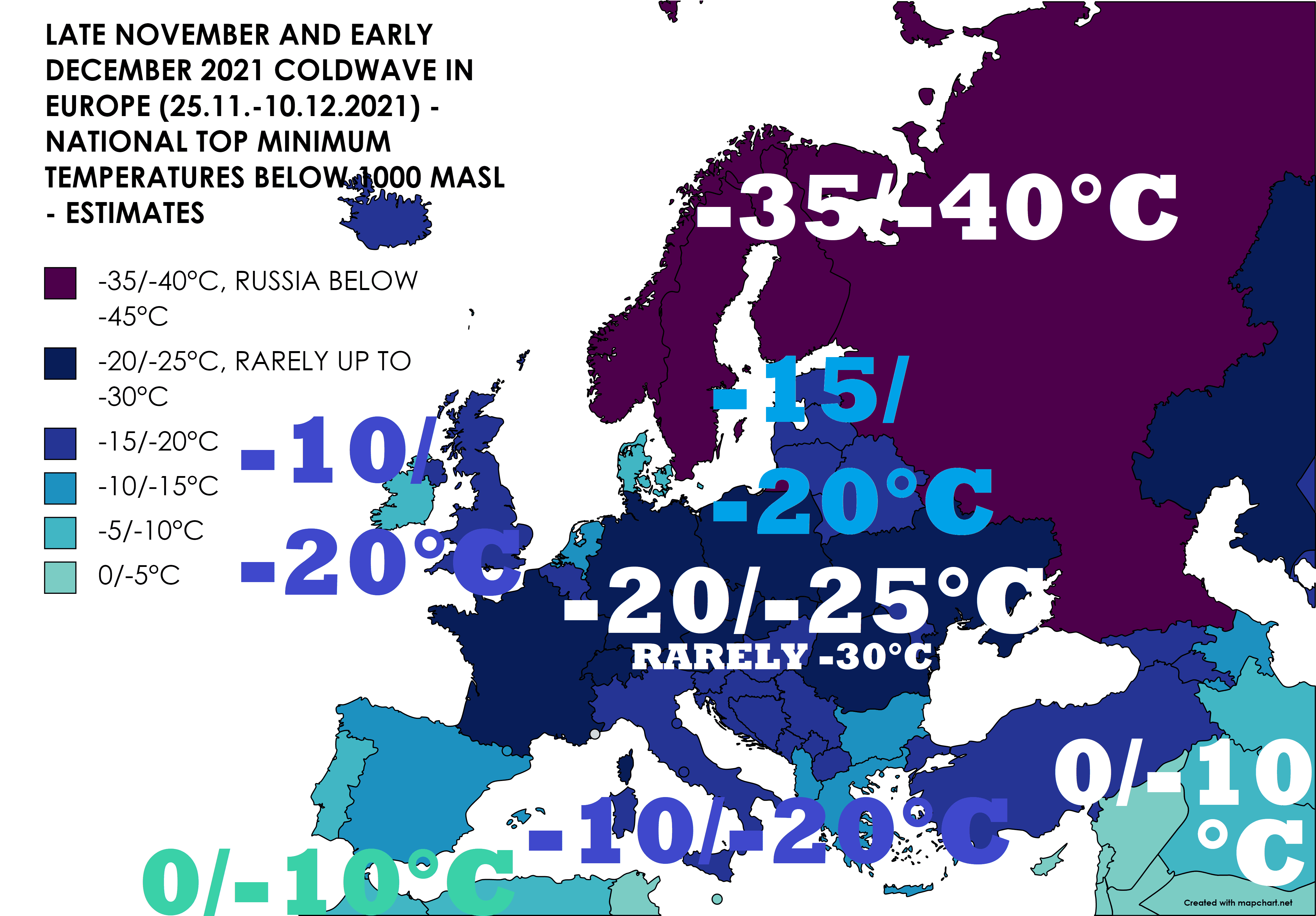 Europe hits premature and extremely strong winter!
A long period with very cold conditions is forecasted already between late November and early January 2021-2022 /visit our homepage, Winter forecast is available here: https://mkweather.com/winter-2021-2022-forecast-for-northern-hemisphere//.
NAO index is forecasted to fall to the lowest values since extreme frosts in Europe in January and February 2021, when frosts up to -35°C appeared in Europe (Czechia, Hungary around 1000 MASL) and April 2021, when up to -20,6°C was measured in low situated basins and valleys below 1000 MASL (Slovenia) /https://mkweather.com/nao-index-falls-to-2-0-the-lowest-value-since-legendary-35c-frosts-in-europe-in-january-february-2021-or-206c-in-april-2021//.
Temperature is forecasted to decrease probably until the New Year /https://mkweather.com/extremely-cold-weather-until-a-new-year-2022-arctic-air-should-come-in-3-peaks-around-30-11-14-12-and-christmas-wider-european-region-estimates// and the first cold period has already started on Tuesday, 23. November, with a peak in the last November days and early December 2021.
Not only severe frosts, possibly almost -40°C in Scandinavia, up to -25°C in continental Europe, -20°C in British Islands and -15°C in the Mediterranean, but too severe blizzards across the continent are forecasted!
Cold weather has a bad impact on the virological situation, heart attack rates, many kinds of cancer, or should cause hypothermia.
Blizzards should cause widespread problems on roads, highways, or railways and power outages, including metropolitan areas.
If you live in possible hit regions, we highly recommend you to watch current weather news, forecasts, warnings, and advisories.
Temperatures from -10°C in North Africa and the northern Middle East to -20°C in the Mediterranean, -25°C in continental Europe to -35/-40°C in Scandinavia and European Russia! Many regions with severe blizzards!
In this article, we are estimating national TOP minimum temperatures in densely populated frost valleys and basins below 1000 MASL (lower situated areas) in the European wider region during the upcoming coldwaves between 25. November – 10. December 2021 (however, anomalously cold conditions should persist until New Year 2022(!)).
Already on Tuesday, 23. November, the temperature in Kevo, northern Finland, dropped to -29,0°C, which should be considered for the start of extreme coldwaves /https://mkweather.com/finland-290c-although-gfs-saw-only-20c-according-to-this-logic-40c-in-scandinavia-is-in-the-next-period-possible//. Current estimates for Scandinavia for around 29. November are saying about possible minimum temperatures around -37/-38°C and these estimates should change, yet.
In continental Europe (from France to Ukraine, including Balkan), many countries should report -20/-25°C soon /https://mkweather.com/arctic-frosts-up-to-25c-hit-the-region-from-france-to-ukraine-continental-europe//, very rarely, up to -30°C isn´t fully excluded.
In the UK, already around Sunday, 28. November 2021, -20°C is possible /https://mkweather.com/20c-in-the-uk-already-this-weekend-its-very-close-to-102-year-all-time-record//.
In European Mediterranean, frosts up to -15°C below 1000 MASL are possible in Iberia or Italy, up to -15 or -20°C in southern Balkan and -25°C in northern Balkan /https://mkweather.com/the-mediterranean-hits-extreme-frosts-and-snowstorms-winter-2021-2022-will-come-very-early//. Densely populated basins in Turkey (Erzurum region) will go below -20°C, maybe up to -30°C, but its above 1500 MASL.
In Northern Africa and the northern Middle East, up to -10°C and snow should surprise the mountains.
Some countries of Europe, such as Ireland, Denmark, Portugal, Malta, or Cyprus should be thanks to oceanic or Mediterranean conditions warmer than continental states.
Currently, not so much extreme winter (below -20°C) is forecasted for Baltic countries and Belarus, where should be a little warmer than in continental Europe, Balkan, and Ukraine, but it should change, yet.
According to snowfall forecasts, many regions of Europe hit blizzard conditions /https://mkweather.com/europe-under-the-snow-heavy-blizzards-on-the-way-in-these-regions-a-risk-of-snow-calamity/ + look at our Mediterranean forecast – link above, with much more snow for Balkan!/.
Already in the next article, we will prepare snowfall below 1000 MASL estimates for European region ,therefore stay watch weather with us.
Don´t forget to stay safe and warm, because, in colder regions, extreme early winter should be health- or life-threatening.