The 3rd cloudiest /dullest/ August in Southern England in history! In London, the temperature didn´t rise above + 25°C!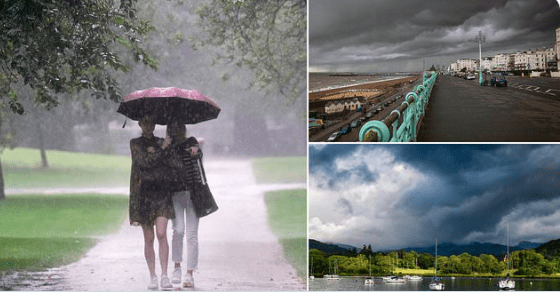 Only in the last article, we were informed about the lack of heatwaves in Summer 2021 in Paris, France /https://mkweather.com/the-weakest-summer-in-paris-france-after-2000-the-hottest-day-of-the-year-with-only-333c//, where the maximum temperature of summer reached only +33,3°C, which is the lowest value in 21. century.
This type of weather was very unfavorable for harvest, mainly vineyards /https://mkweather.com/bad-year-for-vineyards-in-france-belgium-after-extreme-frosts-in-spring-2021-extremely-wet-summer-2021-harvest-the-worst-since-1977-july-the-wettest-since-1981//, with many molds and lack of sunshine and heat needs due to persisting stormy patterns.
Now, the newest analysis from Met Office is saying, that Summer 2021 hasn´t brought only the worst summer in France since 2000, extreme floods in Germany, but the 3rd cloudiest August in history in Southern England, too!
According to dailymail.co.uk /https://www.dailymail.co.uk/news/article-9944789/August-cloudiest-month-record-Southern-England.html/ data shows the region of Southern England received only 129 hours of sunshine in August 2021 compared to its average 192,5 hours. East Anglia also experienced the third cloudiest August on record with the area seeing just 127,2 hours of daylight.
Maximum temperature in London, Heathrow in August 2021 hasn´t been higher such as +25°C and a maximum of Summer 2021, +32,2°C was measured on 21. July 2021, which is relatively far from maximum temperatures reached during the last summers, with supertropical (above +35°C) heatwaves.
At the end of August, however, surprised Scotland with +27,2°C and Iceland with anomalous +29,3°C /https://mkweather.com/iceland-the-hottest-august-day-in-history-284c-while-europe-is-shivering-from-winter-scotland-272c-the-warmest-august-day-in-the-uk-extremely-hot-should-be-in-iceland-until-10//. In Greenland, +23,6°C was measured /https://mkweather.com/tasiilaq-greenland-236c-only-17c-below-all-time-record-and-summer-days-possibility-of-27c-are-coming// and southern Norway reported on 2. September 2021 record +28,3°C /https://mkweather.com/southern-norway-summer-278c-northern-norway-winter-snowing-extreme-frosts-are-coming//.
In the next period, a bad surprise for British Islands is at the start of the second September decade prepared – remnants of a Hurricane Larry (possible Category 5 near the USA) should hit the islands in full power /https://mkweather.com/the-first-significant-ex-hurricane-in-europe-possible-hurricane-category-4-larry-should-bring-danger-to-america-then-should-aim-towards-the-uk-france-ireland-benelux-norway-spain-or-portugal//. Forecast of Larry´s stormtrack will be updated already in the next Mkweather article – it should hit the wide region from Norway to Portugal. After the first significant ex-tropical storms or ex-hurricanes in autumn, the first severe coldwaves are coming into the UK and Ireland (an all Europe), therefore it is needed to prepare for a significant change of weather in outlook.