The first snow in Europe? Several runs of GFS are extremely cold!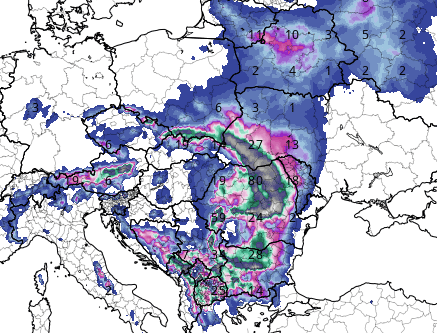 In the last Mkweather articles we warned before the arrival of a very cold period in Europe in the next 2 weeks.
The coldest runs of GFS returned a very rare potential of minimum temperatures up to -15°C in central European and Balkan valleys below 1000 MASL /https://mkweather.com/winter-is-coming-an-extreme-arctic-blast-for-europe-temperatures-in-central-parts-and-balkan-should-reach-15c// and cold period was a part of forecasts already sooner /https://mkweather.com/a-long-lasting-coldwave-hits-europe-between-6-22-october-with-a-peak-around-12-18-october-frosts-and-the-first-snow-possible/; https://mkweather.com/severe-frosts-up-to-5c-in-lowlands-and-10c-in-valleys-are-projected-for-continental-europe-soon//.
Important 12Z runs from the last 2 days – 6. and 7. October 2021 returned surprisingly widespread snowfall, not only in European mountains and higher situated basins and valleys but in some lowlands, too /maps below/.
According to outputs from 6. October 2021, the first snow should appear in almost all Balkan excluding Danubian lowlands in the northwest, outputs from 6. and 7. October both expected snowfall in eastern or southern Poland, Lithuania, Belarus, western Ukraine, or northern and eastern Slovakia.
Outputs from 8. October 2021 aren´t available, yet and we will see if the most important runs of a day will confirm the first snowing in many areas and severe frosts.
If snowing in lowlands won´t be confirmed, it needs to count minimally with a severe blizzard in the Alps, the Carpathians, the Dinaric Mountains, and other European mountains, mainly in continental Europe and Balkan, such as in Scandinavia.
After a cold period, a possible late Indian summer is forecasted until 15. November 2021 /https://mkweather.com/silence-before-a-storm-and-the-last-summer-like-weather-before-an-extremely-cold-winter-the-first-half-of-november-should-bring-indian-summer-in-europe-canada-and-siberia-forecast-until-15-novemb//, but the start of Winter 2021/2022 should be extremely cold /https://mkweather.com/winter-2021-2022-forecast-a-peak-near-nao-already-in-december-ne-pacific-warm-blob-nao-and-early-spring-in-february-north-america-oppositely-warm-start-cold-end-of-winter/; https://mkweather.com/russian-meteorologists-expect-extreme-winter-around-december-january-2021-22//.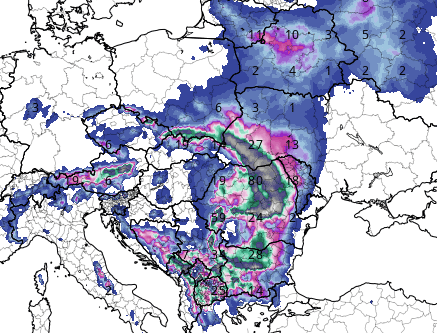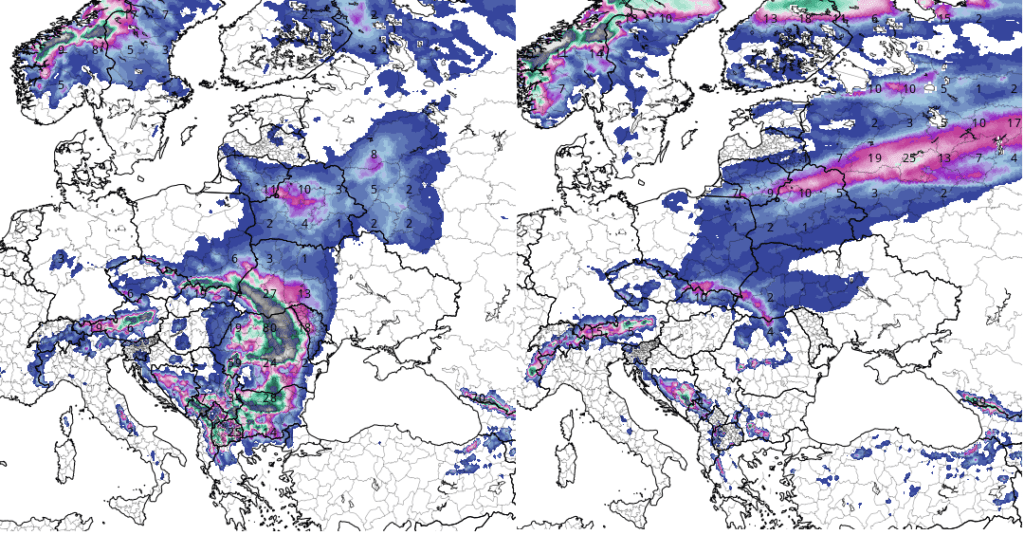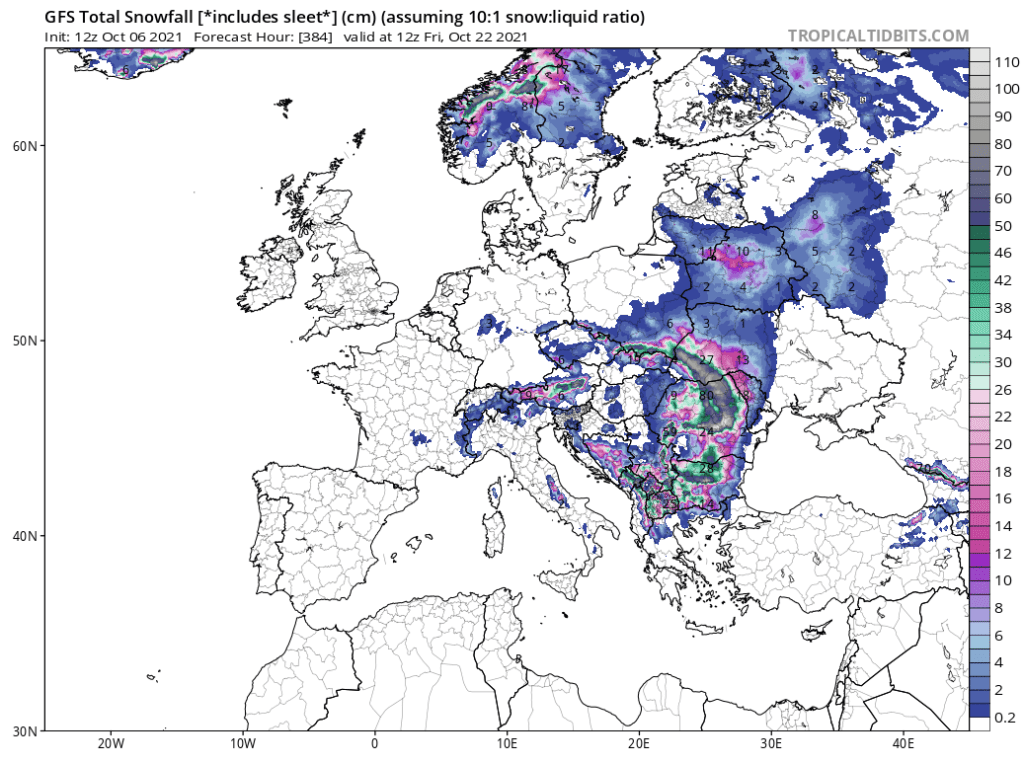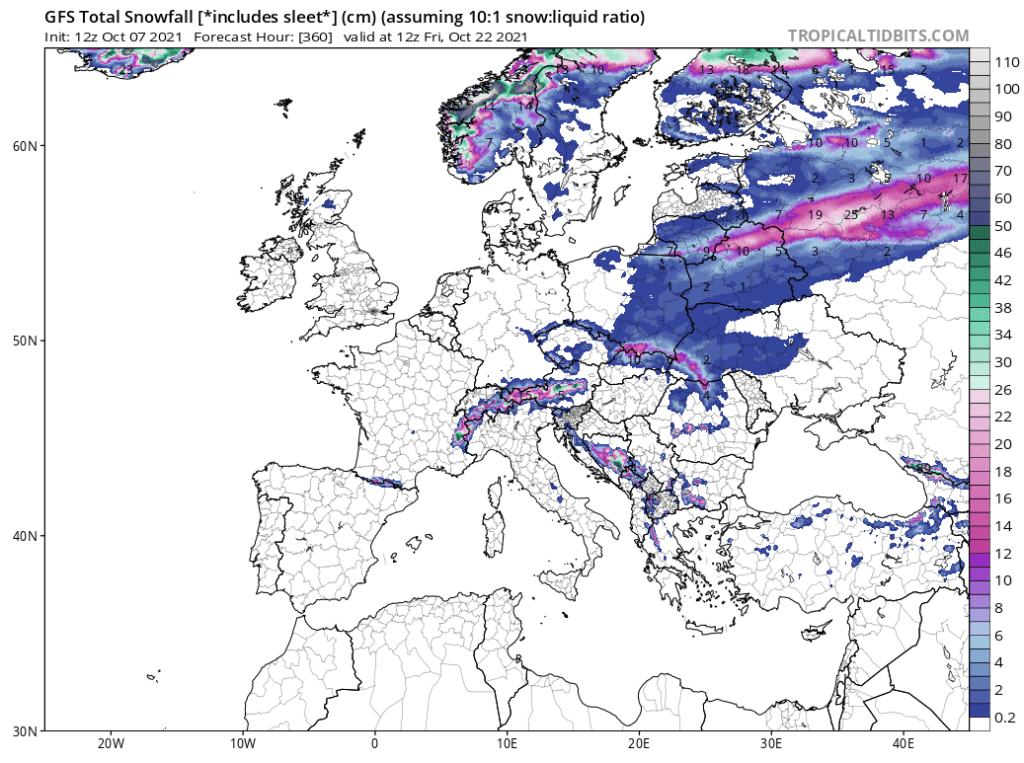 Source: https://www.tropicaltidbits.com/analysis/models/?model=gfs&region=eu&pkg=asnow&runtime=2021100612&fh=384