Cold Christmas in Europe and warm in the USA?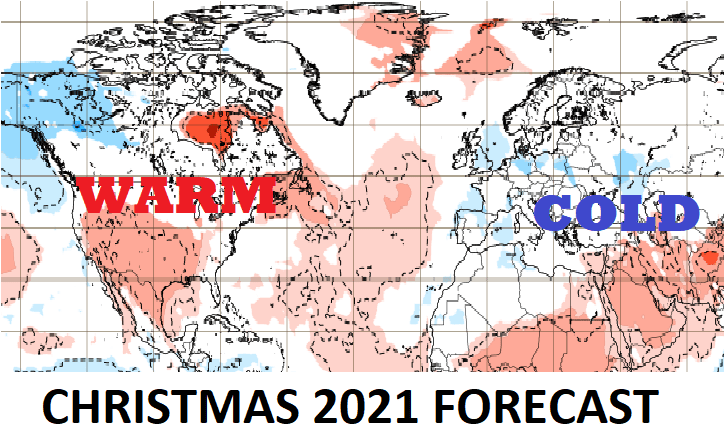 Main features from the last Mkweather Christmas 2021 forecast for Europe and North America have stayed very similar – mainly a tendency to the warm Christmas in the USA and colder patterns in Europe /https://mkweather.com/christmas-2021-forecast-negative-phase-of-arctic-oscillation//.
It looks more such as NAO- such as its hemispheric equivalent AO-, because cold air is situated mainly in Eurasia and Northern Africa, while eastern Canada and large parts of the USA are very warm on the lastest outputs of ECMWF /https://apps.ecmwf.int/webapps/opencharts/products/extended-anomaly-2t?base_time=202111180000&projection=opencharts_global&valid_time=202112270000/.
Traditionally cold should be Alaska and western Canada.
The first estimates about warmer northern and western Europe during Christmas haven´t been in the last outputs confirmed.
Cold air masses above Europe should be remnants of a previous very cold AO-/NAO- period from late November and early December 2021 /https://mkweather.com/nao-index-falls-to-2-0-the-lowest-value-since-legendary-35c-frosts-in-europe-in-january-february-2021-or-206c-in-april-2021/; https://mkweather.com/heavy-blizzards-hit-europe-in-these-regions-is-possible-snow-calamity/; https://mkweather.com/all-of-spain-under-frosts-attack-up-to-20c-half-of-iberia-under-the-snow-in-northern-africa-10c-is-possible/; https://mkweather.com/temperature-records-25c-and-up-to-1-meter-of-snow-in-france/; https://mkweather.com/central-europe-winter-should-start-with-historic-30c-in-frost-valleys-blizzards-and-snow-calamity-very-possible/; https://mkweather.com/historic-frosts-below-10c-in-london-20c-in-scotland-possible-all-uk-and-ireland-under-the-snow//.
However, above Greenland and European Arctic already shouldn´t be so many doses of extremely cold air – all this air should flood during Christmas time Europe.
Warm Christmas in eastern Canada should be regionally without the snow, while in the southern USA should surprise summer temperatures above +25°C, or even locally +30°C (above 77°C or 86°F).
Hopes for colder weather remain in Alaska, western and central Canada, Northwest, USA, Northern Plains, USA or maybe Great Lakes region, gradually.
It is still a question if cold weather patterns will continue until a New Year 2022 in Europe, or if January really brings a peak of Winter 2021/2022 in the region, such was mentioned in the last Mkweather winter forecast /https://mkweather.com/winter-2021-2022-forecast-for-northern-hemisphere-an-awakening-solar-activity-la-nina-neutral-nao-ao-wet-mjo-and-iod-to-drier-mjo-and-iod-qbo-ne-pacific-warm-blob-aao//.
Christmas 2021 are here already in a month and Mkweather will update the outlook approximately 6-times until then, yet.