Extreme cooldown after cold front: The UK +0,4°C, Ireland +2,8°C, Iceland -5,0°C – the lowest temperature in this season in populated areas in history!
While Europe is experiencing with anomalous heatwave /So extreme heatwave has never hit Europe! More than 20 European countries hits abnormal and deadly heatwave: Italy +50°C, Bosnia +46°C, Croatia, Hungary and Serbia +45°C, Slovakia, Austria +42°C! – mkweather; Sweden: The hottest June day since 1947, +34,6°C! – mkweather; Germany +36,2°C so far, the weekend will be hellish, up to +37/+38°C is possible – mkweather; Germany +36,6°C (Berlin), Denmark +33,5°C, but extreme storms are coming – mkweather; Poland +35,8°C, Czechia +35,7°C, Slovakia +34,8°C, while Hungary +38°C and Austria +37°C are waiting – mkweather; Italy +40,5°C and will be even worse! Temperatures should stop near +50°C! – mkweather/, which is replaced by extreme storms with 10 cm hails /10 cm hailstorms are shifting to Germany, CZ, CH, AU, DK, SE and N IT from France, PT, ES, BE, NL, LU! – mkweather; Europe is preparing for the worst storms of the year: Hailstorms, gusting winds, heavy rains with flash floods, damaging lighting, rare tornadoes… – mkweather; Severe storms are shifting from FR, UK, ES, PT, NL, BE to GE, CH, AU, IT – mkweather/, to British Islands already have arrived ex-tropical storm Bill /Ex-tropical storm Bill hits British Islands, brings storms and strong cooldown – mkweather/ and after severe cold front, strong cooldown is reported in last days.
While in Iceland already on 14. June 2021, -5,0°C in Reykir – the lowest temperature in populated area so late in this season in history, was measured, cold air has shifted above Ireland and the UK little later.
The coldest morning so far occurred from Saturday to Sunday, 19.-20. June 2021, with only +0,4°C in Katesbridge, the UK and on Friday, 18. June in Gurteen, Ireland, with +2,8°C.
Very cold morning reported on Saturday, 19. June 2021 Dublin, too, with only +2,9°C, or on Friday, 18. June Los Glascarnoch, the UK, with +1,7°C.
Dailymail has already informed, that flood warnings are valid for parts of British Islands, after 1-month rainfall in 24-hours appeared in South-East UK, up to 80 mm on Friday, 18. June 2021.
The hottest day of the year so far with +29,2C (84.6°F) was recorded at Heathrow, after the +29,7C (85.5°F) peak in Teddington, Middlesex, on Monday, 14. June 2021 before an arrival of powerful cold front.
Cooldown in NW Europe will be longer and should persist here until 1. July 2021, until when the next series of cold mornings are forecasted according to GFS /maps below/.
Very cold will be during selected days, too, in England with possible maximum temperature only +12°C in densely populated areas.
Hope hot summer for British Islands will increase again during the first half of July 2021 according to current forecasts.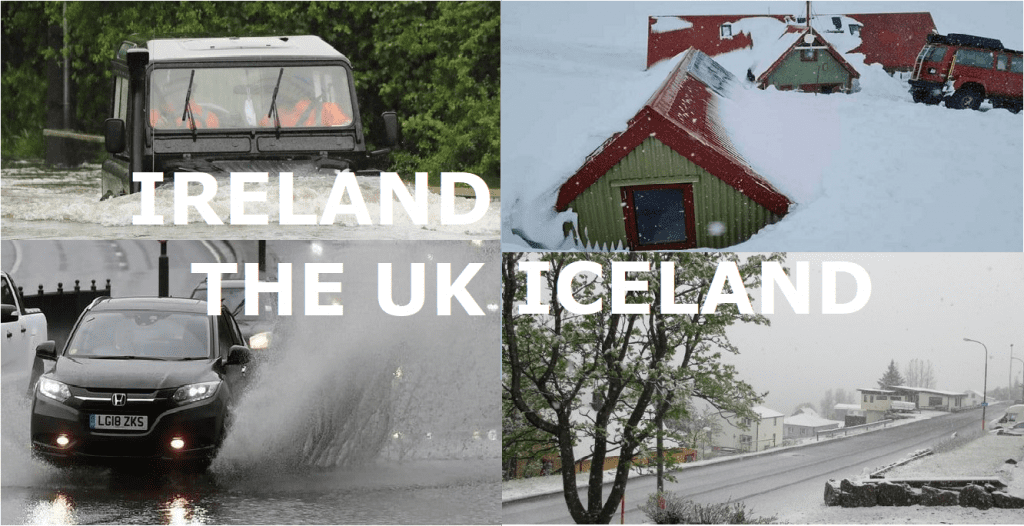 Cold mornings in British Islands in outlook: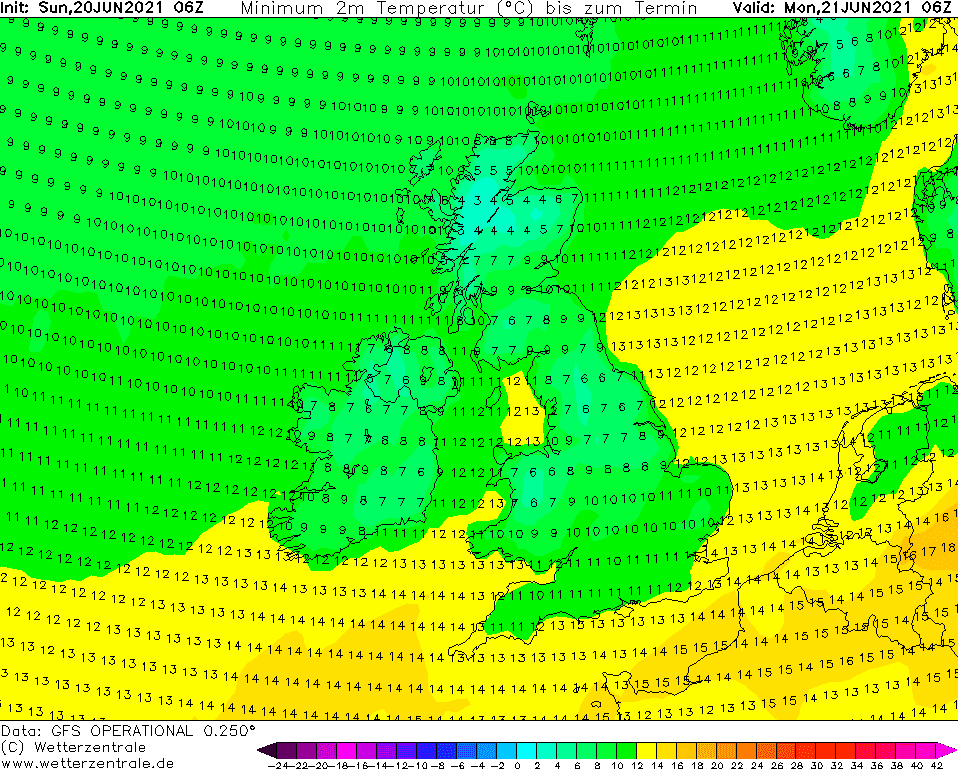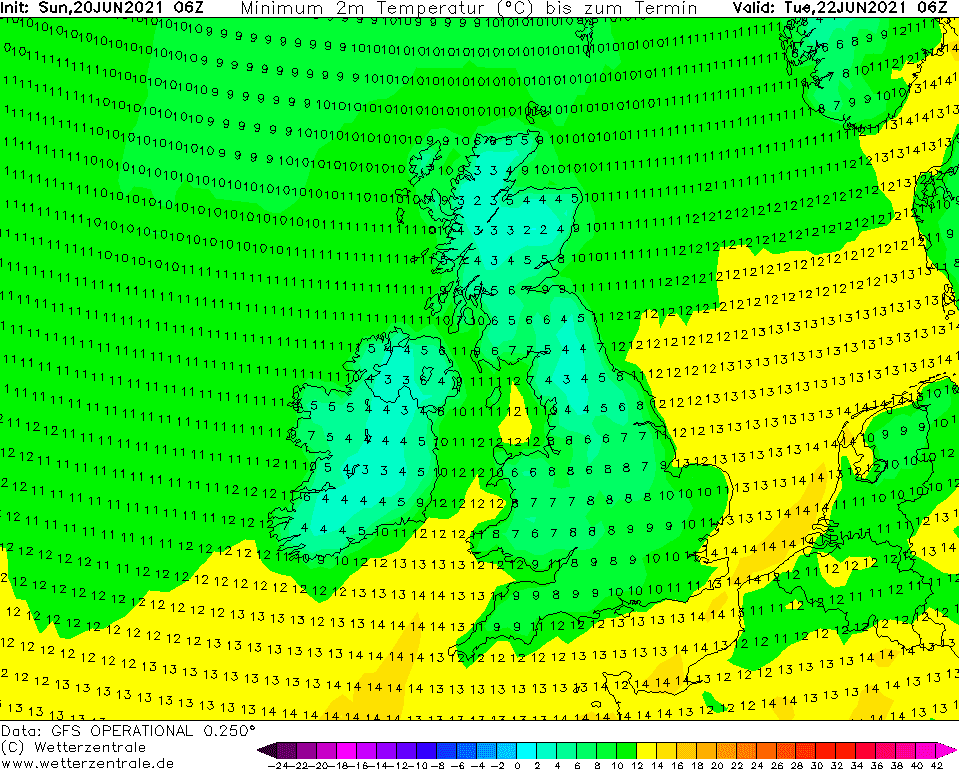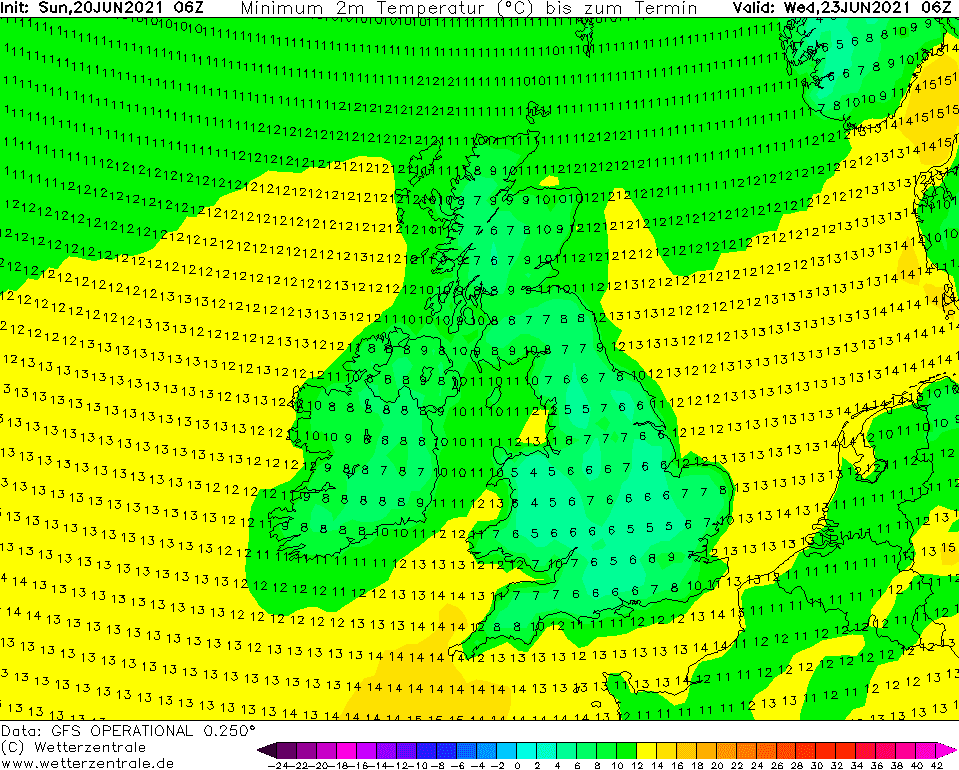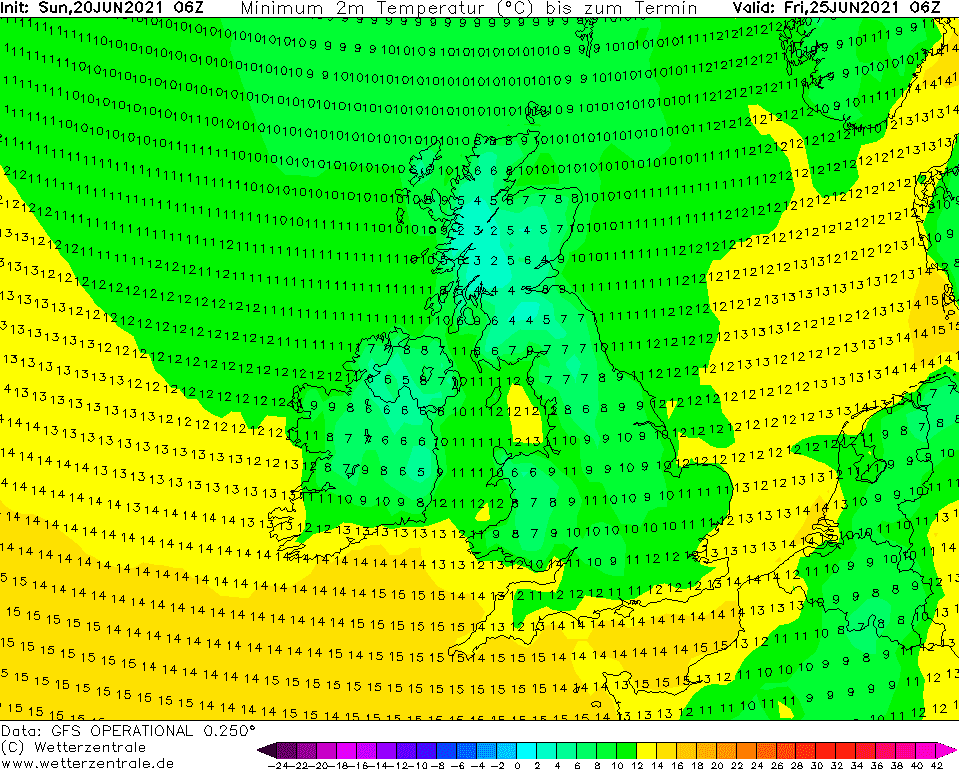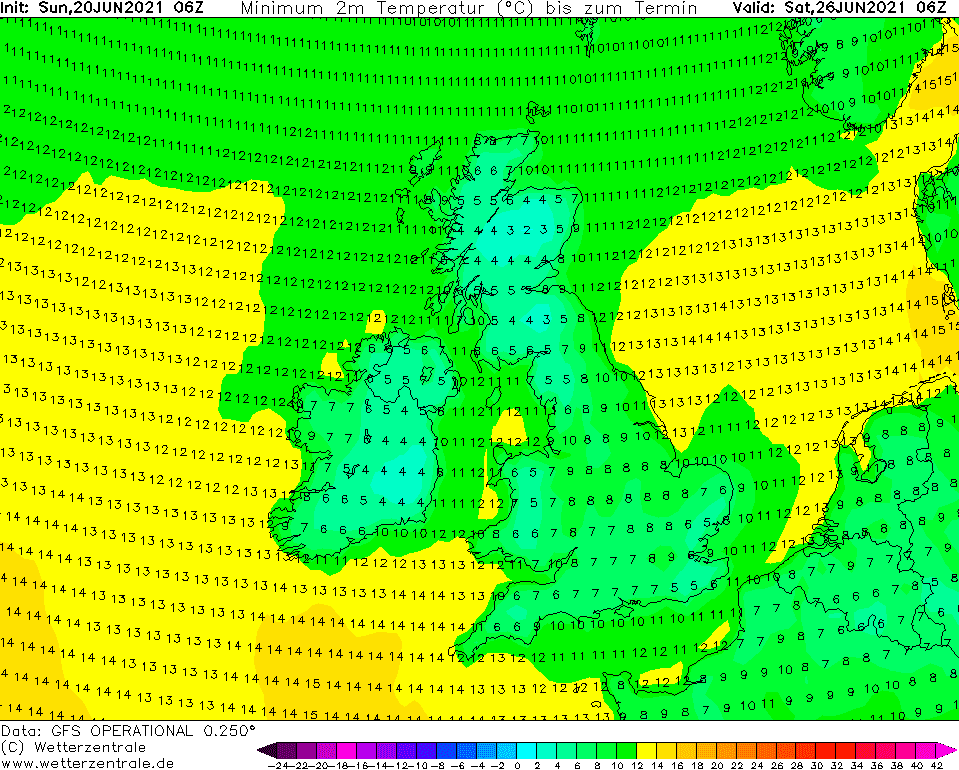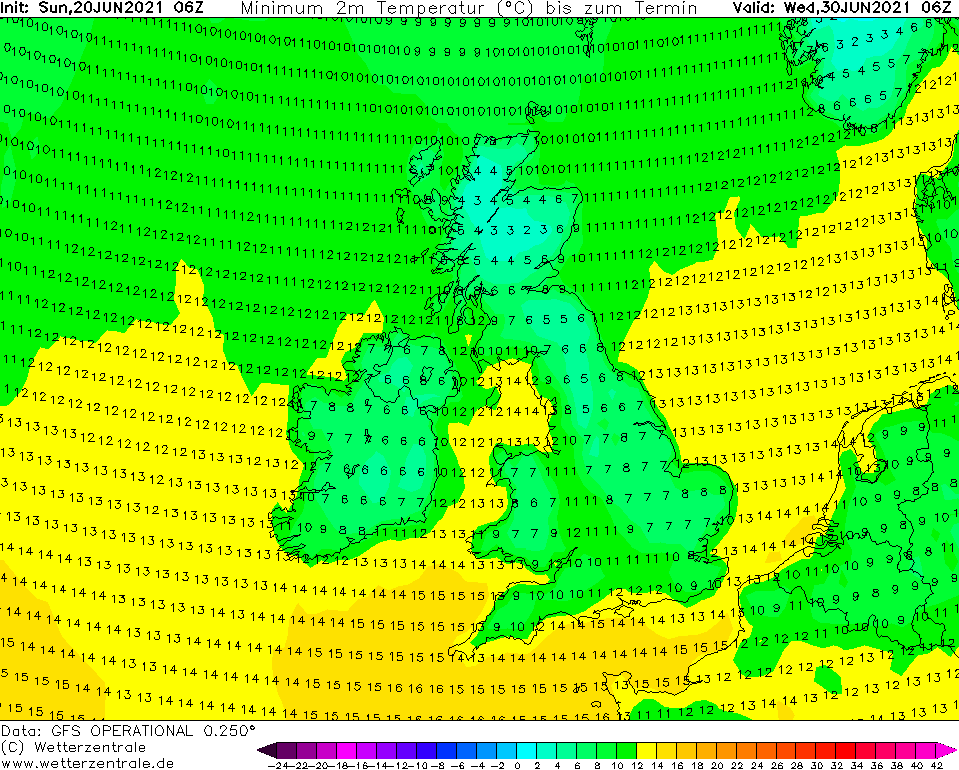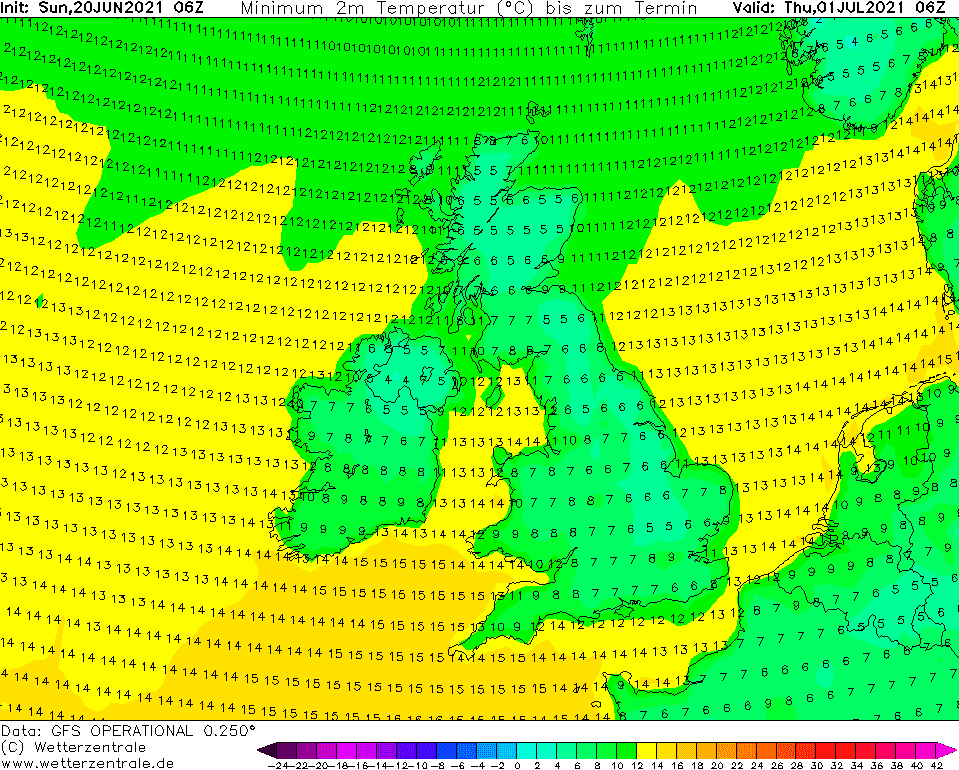 Source: wetterzentrale.de