Sahara and Middle East are extremely hot: Algeria +47,9°C, Iran +49,7°C (+UAE +49,7°C, Pakistan +50,1°C)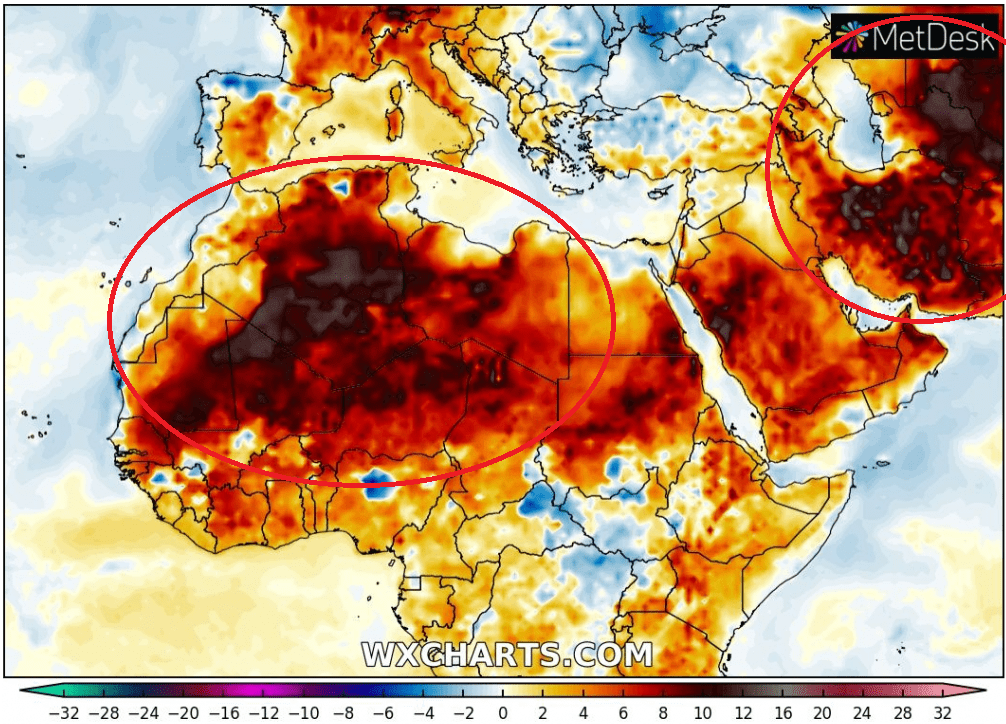 Only 0,1°C from all-time May record in Algeria and the first Summer 2021 day in Iran only tightly below +50°C – reality in Sahara and Middle East is furthermore extremely hot.
In In Salah, Algeria, on 31. May 2021, +47,9°C was measured, what is only 0,1°C from all-time national record for May.
In Iran, +49,4°C was measured in Bandar E Dayyer, what is exceptionally hot temperature in early summer.
Near Russian heatwaves we have informed about the next interesting temperature records from Middle East /https://mkweather.com/siberia-with-new-may-record-391c-pakistan-500c-uae-497c/; https://mkweather.com/heatwaves-in-russia-have-become-crazy-397c-never-measured-before-in-spring//, with update for Pakistan (+50,1°C) and +49,7°C in UAE /more on the page https://twitter.com/extremetemps/.
Sahara and Middle East both are experiencing with very hot Spring 2021 /https://mkweather.com/spring-2021-forecast-for-asia-2021/; https://mkweather.com/spring-autumn-2021-forecast-for-africa//.
Simultaneously, hot Summer 2021 is in both regions forecasted, including Central Asia and parts of Russia /https://mkweather.com/summer-forecast-for-asia-hot-but-strong-indian-monsoon/; https://mkweather.com/summer-and-winter-2021-forecast-for-africa-hot-sahara-floods-in-sahel-drought-in-congo-and-east-africa/; https://mkweather.com/turkmenistan-458c-uzbekistan-454c-kazakhstan-433c//.
Accroding to long-term forecasts until 18. June, extremely hot weather will persist above both, Northern Africa and Middle East.
During the first June 2021 week, anomalously hot air mass will shift above Western Sahara and tropical advection will begin in Europe. Such we should see on maps below, Saharan air similarly hits parts of Europe, including northern regions /https://mkweather.com/europe-32c-later-maybe-36c-june-2021//.