China: 401 mm / 3 hours, extreme floods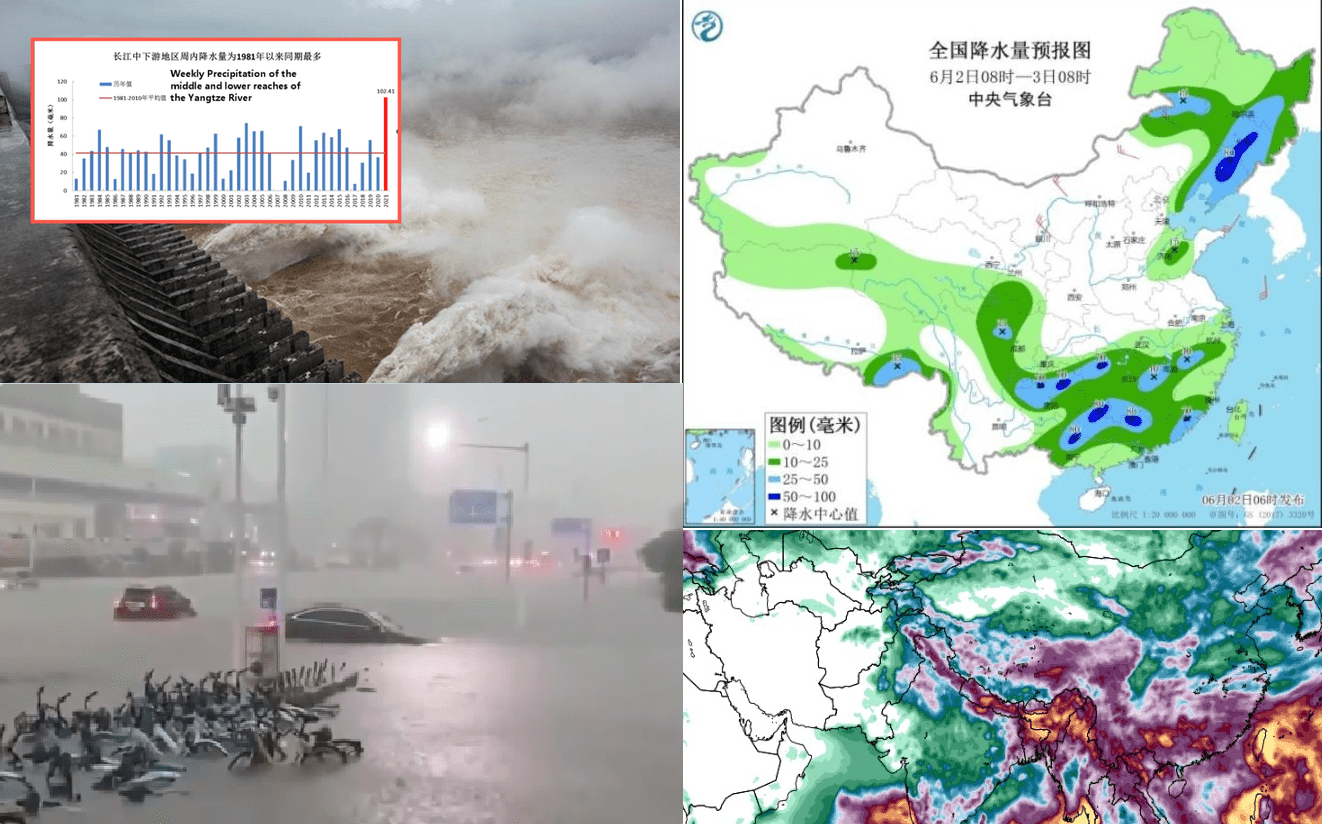 Not 71 /https://mkweather.com/cyclone-yass-in-india-and-bangladesh-97w-invest-near-vietnam-71-rivers-in-china-with-floods-441c-in-southern-china-and-407c-in-philippines-asia//, but already 97 big rivers in China is fighting with severe floods and heavy rains in their basins.
The worst situation is in southern and northeastern China.
In Guangdong, southernmost part of China, 401 mm / 3hours of rainfall was fallen, what has brought at the start of Summer 2021 extreme floods.
The worst situation is mainly in region of Yangtze river, which is reporting a record levels of water.
Summer season with floods is already here and monsoon rains are according to wxcharts.com tool prepared for parts of southern China, Japan, SE Asia and eastern India.
In July 2020, China and India hit "once in a century" heavy rains and floods /https://mkweather.com/once-in-a-century-late-summer-monsoon-causes-historical-floods-in-china-and-india-in-july-2020-climate-change-brings-stronger-late-monsoon-in-asia// and there is a possibility of repeating of extreme rainfall in Summer 2021, mainly in India and southern parts of China.
Situation is coming after series of powerful cold fronts with hails and tornadoes and cooldowns in China during May 2021 /https://mkweather.com/mountainous-china-india-pakistan-mongolia-hit-rare-summer-season-snowfall/; https://mkweather.com/12-killed-429-injured-after-ef3-tornadoes-in-wuhan-shengze-china-record-for-china-is-ef4/; https://mkweather.com/21-dead-in-a-high-altitude-marathoon-in-china-after-extreme-cooldown-in-mongolia-from-33c-to-snowing/; https://mkweather.com/snowing-in-south-korea-in-may-after-22-years/; https://mkweather.com/before-a-cold-front-40c-after-cold-front-snowing-extreme-shots-from-deadly-storm-china//.
Monsoon will be in Summer 2021 strong mainly in southern and southeastern Asia, while in eastern Asia it appears for alternating of heatwaves and stormy situations /https://mkweather.com/summer-forecast-for-asia-hot-but-strong-indian-monsoon//.