The first snow in Poland, Slovakia, and Czechia in basins and valleys 500-1000 MASL!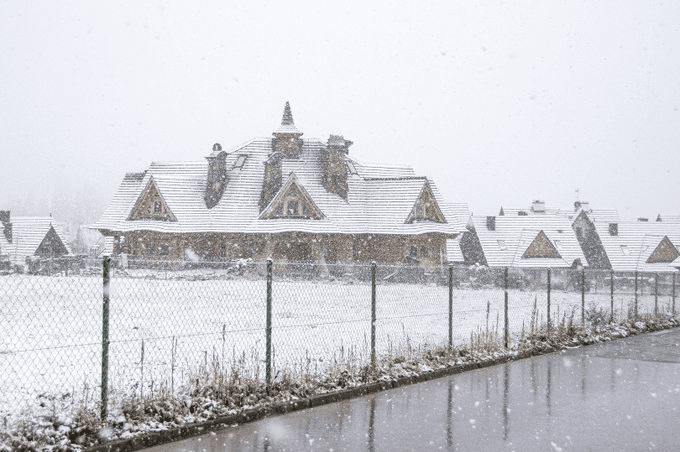 The first snow of Winter season 2021/2022 from Tuesday to Wednesday, 12.-13. October visited basins and valleys in southern Poland, northern Slovakia, and mountainous parts of Czechia.
National hydrometeorological institutes forecasted the level of snowing at elevations around 700-800 MASL, but locally, mainly in mountainous northern Slovakia, snow appeared already from 500 MASL.
From bigger cities, the first snow appeared in Zakopane, Poland or Poprad, Slovakia, below the text is a photo from Terchová near Žilina, Slovakia, at only 514 MASL!
In Czechia, the first snow appeared from 800 MASL, and a deep snow cover was created around 1200 MASL, such we should notice in the photo below.
The first snowfall of the season below 1000 MASL reported Germany, Austria, and Switzerland, too /https://mkweather.com/sudelfeld-obersalzberg-bayrischzell-regions-around-800-masl-in-southern-germany-received-the-first-snowfall-of-the-season//.
The second similar coldwave is forecasted already around the weekend, 16.-17. October 2021.
If a snow cover rarely stays on the ground in the next mornings, minimum temperatures should fall rarely below -5°C, very rarely maybe up to -8°C, in Czechian mountainous frost valleys again below -10°C /https://mkweather.com/czechia-102c-romania-69c-ukraine-59c-slovakia-55c-belarus-52c-lithuania-50c-the-first-severe-frosts-are-here//.
Extreme winter watch is however shifting mainly to Scandinavia, where really severe frosts up to -30°C are possible /https://mkweather.com/extreme-frosts-in-norway-sweden-and-finland-are-confirming-30c-minimum-and-15c-maximum-temperatures-are-possible//.
Very cold weather is forecasted to stay in the region until early next week and then, extremely warm Indian summer is forecasted to return /https://mkweather.com/indian-summer-soon-back-spain-portugal-34c-italy-france-turkey-30c-balkan-27c-germany-hungary-ukraine-25c-benelux-central-europe-23c-british-island//; with a possibility of persisting until cca 15. November 2021 /https://mkweather.com/november-should-start-with-summer-weather-record-temperatures-25c-in-continental-europe-are-possible//.
After the long-lasting Indian summer, legendary cold December 2021 – early January 2022 is possible according to seasonal forecasts /https://mkweather.com/winter-2021-2022-forecast-extreme-frosts-in-eurasia-in-december-in-north-america-in-february-early-canadian-stratospheric-warming-ne-pacific-blob-la-nina-qbo-and-shift-from-nao-to-nao-such-le/; https://mkweather.com/winter-2021-2022-forecast-a-peak-near-nao-already-in-december-ne-pacific-warm-blob-nao-and-early-spring-in-february-north-america-oppositely-warm-start-cold-end-of-winter/; https://mkweather.com/russian-meteorologists-expect-extreme-winter-around-december-january-2021-22//.