The first week of December 2021 the coldest in Helsinki since 1937!
MK
December 11, 2021
3 min read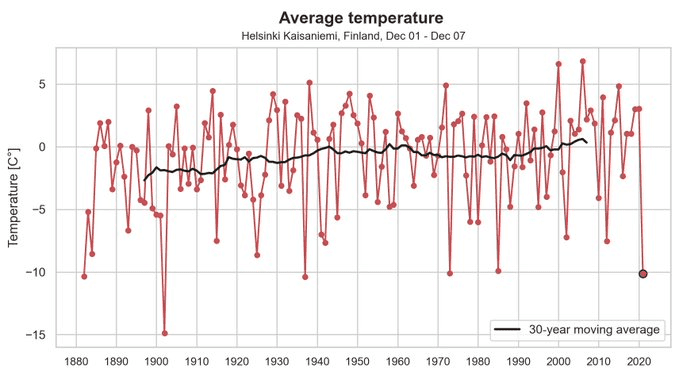 Only before a few days, the lowest minimum temperature in Scandinavia so early in the season since 1945, -43,8°C in Sweden, was measured /https://mkweather.com/the-worst-predictions-came-true-sweden-427c-the-lowest-temperature-in-naimakka-in-december-in-all-time-history//.
In Estonia and Latvia, the strongest early frosts since 1959 appeared (-27,6°C in Estonia: https://mkweather.com/the-strongest-early-frosts-in-the-baltic-region-in-62-years-since-1959-tartu-estonia-276c-zoseni-latvia-264c/).
Historically cold air has shifted gradually above Finland /how are showing plots for the last period: https://mkweather.com/esrl-composites-for-early-winter-2021-2022-cold-period-in-europe-25-11-10-12-2021// and extremely cold conditions hit southern, metropolitan areas.
In Helsinki, 10 days with minimum temperatures -10/-21°C between 30. November and 9. December appeared, in Kevo, northern Finland, 11 days with minimum temperatures below -30,0°C have appeared since late November 2021.
On 8. December, the maximum temperature in Helsinki reached only -15,0°C.
For Helsinki and its larger region, it´s the coldest first week of winter since the year 1937 (in 84 years)!
The occurrence of "Arctic air mass" over Helsinki before mid-December has been according to climatologists very uncommon in recent years. Since 1990, it has only happened in Winter 2009 & 2010. Before that, almost every year.
In the following 6 weeks, the gradual weakening of frosts in northern Europe is forecasted, firstly with blocking pattern above Europe, then thanks to NAO+ /https://mkweather.com/ecmwf-6-week-forecast-for-europe-until-24-january-2022//.
In the last period, many temperature records and manifestations of winter across the Northern Hemisphere have appeared:
Recorded were the strongest early frosts in the Siberian coldest region in all-time history (-61,1°C – updated value) /https://mkweather.com/historical-times-for-siberia-610c-has-never-been-measured-so-early//.
Only in the last period, we were informed about extreme frosts in Canadian Arctic up to -46,0°C and in some cases, they were the strongest early frosts since 2004 /https://mkweather.com/eureka-431c-the-lowest-temperatures-in-canadian-arctic-in-early-winter-since-2004/; https://mkweather.com/canada-460c-daily-records-in-yukon-were-broken//. In Key Lake, Saskatchewan, only -44,6°C was on 7. December 2021 measured, which is the 2nd coldest minimum temperature so early in the winter!
Hawaii only before a few days reported the coldest day since 1979 /https://mkweather.com/hawaii-hit-the-coldest-weather-since-1979-brought-blizzard-and-floods//.
Snowfall even appeared in Ain Sefra, Sahara desert, Algeria /https://mkweather.com/collapse-of-atmospheric-circulation-snowing-in-ain-sefra-sahara-algeria//.
The reason of these outbreaks should be associated with an anomalously cold Arctic, with the 2nd highest Arctic Sea Ice Extent in the last 15 years /https://mkweather.com/arctic-sea-ice-extent-is-the-2nd-highest-in-15-years/; https://mkweather.com/20-vessels-stuck-and-ice-locked-in-northern-sea-route-the-arctic//.