The UK with frostiest April in history, some stations report 24 frost days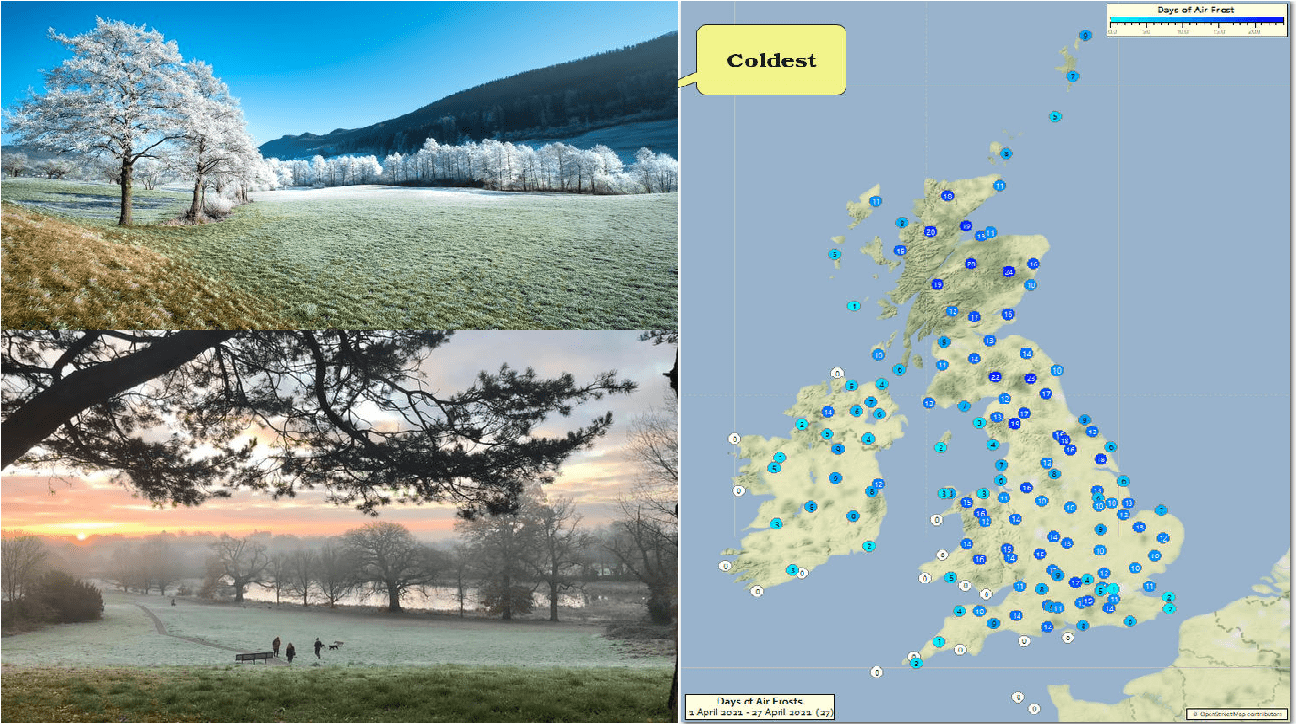 Met Office a few days before the end of April 2021 informed, that April 2021 will end such as the frostiest month in the UK in history.
Only in last articles we wrote about the coldest mid-Spring in France in all-time history or the coldest April in Benelux in last 30-50 years /https://mkweather.com/france-the-coldest-mid-spring-in-all-time-history/; https://mkweather.com/coldest-april-in-the-netherlands-in-30-50-years-in-belgium-in-35-years//.
Parts of the UK or Germany even reported before 20. April the coldest conditions since 1922 and 1917 /https://mkweather.com/england-april-is-colder-as-march-the-coldest-since-1922/; https://mkweather.com/germany-suffers-the-coldest-april-since-1917-extreme//.
The most of frost days is reported from Aboyne, Scotland, 24 and Redesdale Camp, northern England, 23.
Altnaharra reports 19, South Newington and Santon Downham 18, Bala 17, Ketesbringe and Charlswood 15 frost days.
In Ireland, up to 14 frosts days has occurred. 9 frost days even have been reported from Shetlands.
The coldest temperature was measured in Tulloch Bridge, 12. April, -9,4°C.
Number of days with ground frosts was even higher, e.g. in Aboyne 25, but in some stations around 10 days more than frost days.
It´s the most of frost days since history of records has begun. Provisional figures show it topping the previous frostiest April in 1970, in records going back to 1960.
Some sites have had more than twice their average number of days of frost, according to Met Office.
Many stations have experienced with more frosts such as in winter months.
Many fruit trees and flowers were damaged and harvest in 2021 will be in many regions reduced.
Parts of Scotland and northern England report monthly anomalies 3-4°C below long-term average.
Persisting cold and dry weather in April 2021 was linked with northwestern flow and Arctic outbreaks of air with Greenland´s origin.
In Ireland even, was so sunny, that despite of severe frosts, historic wildfires have appeared /https://mkweather.com/persisting-drought-triggered-wildfires-in-ireland-and-northern-ireland//.
Frost forecast is uncompromising and next frosts are forecasted for British Islands until 6. May 2021, while ground frosts are still possible until 15. May 2021, mainly in Scotland /https://mkweather.com/frost-and-ground-frost-forecast-for-europe-until-15-may-2021//.
Expected European heatwaves should hit the UK only marginally /https://mkweather.com/may-brings-heatwaves-in-europe-estimates-of-national-maximum-temperatures-hot//.