France: The coldest mid-Spring in all-time history!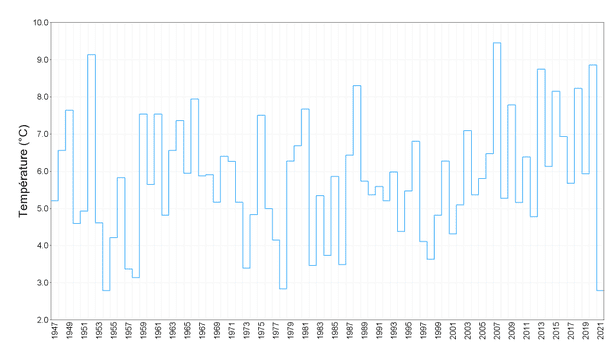 Only in last article we wrote about the coldest April in Benelux in last 30-50 years /https://mkweather.com/coldest-april-in-the-netherlands-in-30-50-years-in-belgium-in-35-years//.
Parts of the UK or Germany even reported before 20. April the coldest conditions since 1922 and 1917 /https://mkweather.com/england-april-is-colder-as-march-the-coldest-since-1922/; https://mkweather.com/germany-suffers-the-coldest-april-since-1917-extreme//.
Last days, similar reports appeared too from France, where vineyards were during the month heavily damaged /https://mkweather.com/tragedy-in-france-80-vineyards-devastated-after-the-worst-frosts-in-30-years/; https://mkweather.com/late-frosts-destroyed-most-of-grape-harvest-in-france-spain-italy/; https://mkweather.com/french-vineyards-are-fighting-with-extreme-frosts-temperatures-dropped-up-to-12c//.
Only at current weekend, temperatures in southern and western France, again raised above +25°C, but in outlook, the next ground frosts or light frosts are expected.
Extremely cold weather according to Météo France hit the country mainly in the middle of Spring 2021 – that is during the second April 2021 decade.
This period has ended such as the coldest second April decade in France in all-time meteorological history, with temperature anomaly -3,4°C from long-term average 1981-2010. Similarly cold mid-Spring decade occurred lastly in 1954 and 1978.
Anomaly is more interesting after we look at statistic, that 6/10 Aprils in last 10 years were the hottest in meteorological history (since 1950).
Extremely cold conditions are reported from many regions of the Earth currently, e.g. from Canada, the USA, Australia or Antarctica /see our homepage + the next articles on Mkweather/.
For a main factor responsible for cold conditions on Earth is considered La nina /https://mkweather.com/march-2021-as-the-2nd-month-below-temperature-average-on-the-earth-for-last-7-years//, but in Europe, very strong negative phase of North Atlantic Oscillation (NAO) was too important in April 2021 /https://mkweather.com/nao-the-strongest-since-october-2020-tripole-of-air-pressure-systems-from-azores-to-scandinavia-causes-unique-arctic-blasts-negative-north-atlantic-oscillation//.
La nina is accompanied by minimum of current solar cycle and strong volcanic activity in last months.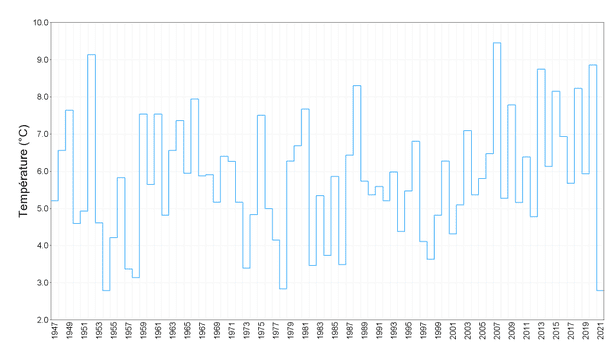 Read more: