Tropical storm Conson hit Vietnam, Thailand, Laos, and Cambodia, unbelievable 908 mm of rainfall and 20 dead!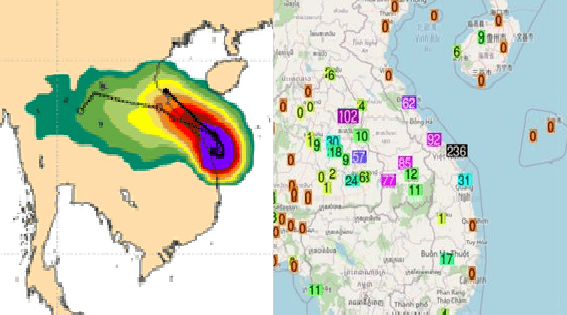 After Tropical storm Conson hit Philippines /https://mkweather.com/tropical-storm-conson-hit-the-philippines-vietnam-and-se-china-floods-are-reported-from-thailand-myanmar-cambodia-indonesia-and-east-timor-se-asia//, it aimed directly towards Vietnam, Thailand, Laos, Cambodia, Myanmar, and southeastern China!
Together 20 dead is reported, the most in the Philippines, 2 in Vietnam.
In Vietnam however, the stronger rainfall event appeared between 10.-13. September 2021, with 908 mm rainfall in Binh Tan, Quang Ngai Province /https://floodlist.com/asia/vietnam-storm-conson-september-2021/. In Tra Hiep in Quang Ngai, 807 mm, in Thuong Lo in Thua Thien Hue, 772 mm; in Tam Tra in Quang Nam, 772mm; and in Tra Kot in Quang Nam, 685 mm was measured.
Severe impact with floods was reported from some parts of Thailand or Laos, minor impact was reported in Cambodia, Myanmar, or southeastern China.
All near only 10-minute sustained winds up to 100 km/h and 985 hPa in the middle of the system during a maximum of development.
Thanks to widespread devastating impact, Conson is in many sources described as "Severe Tropical storm Conson" and it gives evidence, that severe floods should bring tropical storm or tropical depression, too and it isn´t safer than near hurricane, cyclone or typhoon in many cases, what is associated with severe floods potential.
Meanwhile, Supertyphoon Chanthu shifted above the coast of central China, the coast of South Korea, and southwestern Japan, with the next significant rainfall and wind event /https://mkweather.com/terrifying-winds-300-km-h-of-supertyphoon-chanthu-category-5-the-system-is-shifting-from-the-philippines-and-taiwan-above-china-south-korea-and-japan/; https://mkweather.com/typhoon-chanthu-hits-japan-china-taiwan-and-south-korea-tokyo-with-tmax-only-218c-and-floods-tornado-and-snowing-in-china//. Information from East Asia we will bring already in the next Mkweather article.
A very live typhoon season period in East Asia appeared despite expectations of weaker typhoon season such as average /map here: https://mkweather.com/winter-2021-2022-forecast-the-first-reliable-estimates-extreme-cold-blasts-from-canada-and-western-siberia-snow-in-western-europe-and-eastern-asia-la-nina-qbo-to-qbo-shift-sufficient-nao-ao//.
Autumn 2021 and Winter 2021/2022 will be in monsoon Asia more stormy than average, according to CFS and ECMWF /https://mkweather.com/autumn-2021-forecast-for-asia-strong-monsoon-for-s-se-e-asia-hot-and-dry-in-the-middle-east-late-siberian-cold-blasts-in-w-siberia-and-snow-calamities-in-e-siberia/; https://mkweather.com/mkweather-special-forecast-for-the-next-3-seasons-cold-autumn-2021-warmer-winter-2021-2022-cold-spring-2021-for-europe-a-peak-of-winter-in-its-colder-first-half-north-america-with-extreme-cold-2021-20//.