Winter 2021 forecast for South America: From snow to tropical rainfall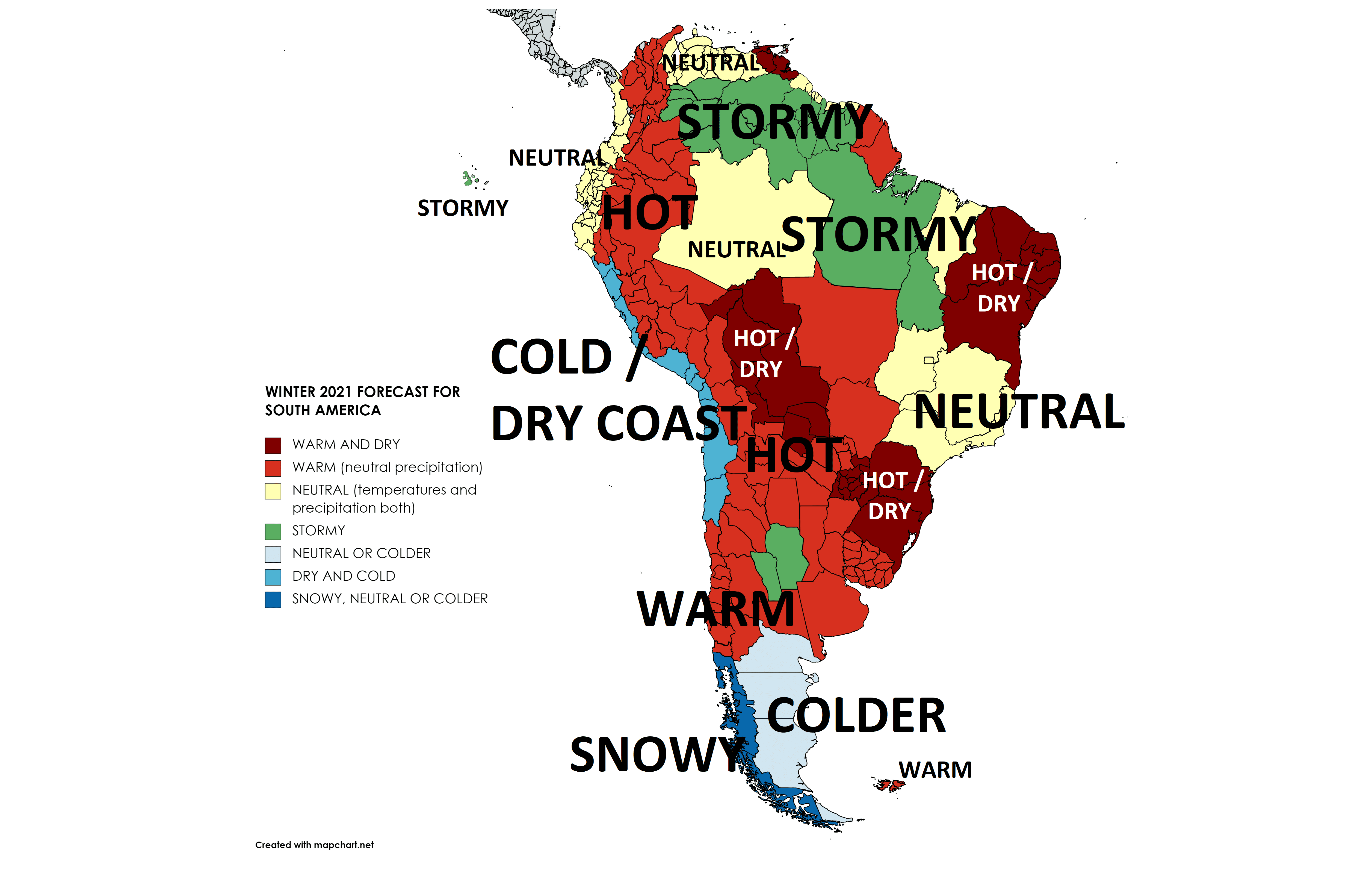 In last articles, we have looked at Summer 2021 forecasts for Europe /https://mkweather.com/summer-2021-forecast-for-europe-hot-and-dry-pattern-as-leading-heatwaves-drought//, North America /https://mkweather.com/summer-2021-forecast-for-north-america-hot-stormy-east-and-dry-west//, Asia /https://mkweather.com/summer-forecast-for-asia-hot-but-strong-indian-monsoon// and Winter 2021 forecast for Australia /https://mkweather.com/winter-2021-forecast-for-australia-still-rainy-and-stormy-thanks-to-la-nina//. Now remains Winter 2021 forecast for South America and Summer/Winter forecast for Africa.
Autumn 2021 (MAM) forecast for South America you will find here: https://mkweather.com/autumn-2021-forecast-for-south-america/.
Within winter forecast, we decided to make seasonal outlook in better resolution, provincially.
Leading, but weakening pattern La nina will bring many effects to weather in South America during upcoming winter. It will be mainly cold and dry western coast and stormy north.
Many central parts, Andes, southern and eastern Brazil, northern Argentina and central Chile should be very warm and regionally dry.
Stormy will be mainly northern and eastern Amazon.
Drought is expected except of southern and eastern Brazil in borders of Brazil, Paraguay, Bolivia and Argentina, too.
Winter should be relatively cruel in southern Patagonia /but probably not so much as in 2020: https://mkweather.com/patagonia-with-one-of-the-cruelest-winter-for-last-20-years// – in Chile with heavy snowstorms, in Argentinian part drier, but still with neutral or colder temperature anomalies from, long term average.
Western Antarctica is forecasted to be very cold in the Winter 2021, what should despite of AAO+ bring severe coldwaves into Subantarctic, Moderate and Subtropic climate zone.
Such as in 2020, should surprise mega coldwave, which should move up to equator /https://mkweather.com/brasil-is-waiting-a-historic-coldwave-temperatures-will-drop-30c-below-average-around-20-august-2020/; https://mkweather.com/antarctic-air-has-crossed-the-equator-in-southern-colombia-temperatures-dropped-from-36c-97f-to-14c-57f//.
Above average Hurricane season 2021 should hit by its edges mainly northern parts of South America, e.g. Colombia, Venezuela, Trinidad and Tobago or Guyana and Suriname.
Expected NAO+ should effect northeastern parts of continent only mininally.
Wet MJO with severe storms (equatorial, subequatorial region) will appear around 15. May 2021, but longer outlook is not available.
Infographics – Sources:
CFSv2 Seasonal Climate Forecasts (noaa.gov)
CPC – Climate Weather Linkage: Madden – Julian Oscillation (noaa.gov)
The Quasi-biennial Oscillation (QBO) (nasa.gov)
CPC – Daily Antarctic Oscillation Index (noaa.gov)
Read more: