13 European countries with all-time national February temperature records!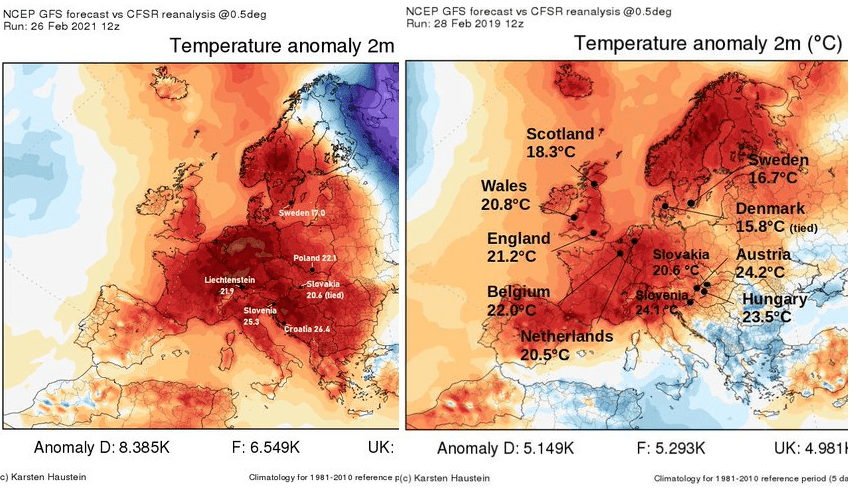 Anomalously high temperatures were reached at the end of Winter 2020/2021 not only in Croatia (+26,4°C), Slovenia (+25,3°C), northern Italy (+25,2°C), Poland (+22,1°C) or Slovakia (+20,8°C) /https://mkweather.com/winter-heatwave-hit-croatia-264c-slovenia-253c-and-northeastern-italy-252c-2021-hot/; https://mkweather.com/poland-221c-slovakia-208c-new-all-time-february-and-winter-records//, but all-time February records were reported too from England (+21,2°C), Wales (+20,8°C), Scotland (+18,3°C), Belgium (+22,0°C), the Netherlands (+20,5°C), Denmark (+15,8°C), Austria (+24,2°C), Lichtenstein (+21,9°C) or Hungary (+23,5°C). France and Germany reported all-time records from big cities, but all-time national records weren´t overcame.
All-time national temperature records for February were therefore broken in 13 European countries including parts of the UK – England, Wales and Scotland.
Wave of extremely warm, southward from the Alps hot winter weather has arrived after regionally historic Siberian codlwave during the first 2 February 2021 decades – only last week, -51,3°C, the coldest temperature of last winter in Europe, in European Russia was measured /https://mkweather.com/ust-shchuger-european-russia-513c-2021-euroepan-record//.
Reason of extremely warm outbreak above European continent was untraditionally strong Azores high, which persisted over large parts of Europe during the last Winter 2020/2021 week. This anomaly was associated with shorter, but very strong NAO+ (positive phase of North Atlantic Oscillation).
Warm spring weather is prepared for Europe in the first and third March 2021 decade, too, but between 6.-10. March 2021 and possibly after 15. March 2021 is expected promised coldwaves, with frosts and possible last snow or snow showers in parts of Europe.
Forecasts for March 2021 will be updated on Mkweather soon.